Why Thayers Natural Remedies Has Been a Skin-Care Staple for 170 Years
December 07, 2020
Thayers Natural Remedies is a skin-care brand that absolutely needs to be on your radar. It offers incredible products (shoutout to the witch hazel toners) at drugstore prices and has been around for more than 170 years! Keep reading to learn more about the storied brand loved by skin-care experts and enthusiasts alike.
History of Thayers 
Thayers was founded by Dr. Henry Thayer, who studied medicine and chemistry in Cambridge, Massachusetts. In 1847, he opened up his first drugstore called Henry Thayer & Company. Because of the Civil War, many of his products were in high demand for the army, making his business the largest manufacturer of pharmaceuticals in America at the time. This success led him to create his own line of elixirs, syrups and tinctures, including his famous witch hazel tonic, which remains the brand's star ingredient almost 200 years later.

Acquired by our parent company L'Oréal in 2021, Thayers remains a legacy brand that always looks to the history of Henry Thayer & Company when innovating formulas. The brand continues to fulfill its long-standing commitment to creating pure, effective, cruelty-free products that are great for all skin types.
More About Thayers' Famous Witch Hazel
Lately, witch hazel has gotten a bad wrap because many people think it is irritating and drying to the skin. And while some witch hazel products can be drying because they're formulated with alcohol, Thayers offerings are different. The brand's witch hazel is organically sourced from a family farm in Fairfield county, Connecticut and is alcohol-free. Plus, the formulas include other skin-benefiting ingredients like aloe vera and glycerin to promote a moisturized and soothed complexion. 

 "Thayers has popularized a new wave of skin-nourishing, alcohol-free facial toners that provide additional benefits to skin besides just toning," adds Andrea Gity, director of marketing for the brand. Whether you have acne-prone skin, dry skin or sensitive skin, the brand's toners work to cleanse, tone, moisturize and balance pH levels without stripping the skin of its natural oils.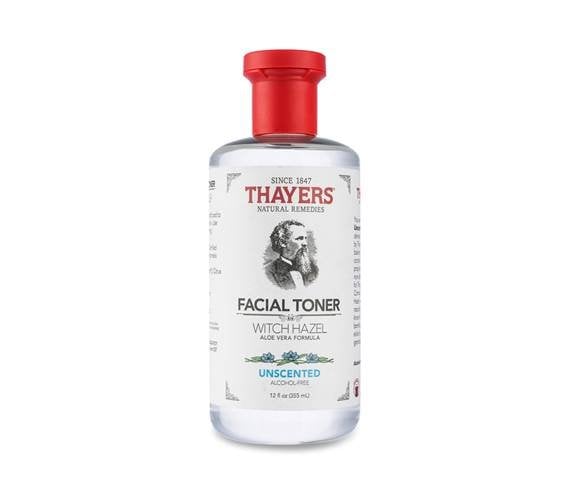 What's Next for the Brand?
While the brand has a wide range of products already, it's always innovating and trying to continue the legacy of Dr. Henry Thayer. To that end, Gity says Thayers will be coming out with complementary products for the best-selling Rose Petal Facial Toner at the start of 2021. It will be a Target exclusive, so keep be sure to keep an eye out for the exciting new launch. 
Photo: Courtesy of Thayers
Read More: 
6 Best Toners for Acne-Prone and Oily Skin
8 Shelfie-Worthy Skin-Care Gifts to Give This Season
These 7 Toners from Amazon Are All Under $25
Read more

Back to top