Derm DMs: How Much Sunscreen Should I Be Wearing?
June 05, 2019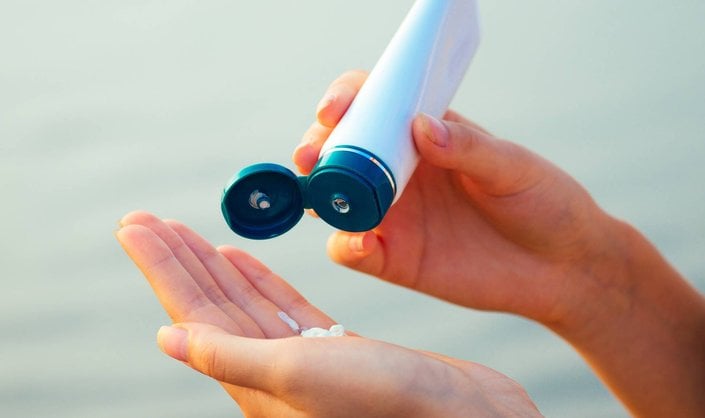 One thing we'll continue to say until we're blue in the face (or everyone starts doing it), is that SPF is a must in your daily skin-care routine. It's a non-negotiable step that you absolutely can't skip because sunscreen helps protect your skin from UVA and UVB rays that can cause premature aging and even certain cancers. And when we say you must apply sunscreen every day, we don't mean just your foundation or moisturizer that has SPF in it. Think of that as a secondary layer rather than your first line of defense. Skincare.com consultant and board-certified dermatologist Kavita Mariwalla, MD, recommends choosing a sunscreen that also has moisturizing properties like La Roche-Posay Anthelios Melt-In Sunscreen Milk SPF 60, a fast-absorbing option that will pair well with whatever makeup you layer on top.
It's also not enough to simply wear sunscreen everyday — you also need to use the right amount. According to Dr. Mariwalla, you should be using a shot glass worth of sunscreen on your body and at least a blueberry-sized amount for your face (this amounts to about a teaspoon). Using the proper amount of sunscreen helps to protect skin for about two hours — less if you're sweating or swimming. If you do choose to go for a dip, Dr. Mariwalla recommends reapplying after 40 minutes to ensure you're still fully protected. If you apply less than you're supposed to, you may notice that you burn faster than normal.
When it comes to formulas, if you prefer a mineral option, Dr. Mariwalla recommends La Roche-Posay Anthelios SPF 50 Mineral Sunscreen, which  offers protection and a lightweight, matte finish. If you opt for a spray delivery system over a traditional cream formula — which can come in handy when applying sunscreen to your body — Dr. Mariwalla recommends applying it one inch away from skin and rubbing it in to ensure even coverage.
Now that you know how much you should apply, remember to do so daily, repeat and take other sun protection measures to keep your skin safe!
Read More
How to Reduce White Cast in Sunscreen, According to a Dermatologist
Quiz: Which Sunscreen Is Right for Me?
This Hack Is About to Make Reapplying Your Sunscreen So Much Easier
Read more

Back to top