This Hack Is About to Make Reapplying Your Sunscreen So Much Easier
March 11, 2019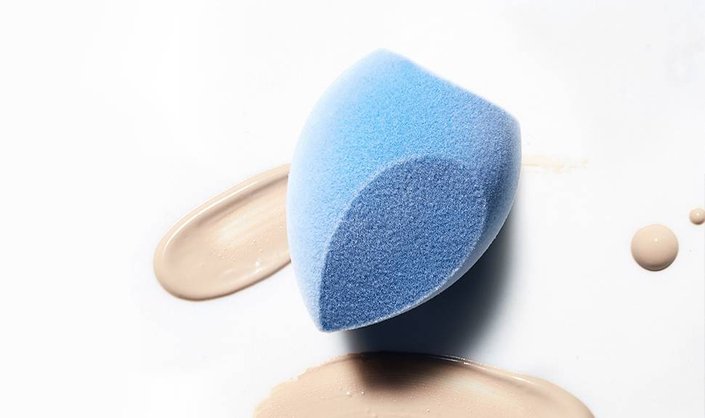 Sunscreen is an essential part of your daily beauty routine and that includes reapplying it throughout the day . If you're a makeup-wearing skin-care lover, chances are you've already discovered your favorite way to reapply sunscreen over your foundation (see: setting sprays or loose powder with SPF), but there's a new hack you need to know. Australia-based drug research scientist and beauty blogger Hannah English just shared her reapplication hack that skin-care lovers all over the world are reveling in. The hack details her favorite way to apply a serum SPF over foundation using a beauty sponge to achieve a "beautiful, dewy-sheer finish."
 English explains in her Instagram story, "I would do it if I have to leave the office for lunch and if the UV is bad, or before I drive home. I concentrate on pigment-prone areas." English applies Ultra Violette Queen Screen SPF 50+ over IT Cosmetics CC+ Oil Free Matte with SPF 40 using the Juno & Co Microfiber Velvet Sponge. "It doesn't absorb product like a BeautyBlender," English explains. To apply, English used one dropper full of sunscreen on the flat edge of the sponge and then pressed it into her forehead and cheekbones. "Dot on and then press in. Don't drag and work quickly so as not to disturb what's underneath."
Next, English applies two full droppers on the remainder of her face. She starts on her jaw and cheekbones, pressing the sponge in just a little at a time to keep foundation in place. Once that's done, she reapplies brush and bronzer onto her face. The result is foundation that remains perfectly intact and skin that's even glowier than it was before. According to English, the whole process takes between five to ten minutes and for that, we're sold.
And just as a reminder, just because you applied sunscreen once during the day doesn't mean you're done. Most sunscreens last for up to two hours, and can diminish earlier if you're active or in water. To keep your skin guarded all day long, the AAD suggests reapplying sunscreen at least every two hours, if not sooner. Make sure you're putting on a full ounce every time you reapply. While sunscreen is one of the best ways to protect your skin against ultraviolet rays, they are not foolproof. There is currently no sunscreen on the market that protects against 100% of UV rays. That's why it's often recommended that you pair your sunscreen use with additional sun protection measures, such as protective clothing, seeking shade, and avoiding peak sun hours (10 a.m. to 4 p.m.) when the rays are particularly strong.
Hero Image Courtesy Juno & Co
Read More:
This New Sunscreen Goes Beyond Your Average SPF
Ask the Expert: Can You Still Get a Tan Wearing SPF?
Our Favorite Moisturizers Formulated with SPF
Read more

Back to top