We Have A Major #SkinCrush on Influencer Austen Tosone — Here's Why
June 05, 2019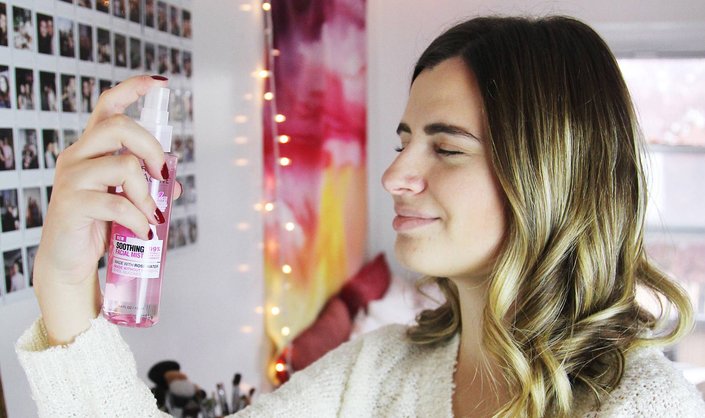 #SkinCrush digs into the routines of people who love skin care (almost) as much as we do.
Former editor and beauty, fashion and lifestyle influencer Austen Tosone captured our heart with her authenticity, critical eye and honest reviews on her blog Keep Calm and Chiffon. Below, she shares everything from her skin type and her current skin-care routine to the most-asked question in her DMs.
Name: Austen Tosone
What you do: Freelance beauty and fashion content creator
Skin type: Normal to dry
We're obsessed with your beauty videos — what inspired you to move into the skin-care and makeup space?
Most of it honestly was sparked from the conversations I was having with my community on Instagram. I realized I was getting DMs whenever Glossier released a new product or from people who were at Sephora and wanted to know if I'd tried a certain product because as a former editor I often had access to many of the newest releases in beauty. Once I started my YouTube channel, it was clear that my beauty content had the highest views and engagement because seeing the products on someone is much more powerful than a photo of the products in their packaging. I also translated that to my Instagram feed as well with my #beautybyausten videos, which are mini sped-up makeup tutorials.

Tell us about your current skin-care routine.
I've been starting off my morning by cleansing with the Lano Gelcream Cleanser, and then I follow it with the Lano Face Base Vitamin E Day Cream. It feels like it just starts my skin off on the right note for the day. Then, under my makeup I'll usually layer either the First Aid Beauty Hello FAB Coconut Skin Priming Moisturizer or the Pixi Beauty Rose Flash Balm to get a dewy finish and smooth base.
At night I begin with the Garnier SkinActive Micellar Cleansing Water to remove any makeup. I've been obsessed with the Then I Met You Cleansing Duo, which includes an oil-based cleanser followed by a water-based cleanser. If I have any spots, I'll use the Glossier Zit Stick to target them. I apply the Boscia Indigo Eye Cream, and then I seal it all in with either the Fresh Rose Deep Hydration Face Cream or the Laneige Water Bank Moisture Cream.
What's the last skin-care product you finished? Would you buy it again?
That would be Glossier Milky Jelly Cleanser, which I always use in the shower and I already had another bottle pre-purchased in anticipation of when I would run out. It's safe to say it's always within arm's reach when I'm at home.
What's one thing you wished you learned sooner, in regards to skin care?
That it's not as complicated as I previously thought it was! There is so much information out there about any product you have ever wondered about (my favorite for skin-care education is Liah Yoo's YouTube channel), and even though it can seem overwhelming, you can really make your routine yours. It doesn't need to be any more or less than what you feel you need because everyone's skin is different.
What's your skin-care guilty pleasure?
The Eve Lom Radiance Transforming Mask, for sure. I can't get over how the product feels like it warms on my skin. It's this luxurious, balmy texture that I didn't even know could feel so good. It literally costs $90, so I save it for extra special occasions — but wow, do I love it.  

What's the skin-care ingredient you can't get enough of?
Right now vitamin C! I love the look of naturally glowy skin, so anytime I can find a product with that in it, it makes me feel so happy.
What's the most-asked question in your DMs?
 "Is Glossier worth the money?"
What's your favorite thing about skin care?
I love discovering products that I know I can lean on over and over again. There's something comforting about not just having a routine but knowing that you're taking care of your skin. And the conversations I've had about skin-care products have connected me with people in a really unexpected way. I love being able to have those, whether it's on an app or IRL.
Where can we find you on the Internet?
Austen's Blog, Instagram, Twitter, Pinterest and Facebook
Read More:
SkinCrush Interview: Influencer Morgan Brown

SkinCrush Interview: Glossarray Girls

How Much Do Editors Spend on Their Skin-Care Routines?
Read more

Back to top