John Legend Talks Sustainability and His Favorite Skin-Care Products From Kiehl's
April 03, 2019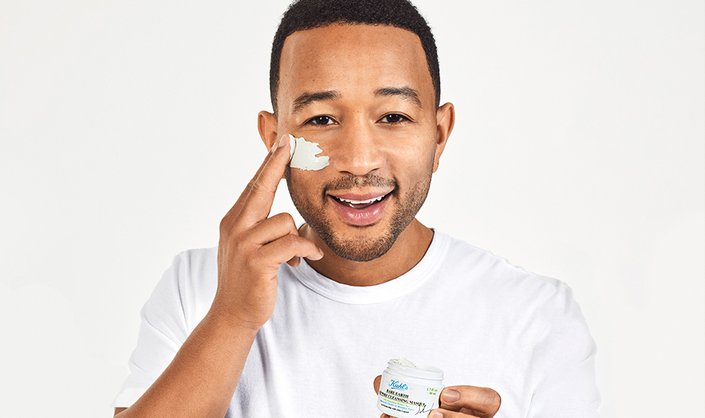 John Legend has our attention, but this time it's not about his amazing song that's playing on the radio or the adorable family photo he just posted on the 'gram. The singer teamed up with Kiehl's as part of the brand's Made Better Initiative in support of environmental sustainability. To support the cause, Kiehl's just dropped a Limited Edition Rare Earth Mask in a travel-size jar that was redesigned by the musician and made with less plastic. The top label for the limited-edition Rare Earth Mask is made with 100% post-consumer recycled materials (it's made from repurposed coffee bean bag fiber and post-consumer waste materials), and the jar is made with 30% post-consumer recycled plastic. Proceeds from the mask will benefit the Earth Day Network's Earth Day 2019 Clean Up.
"Every day we make decisions about where we shop and what we buy," explains Legend in a press release. "How about doing that more responsibly? Like, shopping at a locally-sourced market, cooking more and eating out less, watching our plastic and packaging consumption and using more renewable energy." The singer has even started teaching his two-year-old daughter, Luna about sustainability. "There's a recycling bin right next to our trash can and she knows certain things go in the recycling bin, so people can use them again."
And finally, Legend shared his favorite Kiehl's products, which is obviously a very big deal for us. A Legend-approved skin-care haul includes the following: Creme de Corps, Facial Fuel Energizing Face Wash, Bath & Shower Liquid Body Cleanser in Grapefruit, Ultra Facial Moisturizer with SPF 30 and Rare Earth Mask.
Read More:
3 Things You Didn't Already Know About the New Kiehl's Cannabis Sativa Oil Herbal Concentrate
These NYC Gyms Have the Best Skin-Care Products
Yes, You Want Hyaluronic Acid in Your Foundation — Here's Why
Read more

Back to top