Why the Kiehl's Hyaluronic Acid Super Serum Is Unlike Any H.A. Serum I've Used Before
October 07, 2020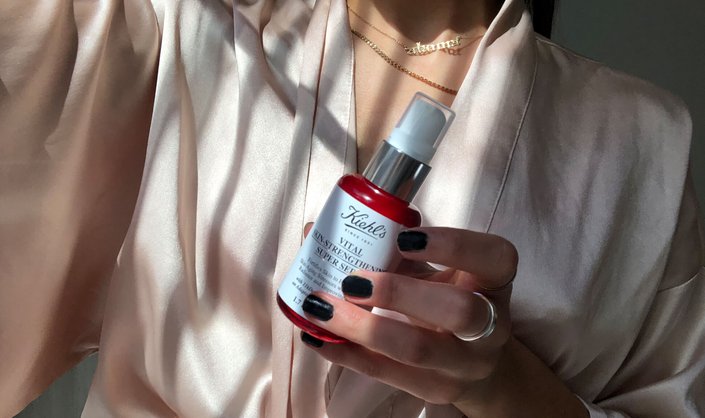 Hyaluronic acid serums have been a part of my everyday routine since I got serious about skin care. The hydrating ingredient helps minimize the appearance of fine lines and dry patches that creep up as we age. As a beauty editor, hyaluronic acid is one of my favorite ingredients because whenever I use products formulated with the ingredient, I always  notice my skin appears plumped with hydration.  So, when Kiehl's gifted me its new Kiehl's Vital Skin-Strengthening Hyaluronic Acid Super Serum to try and review, I jumped at the chance. And let me tell you, it's unlike any H.A. serum I've tried before. 
The minute I examined the Super Serum package, I knew it was going to be a little different than other hyaluronic acid products. The formula promises to fortify skin to help resist skin-aging stressors while boosting radiance and improving texture. But beyond that, I noticed this measurement on its label: "11kDa" hyaluronic acid. "Da" stands for daltons, a metric for molecular weight, and at 11kDa, the Super Serum contains Kiehl's smallest form of hyaluronic acid that, according to a clinical study performed by the rand, this formula can penetrate eight skin surface layers deep **. 
Another part of its package that piqued my interest was the inclusion of the Adaptogenic Herbal Complex in the formula, which works to neutralize signs of external aging and stressors. 
I pumped two drops of the milky, jelly serum on the back of my hand, and this little bit went a long way. I dabbed it onto my cheeks, temples, forehead, down my nose and chin, as well as onto my neck, and softly patted it into my skin's surface. It absorbed pretty much on contact, much like a watery liquid would, and was not overly fragranced. 
After a few days of using the Super Serum morning and night, as directed, my skin looked radiant, hydrated and smooth. My primer, sunscreen and foundation was easy to apply because my skin ate them right up with little-to-no finesse necessary. It was after about three days, though, that I realized what made this formula so different from the rest of the hyaluronic acid pack: While it's texture and plumping effect were familiar and on point, its ability to even out my skin tone and provide major radiance and calmness was certainly different.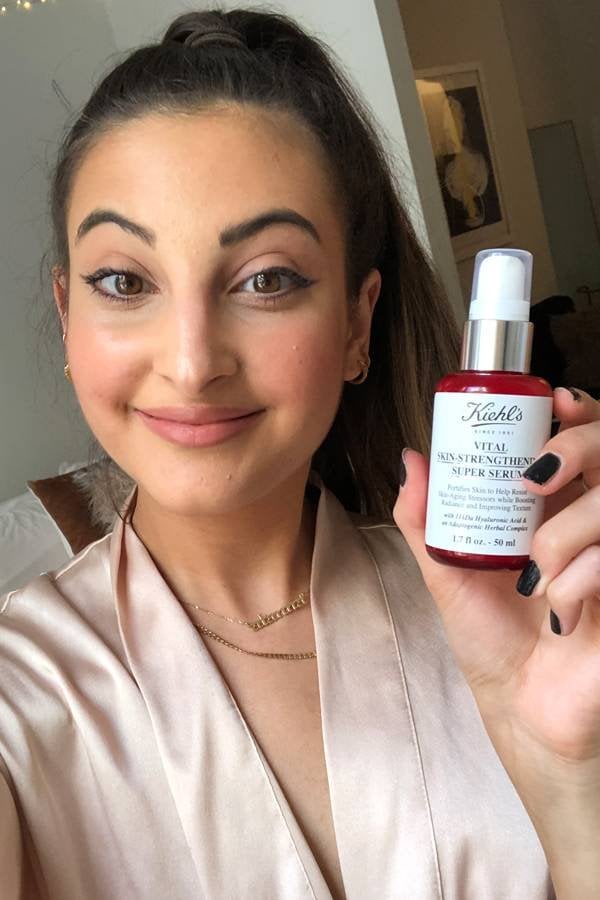 Final Thoughts
Props to Kiehl's on this one because it really stands out amongst the crowded hyaluronic acid space. This super serum is a true superhero because it looks and feels like it does more than just hydrate the skin —  the skin feels revitalized and for that, I'm blown away.
Photo: Alanna Martine Kilkeary
Read More:
Oily T-Zone? Here's How to Deal
Unpoppable Pimples Are a Thing
7 Ways to Wake Up a Tired-Looking Face
Read more

Back to top