One Editor Puts the L'Oréal Paris 10% Pure Glycolic Acid Serum to the Test
October 22, 2019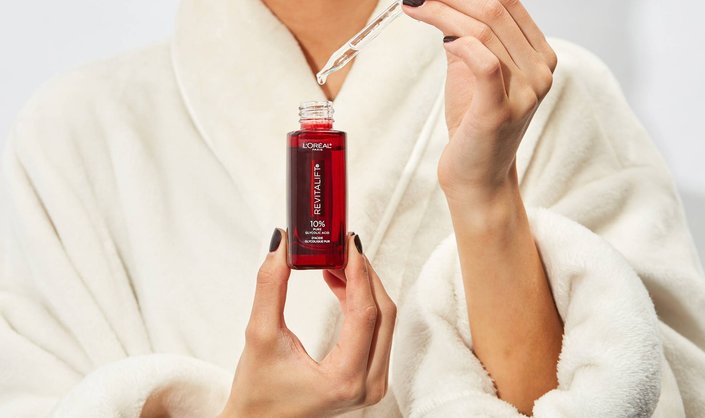 Glycolic acid is the buzzy alpha-hydroxy acid (AHA) that's lauded for its ability to even out skin tone and texture, provide brightening benefits and even keep excess oil at bay. Due to my semi-oily, combination and acne-prone skin, I've been searching for a glycolic acid-based serum to permanently add to my routine for a while, but I've had a hard time finding one that I love and doesn't cost a fortune. So when L'Oreal Paris sent me the L'Oréal Paris 10% Pure Glycolic Acid Serum to try and review , I was eager to see if it could be The One.  
This $29.99 resurfacing serum contains a whopping 10% pure glycolic acid — which is the brand's highest concentration of Glycolic Acid. It promises to even out skin tone, reduce wrinkles and give the appearance of brighter, younger-looking skin. The percentage of the acid didn't scare me (I've tested other potent glycolic acid products on my skin in the past), but because of my occasional skin sensitivity, I still decided to incorporate it into my routine slowly by using the L'Oréal Paris 10% Pure Glycolic Acid Serum only twice a week at first (it can, however, be used every evening due to its unique formulation with aloe).  Just remember, products with Glycolic Acid may increase your skin's sensitivity to the sun, which is why it should be applied nightly and a broad-spectrum sunscreen should be used every morning.  
The first time I applied it, I used the bottle's dropper to dispense three to four drops onto my fingers and smoothed it all over my face. Immediately, I liked how refreshing the serum felt, but I also was able to tell how quickly I could feel it penetrate my skin's surface thanks to a light, tingling sensation. After the  tingling came a calm, soothing finish. After sitting on my skin for a few minutes, the serum felt lightweight, almost as gentle as a moisturizer and totally non-greasy. I followed up with my usual overnight moisturizing mask for extra hydration and continued to do this every few days.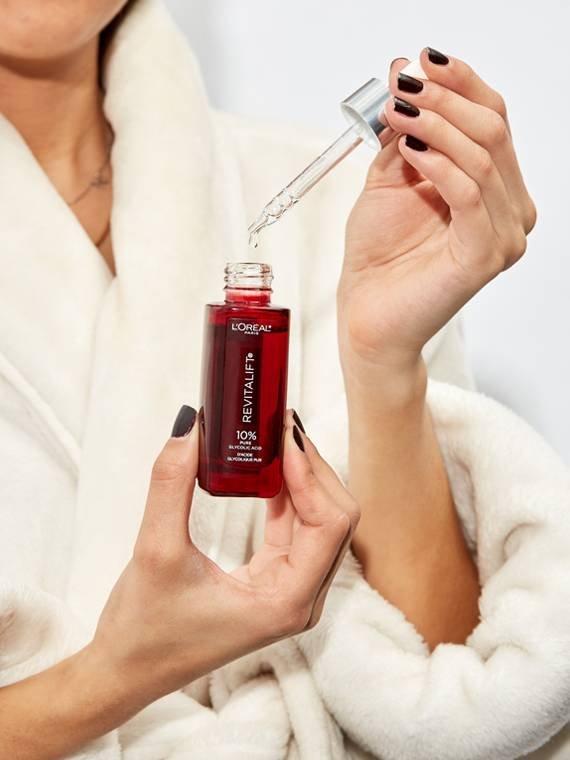 After about a week, I certainly noticed a difference in the texture and tone of my skin — my dark spots had noticeably faded, and overall I felt like my face was brighter. I also noticed that my skin seemed to appear more matte under makeup and I didn't have to reach for a blotting sheet as often as I usually do — score!
Final Thoughts
The fact that I noticed a difference in my skin's appearance after just a couple of weeks of using the L'Oréal Paris 10% Pure Glycolic Acid Serum is pretty impressive when it comes down to it. I like that it contains that power-packed 10% pure glycolic acid punch, but I personally don't think my skin can tolerate it (yet) for everyday use. That said, I will continue to apply this at least twice a week, and work my way up to nightly use,  because I can only imagine what my skin will look like then. 
Read More:
The Best Affordable Blackhead Scrubs
These Are the Budget-Friendly Skin-Care Products of 2019 You Have to Try
8 Clarisonic Brush-Heads to Invest In
Read more

Back to top