The L'Oréal Paris Revitalift Derm Intensives Night Serum With 0.3% Pure Retinol Gave Me Seriously Glowy Skin
November 22, 2021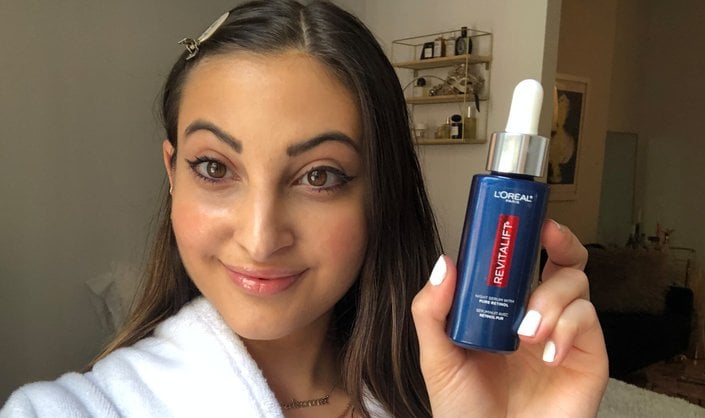 Retinol is often called the gold standard of anti-aging ingredients. While I've dabbled with this potent ingredient before, I've never stuck with it, mostly because my combination skin is sensitive and retinol can cause dryness and irritation. That said, given the benefits of this ingredient, such as improving the appearance of fine lines, acne and more, I decided to give it another try when L'Oréal Paris sent me a complimentary bottle of its new Revitalift Derm Intensives Night Serum with 0.3% Pure Retinol. The formula contains pure retinol (no retinol derivatives here) and glycerin and is allergy-tested. Read on for my full review.  
What Is Pure Retinol?
Pure retinol (vitamin A), the star ingredient in the Revitalift Night Serum, is the most potent form of retinol and is known to be more effective than retinol derivatives. This night serum is built to remain potent and effective for measurable results from the time you begin using it to its last drop.
What Are the Benefits of Pure Retinol?
Pure retinol is known to be more effective than other forms of retinol because it's proven to fight signs of aging like wrinkles and uneven skin texture. After use overnight, your skin will feel moisturized and supple and its texture will feel more refined. Within two weeks, deep wrinkles will start to become less visible and your complexion will be brighter and more radiant. After significant continued use, wrinkles (even deep ones) will visibly improve and your skin will appear healthy, younger and glowing.
How to Incorporate L'Oréal Paris Revitalift Derm Intensives Night Serum Into Your Skincare Routine
The night serum has a mild yet effective percentage of retinol that works well on all skin types, absorbs quickly into the skin and does not clog pores. It's also allergy-tested, free of parabens, mineral oil, dyes and silicone. Because retinol makes skin more sun-sensitive, be sure to apply SPF the morning after application and take other sun protection measures.
As for frequency of use, you need to get your skin acclimated to it before you can apply it nightly. Retinization is the process of building up your tolerance to the ingredient. L'Oréal recommends using the serum two nights during the first week of use, every other night during the second and nightly as tolerated by the third week. Apply a pea-sized amount of your retinol after cleansing and before moisturizing. Note that it may cause initial redness, tingling or dryness, especially during the first week. 
My Review of the L'Oréal Paris Revitalift Derm Intensives Night Serum
As the package recommends, I started by applying two to three drops onto my skin (one on each cheek and another on my forehead) two nights a week after cleansing, but before moisturizing. The silky formula melted onto my skin upon contact and didn't tingle or feel uncomfortable. After about a week, I noticed that my skin looked brighter and more even.
During week two, I applied the serum every other night and was sure to follow up with SPF the next morning. This is when I really began to notice a difference in the suppleness of my skin. I even began to have an easier time applying my makeup thanks to a more even canvas. By the third week, I began using the retinol every night and did not find it to be irritating in the slightest. Instead, my skin looked glowier than ever before.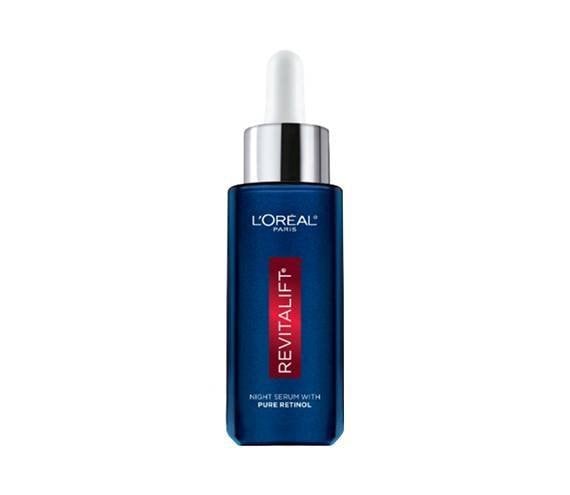 Final Thoughts
This retinol serum definitely made me more of a believer in the potent ingredient and made me way less scared of using it every day. It's an easy step to add to any nightly routine and if you're retinol apprehensive like I was, this is your time to take the leap!
Photo: Alanna Martine Kilkeary 
Read More:
Why You Need Vitamin C and Retinol in Your Anti-Aging Routine
How to Combine Skincare Acids and Retinol in Your Routine
Derm DMs: When Should You Increase Your Retinol Strength?
Read more

Back to top