The L'Oréal Paris True Match Tinted Serum Is The Ultimate Makeup-Meets-Skincare Product
September 30, 2021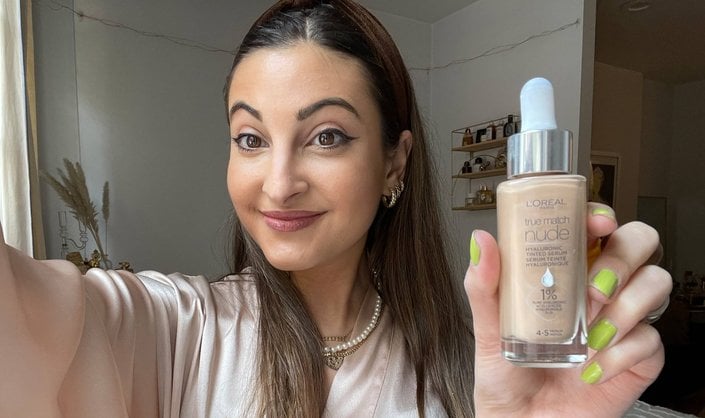 I'll be honest: I don't use a lot of makeup-skincare hybrid products. It's not that I don't like the concept of makeup with good-for-your-skin ingredients, it's that I've never quite found a hybrid product that lives up to my makeup standards. This all changed when L'Oréal Paris gifted me the new True Match Tinted Serum with 1% Hyaluronic Acid. This skin tint is designed to provide buildable coverage in shades that match your skin tone. Intrigued, I gave this makeup-skincare hybrid a go and here's what happened.
The first thing I noticed about this tinted serum was that it matched my skin tone exceedingly well. Shade 4-5 medium seemed to capture my olive skin hue with just the right amount of neutral undertones to zap my natural complexion's yellow undertones. Something else unique about this tinted serum that I love is how much thicker and pigmented the product is than other skin tints out there I've tried — it's extremely buildable and layerable, making it easy to also pair with other face products if I please. 
After applying my moisturizer, SPF and primer, I went ahead and dotted the tinted serum all over my face and blended it in. It seamlessly melted into my complexion, so much so that I actually used another layer to get a little more coverage. It was natural, not too matte and not too dewy — rather, it just looked as if my skin had a filter to conceal dark spots and uneven texture. Next, I applied a heavier concealer in areas I needed it most: under my eyes and on top of a few pimples. I then went ahead to finish my entire makeup routine — blush, bronzer, highlight and all.
Perhaps my favorite thing about this tinted serum is how easy it is to layer other products on top — it didn't try to fight back or pill. Instead, it left me looking naturally radiant, and not overly-shiny or flat. Throughout the day, I definitely had to touch up my concealer a few times — the tinted serum isn't especially longwearing — but it was nice to have a change of pace through a lighter coverage finish. Not to mention, my skin felt hydrated throughout the day. It was easy to tell that the skin benefit of 1% of hyaluronic acid was doing its thing.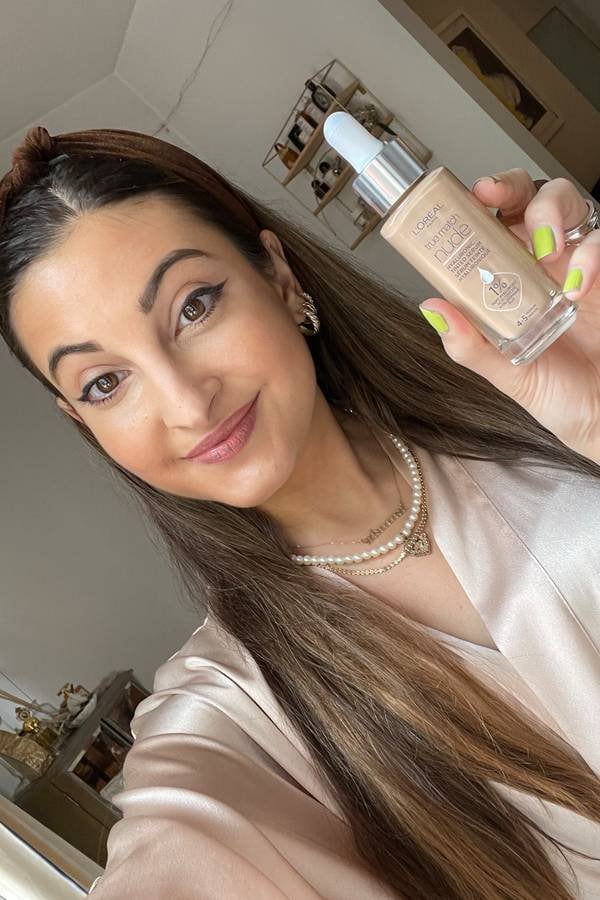 Final Thoughts
As someone who has high standards for makeup coverage, I was pretty impressed with how much I liked this tinted serum. I would recommend it to anyone who wants sheer coverage, hydration and a soft glow. If you're more of a makeup maximalist like myself, I'd recommend pairing it with other concealers and foundations. Maybe makeup-skincare hybrid products are for me after all!
Photo: Alanna Martine Kilkeary
Read More:
These 7 Retinol Products Will Up Your Anti-Aging Game
Minimize the Appearance of Pores With These Editor Picks
Our Favorite Exfoliators on Amazon to Shop ASAP
Read more

Back to top