Why I Won't Go a Morning Without the NYX Cosmetic's Bare With Me Cannabis Sativa Seed Oil Moisturizing Primer
June 01, 2020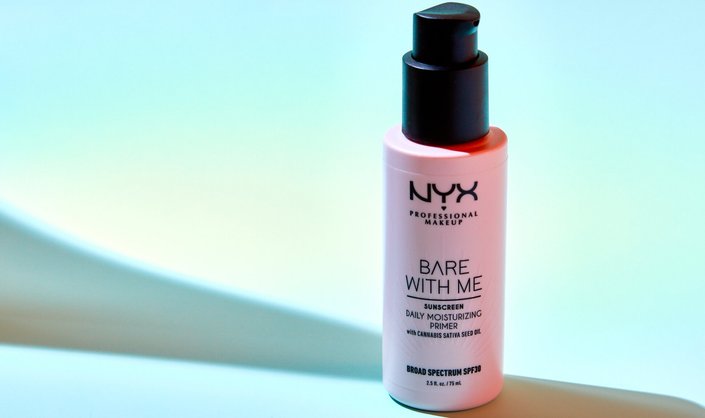 When it comes to my summer skin-care routine, I always gravitate towards products that can accomplish more than one goal. For example, I usually prefer a moisturizer that can both hydrate and prime my skin for makeup, and if it has sunscreen, that's a bonus. That's why when NYX Cosmetics  gifted me its new Bare With Me Cannabis Sativa Seed Oil SPF 30 Daily Moisturizing Primer to try and review, my ears perked up when I learned its formula touts all three of these qualities. Would it really be able to moisturize, prime and protect my skin pre-makeup? Ahead, I gave it a test run to find out.
When I first used this product, I checked out the label to see what kind of ingredients I'd be working with. This moisturizing primer contains cannabis sativa seed oil and glycerin, this formula helps  hydrate giving the complexion a radiant and revitalized glow. It also has SPF 30, which helps protect the skin from UVA/UVB rays when used as directed. While the formula is white in the bottle, it promises to blend out to a colorless finish. 
I first pumped the formula onto the back of my hand before applying it to my face. Immediately, I noticed that it didn't feel watery or runny, which I loved. As I began to apply it on my face, I was able to see that the consistency felt thick and concentrated, but the more I blended it, the more lightweight it became — it literally melted onto my skin. Although it has SPF, it didn't smell like sunscreen, which was also a win. Instead, it has a very subtly sweet and soft scent that did not feel overwhelming. After fully blending it in, the product absorbed quickly, and I was able to immediately apply CC cream overtop without a pill in sight. My skin felt smooth and  supple, and I was super impressed by how flawless my makeup looked after my routine.
Final Thoughts
I have to say, I'm really impressed with this moisturizing primer. By the end of the day when I took my makeup off, my skin felt as hydrated as it did right after I applied the moisturizing primer in the morning. I felt that it really had protected my skin, keep my makeup feeling smooth and my skin happy. If you're on the hunt for a new, lightweight moisturizer to try this summer that also serves double duty as primer and sunscreen, this is the one. 
Read More
The Best Illuminating Moisturizers to Try
8 Detoxifying Face Masks to Try While Social Distancing
Read more

Back to top