#SkinCrush: OMGBart's Skin-Care Shelfies Are Everything (and So Is His Skin-Care Routine)
June 10, 2019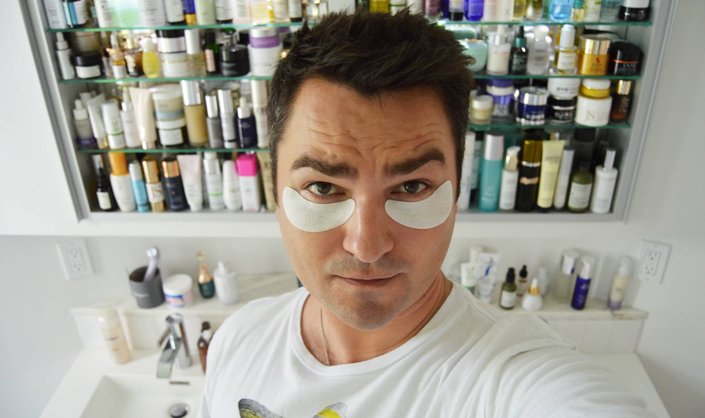 #SkinCrush digs into the routines of people who love skin (almost) as much as we do.
Skin-care blogger and freelance beauty writer Bart Kaczanowicz of OMGBart stands out in the beauty community because of his carefully crafted Instagram shelfies and thorough approach to products. Ahead, he shares everything from his current skin-care routine to what he wishes he learned about his skin sooner.
Name: Bart Kaczanowicz
What you do: I am a full-time blogger, freelance beauty writer and brand consultant.
Skin type: Classic combination
We're obsessed with your skin-care shelfies on Instagram. What inspired you to start your account?
Thank you! The shelfies were a natural evolution of my blog, actually. After product shots and routine line-ups, it became apparent that people enjoy an occasional image of product overload. Sometimes it's a struggle to keep it looking non-hoarder like. I was also very vocal about a particular vanity when my husband and I were renovating the bathroom. Four shelves wouldn't have cut it.
Tell us about your current skin-care routine.
The products in my routine vary greatly as the PR mailers keep coming at the speed of light. What doesn't change much is my loyalty to certain ingredients. I am a huge fan of hyaluronic acid, a number of resurfacing acids (mandelic and glycolic mostly), niacinamide, retinol and sunscreen.
In the morning, I do a quick cleanse, usually with a foam (Goldfaden MD Detox Face Wash now that the weather is warmer). Next, I decide whether my skin needs a hydrating essence (Amore Pacific Vintage Single Extract Essence for the win!) or an acid toner (Biologique Recherche P50 1970 for life). After the liquid step is sorted, I follow up with a hydrating serum (Arcona White Ice) and a light moisturizer (loving the new Tata Harper gel formula). It's crucial to never skip an eye cream, and my almost-40-year-old skin craves the African Botanics formula day and night. Lastly, I top it all off with sunscreen (currently rotating between REN and EltaMD UV Clear tinted).
At night, I tend to reach for the Emma Hardie Moringa Cleansing Balm as it liquifies so well with water and doesn't even require a follow-up step. If I didn't use an acid toner in the morning, I use one at this point. After that, I zoom in on a treatment serum, and the choice depends on what my skin needs at the moment. My usual go-to is Drunk Elephant Framboos Glycolic Serum or when I feel like I should step up my retinol game, I either opt for Tazorac (usually during winter) or Kat Burki Retin-C Complex. After that, I apply an eye cream. Lastly, I seal my bedtime ritual with an oil. Face oils became such a vast category, especially with the eco-luxe movement being so prominent, and luckily, my skin loves this step at night. Right now, I am alternating between Ranavat Rani, LILFOX Prickly Pear and Savor Beauty Pumpkin Seed Serum .
What's the last skin-care product you finished? Would you buy it again?
White Rabbit cotton pads. They were gifted to me a long time ago, and I keep repurchasing them because they're the absolute best.
What's one thing about skin-care you wished you learned sooner?
It's not the answer you expect, but I used to chase the dream of someone else's skin. I learned that there will always be someone with better, nicer, smoother skin and a more even complexion than mine. Embrace what you like about your skin and work on correcting the small things you want to improve.
What's your skin-care guilty pleasure?
Masks. If it promises to refine the look of pores, I want multiple jars.
What's the skin-care ingredient you can't get enough of?
Probably mandelic acid because the Vivant 3-in-1 Mandelic Exfoliating Cleanser is one of the most effective formulas I have ever come across. It is potent, so I only reach for it a couple of times a week but the results are real-life-filter level.
What's the most-asked question in your DMs?
Without a doubt, what is my favorite eye cream and Vitamin C serum.
What's your favorite thing about skin care?
The self-care part. It's about taking a few minutes a day to improve and maintain the appearance of healthy-looking skin. But also, when someone comments on my skin looking good, but I know it's probably just the Charlotte Tilbury Unisex Healthy Glow because I got precisely four hours of sleep.
Where can we find you on the Internet?
It may sound dated but my blog! Hope you check out omgbart.com, but you can also find me on IG as @omgbart where I post almost daily.
Read More:
SkinCrush: The Glossarray Girls
This Is the Grooming Brand You Have to Try STAT
Read more

Back to top