This Is Why You Should Add a Scalp Oil Into Your Hair-Care Routine
May 15, 2020
The truth is, healthy hair starts with a healthy scalp. Taking care of the skin beneath your hair is just as important as taking care of your complexion. In fact, a neglected scalp can lead to more significant skin conditions like dryness, dandruff and even acne. Luckily, there are products out there that act as "skin care" for your scalp and can help you achieve beautiful strands. Take a scalp oil, for example. Here, we tapped the founder of Carol's Daughter, Lisa Price, to talk about the importance of a scalp oil, how to apply one and who should add one into their routine. 
What are the benefits of a scalp oil?   
"Oils are a great way to hydrate and lock in moisture," says Price. "I always thought the scalp should not be neglected just because you cannot see it." Using a scalp oil, like the Carol's Daughter Goddess Strength 7 Oil Blend Scalp and Hair Oil when used as a system, wraps your strands with moisture and helps to protect hair from breakage and split ends. You'll notice your hair is stronger and healthier-looking with continued use.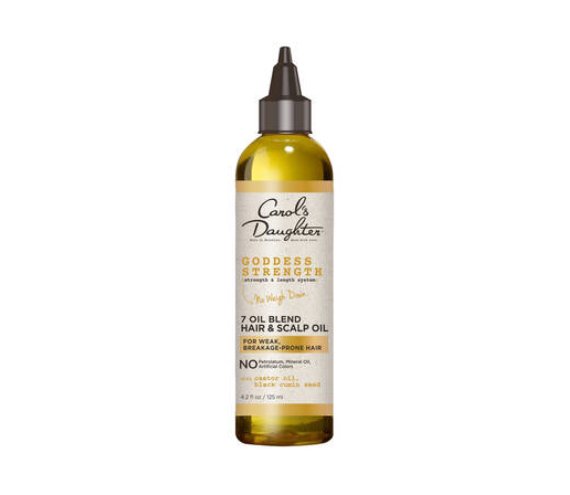 How do you apply scalp oil without making your hair greasy? 
"First, it is better to use oils that have a smaller molecular structure," says Price. "Second, try applying oil directly to the scalp instead of on the hair." Most scalp oils, including the Goddess Strength 7 Oil Blend Scalp and Hair Oil, have a pointed tip to help with precise application. Our oil can be applied when your hair is wet or dry and should not be rinsed out to experience the moisturizing benefits. You can use a scalp oil daily or as often as you need. 
Which hair types could benefit from using a scalp oil? 
"I believe oil on your scalp is only for those who know that their scalp is dry but not because of some underlying medical condition," says Price. Those with curly or coily hair are also good candidates for using scalp oil. "Curly/coily hair is inherently drier and needs additional moisture added to it to keep it supple and less brittle," says Price. She explains that's because when your hair is curly or coily, it does not naturally come into contact with the sebaceous glands of the scalp that naturally secrete oils. "Hence, those with very straight hair tend to have oilier hair because their hair is lying and covering the scalp and coming into contact with those oils." 
The Goddess Strength 7 Oil Blend Scalp and Hair Oil was tested on women with curly to coily hair, including 4C hair types, who self-perceived their scalp as dry. After using the Goddess Strength System, which includes a shampoo, conditioner and leave-in cream,  92% of the women said they felt their scalp was balanced immediately  — not too oily and not too dry.
Read More: 
Our Favorite Scalp Masks and Hair Treatments
The Right Way to Manage an Oily Scalp
Yes, Scalp Acne Is a Thing — Here's How to Deal With It
Read more

Back to top