I Tried It: The Thayers Radiance Boosting Collection
May 10, 2021
I've always associated Thayers with toners and astringents that are great for oily skin types and minimizing the appearance of large pores. Because I have normal skin that can sometimes be dry or sensitive and don't deal with significant pore issues, I never thought the brand was for me. After it dropped its Radiance Boosting collection earlier this year, however, I saw Thayers in a whole new light. The brand gifted me the three-piece line, which includes a cleanser, serum and moisturizer, and they've since become mainstays in my glow-chasing routine. Keep reading to find out why. 
Thayers Radiance Boosting Cleanser
I usually steer clear of foaming cleansers because they can be drying and make my skin feel tight after use. But this gel-to-foam formula surprised me with how gentle it is. The fact that it's alcohol- and fragrance-free may have something to do with it. It gets the job done without stripping my skin, and I love that it's infused with vitamins C and E and rosehip and rosewater to help soothe, hydrate and get me one step closer to my glowing skin goal. 
Thayers Radiance Boosting Serum
Because I'm currently using retinol and regularly exfoliating with glycolic acid, a potent vitamin C serum is a bit too much for my sometimes-sensitive skin. I love that this serum contains 1% of the ingredient, so I can still reap some of the benefits without irritation. It also contains hyaluronic acid, rosehip and rosewater. The formula has a watery texture that's easy to smooth over my whole face and absorbs quickly. After use, my skin feels instantly silky and smooth. I like the subtle, natural rose scent, too. 
Thayers Radiance Boosting Balm
This moisturizing balm, which features rosewater, rosehip, hyaluronic acid and vitamin E, has a sunscreen-like texture — without the greasiness or whitecast. It's lightweight yet creamy and takes some massaging to absorb, but once it does, there's no residue left behind, just smooth skin. I like how it makes my skin look dewy and acts as the perfect canvas for makeup. Because it's lightweight, I've been adding a face oil to my routine for some extra nourishment on cold days, but once the weather warms up, it will provide the perfect amount of hydration. 
Since using these three products in tandem, I've definitely noticed a boost in my natural glow. The finish I used to have to apply a luminizing primer to temporarily achieve is now my natural state.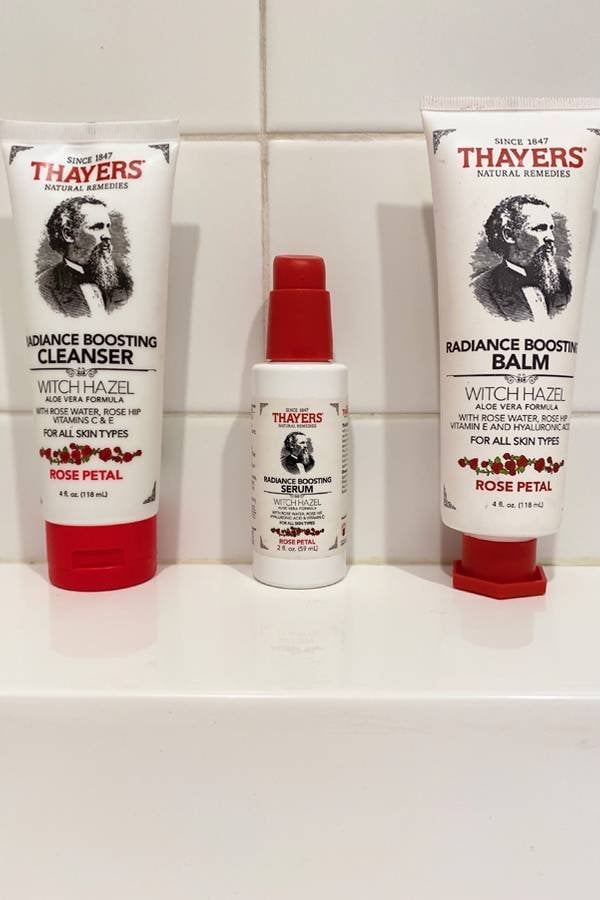 Photo: Sarah Ferguson

Read More:
The Best Thayers Product to Use, According to Your Skin Type
Brighten Up With 7 Amazing Vitamin C Serums at Ulta Beauty
Read more

Back to top