#MaskMonday: This Egg Cream Mask Will Make Your Skin Feel Like a Fluffy Soufflé
March 25, 2019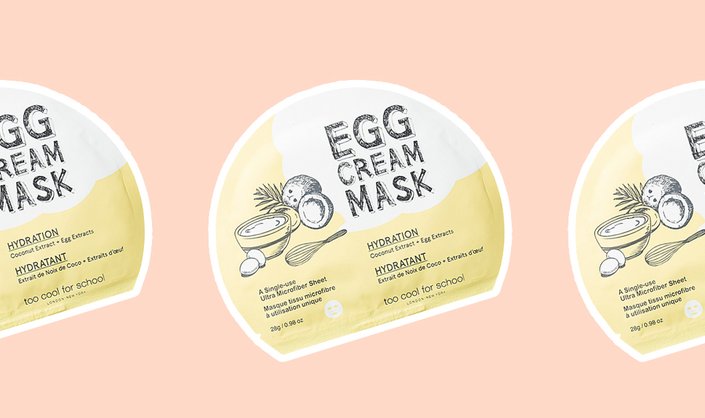 #MaskMonday is where Skincare.com editors try the latest and greatest skin-care masks buzzing on the interwebs and reveal their honest thoughts.
Like most skin-care lovers, I love nothing more than trying new skin-care masks on the regular, whether they be watermelon, selfie-approved or ones that double as cleansers. I try them so often that I really thought I had seen every type of face mask out there, but I recently stumbled across a whole new category: egg cream masks. I picked one up immediately to review — here's how it went.
Mask: Too Cool For School Egg Cream Hydration Mask
Price: $6 MSRP
Editor & Skin Type: Alanna, Combination Skin
When I first saw this sheet mask, my sentiment was nothing short of uncertainty thanks to two words staring back at me on the package: egg cream. Even though I like eggs in general, something about the combination of the words together — and the fact that they were intended to be put on my face —repulsed me. Nevertheless, I opened the package and braced myself for a masking experience that sounded like it might make me feel like a soufflé.
I pulled out the mask that was neatly folded with a protective netting, and much to my surprise, a subtle, sweet, cream-like aroma hit my nostrils. It was not overpowering like a baked good might be, nor was it reminiscent of actual eggs. Instead, it was rather pleasant.
After carefully unfolding the mask, I immediately understood what the cream-serum consistency was all about. "What a fascinating texture for a hydrating sheet mask," I thought. Most of the hydrating sheet masks I've tried are dripping in a thin, clear watery substance, so this was totally new to me. (For what it's worth, inside that creamy serum formula was egg extracts, coconut water, niacinamide and botanical extracts.)
I placed the mask on my face for 20 minutes, the maximum recommended amount of time. I figured, hell, I was already putting a weird cream egg mask on my face, I may as well give it as much time as possible to work. When the timer was up, I removed the mask and instantly felt gratified by the way the cream serum felt on my face. As I massaged in the rest of the formula, I could feel that the cream had moisturized my skin. My cheeks felt soft, buoyant — nearly cloud-like — and any patches of dryness immediately felt moisturized.
The next morning, my skin appeared hydrated, supple and glowing (no joke). I was completely in awe that a mask I was so uncertain about actually made such a difference with one use. The texture of my skin also looked smooth and plumped with hydration, and applying my makeup to such a smooth-feeling surface was a breeze.
Too Cool For School knocked it out of the park with this one and convinced me that skin that feels like a fluffy soufflé can actually be a good thing.
Read More
5 Sheet Masks Perfect for Selfies
The Ultimate Nighttime Lip Routine
How to Determine Your Skin Type
Read more

Back to top