What Is a Retinol Sandwich? A Dermatologist Weighs In
April 06, 2021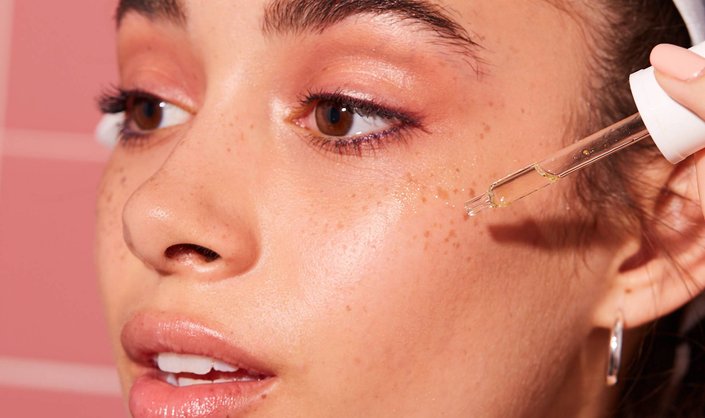 Thanks to the myriad anti-aging benefits of retinol, there are loads of products containing the powerful ingredient on the market, including serums, creams, eye masks and even drops. The kind of retinol you use comes down to your skin type and personal preference, but regardless of the format, moisturizing is essential to offset its potential drying effects. To really combat irritation and flaking, you might also want to try  something called a "retinol sandwich." Keep reading to learn more about the technique from board-certified dermatologist Dr. Michele Farber of Schweiger Dermatology Group in Philadelphia. 
What Is a Retinol Sandwich?
"A retinol sandwich simply entails layering retinol between two applications of moisturizer," says Dr. Farber. To do it, apply moisturizer to damp, cleansed skin. Next, use your retinol product as directed on the package, avoiding sensitive areas like the eyelids and corners of the mouth. Then complete your "sandwich" by adding another generous layer of oil-free moisturizer on top. This second layer of moisturizer can either be the same formula you used for the first or a thicker one, depending on how much hydration you need.
Who Should Use a Retinol Sandwich?
People with any skin type can try this regimen, but it's especially helpful for those with sensitive or dry skin. "It could also be helpful for oily skin in the winter to prevent irritation, and even combination skin can benefit because areas that are more dry can precipitate breakouts," says Dr. Farber.
How to Create the Perfect Retinol Sandwich
After cleansing the skin in the evening, we recommend applying a lightweight moisturizer with ceramides, like the CeraVe Moisturizing Cream. Next, add your retinol layer with a serum like the L'Oréal Paris Revitalift Night Serum With 0.3% Pure Retinol. Finally, add a night cream, like the IT Cosmetics Confidence In Your Beauty Sleep Cream. And whenever you use a retinol, make sure to apply, and reapply, a broad-spectrum sunscreen during the day because the ingredient can make skin more sensitive to UV damage.  
Photo: Chaunte Vaughn
Read More:
5 Drugstore Face Masks to Try This Fall
How Occlusive Ingredients Can Benefit Dry Skin
The Best Brightening Vitamin C Serums Available on Amazon
Read more

Back to top