What Is a Sunscreen Serum? Here's What to Know About the Multitasking Product
August 25, 2021
Sunscreen comes in all different forms, from chemical sprays to tinted, physical creams. One of our newest sun-care obsessions are sunscreen serums. These multitasking skincare products are formulated to help brighten, hydrate or even out your skin tone and texture with the added benefit of SPF. Ahead, we chatted with Skincare.com expert Dr. Rina Allawh, a board-certified dermatologist based in Pennsylvania, about what exactly a sunscreen serum is, how to apply one and more. 
What Is a Sunscreen Serum?
According to Dr. Allawh, sunscreen serums are serums that provide the benefit of sun protection in a fast-absorbing formula. "Sunscreen serums often contain additional beneficial ingredients such as antioxidants like vitamin C,'' she says. "SPF serums help to protect the skin against harmful effects of UV rays in contrast to serums without SPF [when used with additional sun protection measures]."
How and When to Apply a Sunscreen Serum
The best part about sunscreen serums is that they can be applied as the last step in your skincare routine after serum and moisturizer or in lieu of either (if the formula has moisturizing or concentrated ingredients). Equally distribute the serum all over and tap it into the skin. Sunscreen serums can be used on all different skin types and target different areas of concern. For a product that can be used in lieu of your usual morning antioxidant serum, try the La Roche-Posay Anthelios AOX Antioxidant Serum with SPF 50 which is designed to visibly improve the appearance of dark spots and provide sunscreen protection all in one. We also love the Supergoop! Daily Dose Vitamin C+ Serum with SPF 40 for this as well.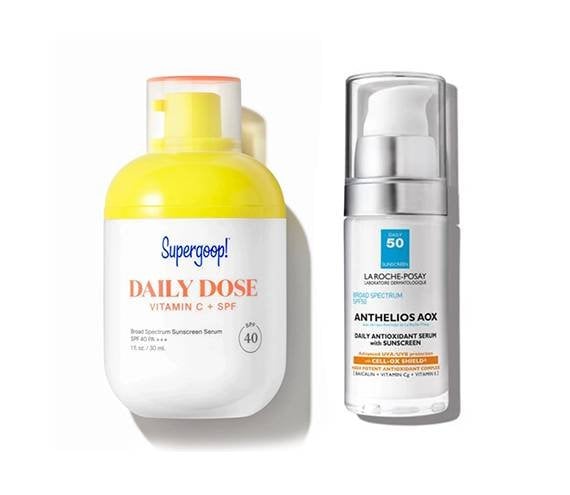 If you're looking for a serum-sunscreen-moisturizer hybrid in place of your moisturizer skin care step, opt for the Garnier Green Labs Hyalu-Melon Replumping Serum Cream Moisturizer with SPF 30 that helps hydrate, soften and minimize the appearance of fine lines.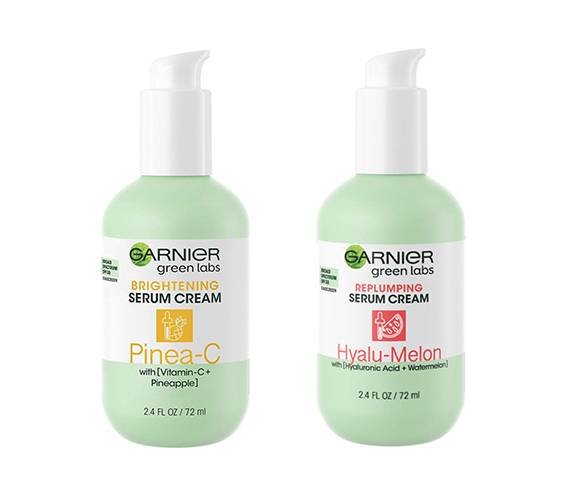 How Not to Use Sunscreen Serums
Incorporating a sunscreen serum into your routine is easy, but remember that less is more. "I don't recommend layering too many serums on top of each other as this might trigger acne breakouts and/or may be irritating to the skin," says Dr. Allawh.  "Rather than layering on products, go for one that's all-in-one!" No matter what SPF you choose, remember to reapply every two hours and take other sun protection measures.
Photo Credit: Sarah Ferguson
Read More:
Sunscreen 101: What SPF Means and Different Sunscreen Types, Explained
QQ: Can Your Skin Get Used to Skincare Products?
Read more

Back to top