The Fall Skin-Care Products 5 Beauty Editors Would Buy at Dermstore
October 25, 2019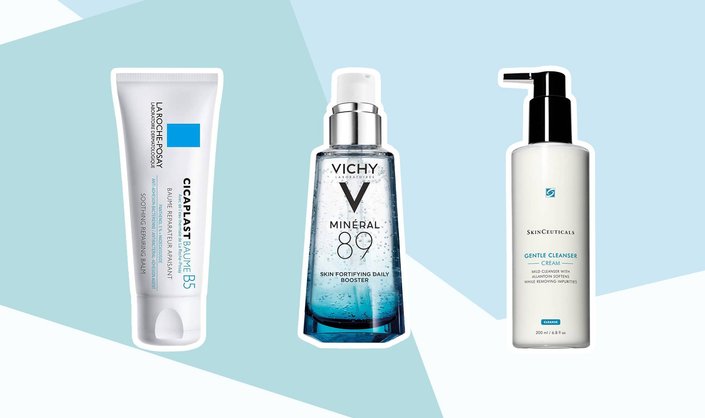 Dermstore is pretty much the equivalent of online beauty and skin-care heaven — and while we can't get enough of browsing through the endless products, choosing what to actually add to cart can feel intimidating, especially if you're looking to refresh your whole routine this fall. To help your pare things down, we asked five beauty editors here at Skincare.com what they would buy if they had $100 to spend at Dermstore.com to change up their current regimen — and here's what they chose.
Alanna, Associate Editor
SkinCeuticals Clarifying Clay Masque — $55
When the seasons change, my combination skin goes rogue, which is why I need a new deep-cleaning clay mask this fall. With this in mind, SkinCeuticals Clarifying Clay Masque is definitely at the top of my routine refresh list because it's non-drying, deep-cleaning and won't congest my pores. I foresee a lot of clay masking with this during cozy fall nights, that's for sure.
Dermablend Pore Saver Matte Primer — $33
Switching up my primer is another change to my routine that I like to make when the weather gets colder, so I'd opt for the Pore Saver Matte Primer as my second purchase on this shopping list. It's especially good for my combination skin because it absorbs excess shine throughout the day and feels super lightweight when layered underneath my foundation.
Bioderma Sensibio H2O — $10
With my remaining cash, I'd also pick up another bottle of Bioderma — my favorite micellar water cleanser for this time of year. This stuff can literally remove anything on my face, whether it's my pigmented cat eye, super-stay lipstick or glitter liquid shadow. Plus, with spooky szn coming in full force, I know I'll be reaching for this to take off stubborn Halloween makeup as well.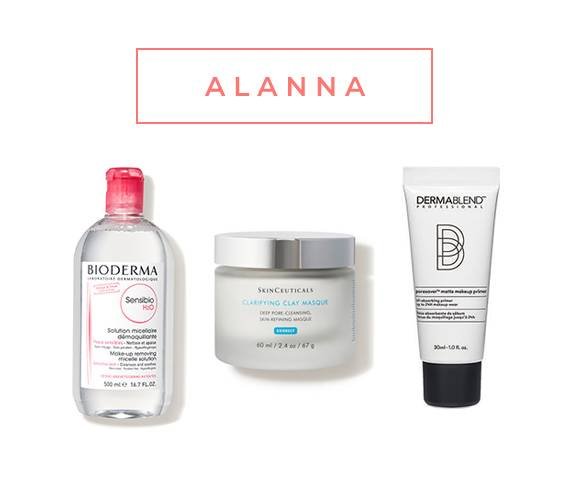 Jessica, Associate Editor
CeraVe Hydrating Facial Cleanser — $15
When fall hits, I always switch up my cleanser to a hydrating formula to keep my skin from getting too dry. The CeraVe Hydrating Facial Cleanser is gentle enough for me to wash my face twice a day — when I wake up and at the end of the day before bed — and removes dirt, oil and makeup without leaving my skin feeling tight.
La Roche-Posay Effaclar Adapalene Gel 0.1% Acne Treatment — $30
No matter how hard I try to prevent it, my skin always breaks out when the seasons change. To help combat that and keep spots away, I like to keep the La Roche-Posay Effaclar Adapalene Gel 0.1% Acne Treatment on hand. I use it as a spot treatment at night when I feel a pimple coming and it helps keep the seasonal breakouts at bay.
Boscia Chia Seed Moisture Cream — $38
Chillier temperatures call for a rich cream moisturizer. Boscia Chia Seed Moisture Cream is powered by a variety of skin-loving ingredients, like chia seed, glacier water and elderberry extract that protect your complexion from environmental damage like pollution and stress. The anti-inflammatory, restorative formula is just what I need this time of year.
COSRX Cooling Aqua Facial Mist — $15
I used to think cooling facial mists were just for hot summer days, but there are benefits to using one in the fall, as well. COSRX Cooling Aqua Facial Mist keeps my complexion feeling soft and hydrated throughout the day without messing up my full fac3 of makeup. It's also super handy to keep at my desk and is a lifesaver against the dry heat in my office.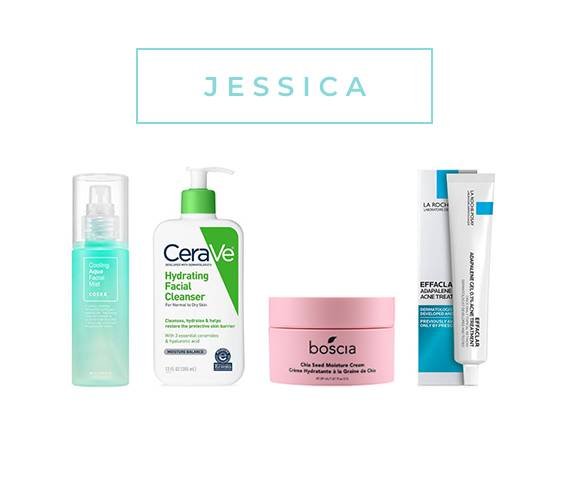 Genesis, Assistant Editor
SkinCeuticals Daily Moisture — $63
As the temperatures begin to drop, my normal-to-oily skin begins to lean toward the dry side of the spectrum. Luckily, this face moisturizer is the answer to all of my skin-care woes. Formulated with vitamin E and algae, it helps to hydrate and nourish those parts of my face that struggle with extreme dryness. But what I love most is that it also works to reduce the appearance of my pore size because some way, somehow my T-zone manages to remain oily no matter the temperature outside, which often leads to large-looking pores.
Vichy Minéral 89 Eyes Hyaluronic Acid — $24
I'll be honest, I didn't always understand the importance of an under-eye cream. But after learning that it is usually one of the first places to show signs of aging because of how delicate the area is, it has now become one of my favorite steps in my skin-care routine. I love Vichy Minéral 89 Eyes because it's made with caffeine and hyaluronic acid to help brighten and hydrate the under-eyes, offering a well-rested look, even on the days when you got little to no sleep.
Talika Bubble Mask Bio-Detox — $10
Every time I go skin-care shopping, I always reach for a sheet mask. It's such a relaxing and affordable way to treat your skin without requiring much effort. I love this Talika Bubble Mask because first, it looks cool when it begins to foam, and second, it gently detoxifies my skin to help refine the look of my pores and unveil a softer, smoother complexion.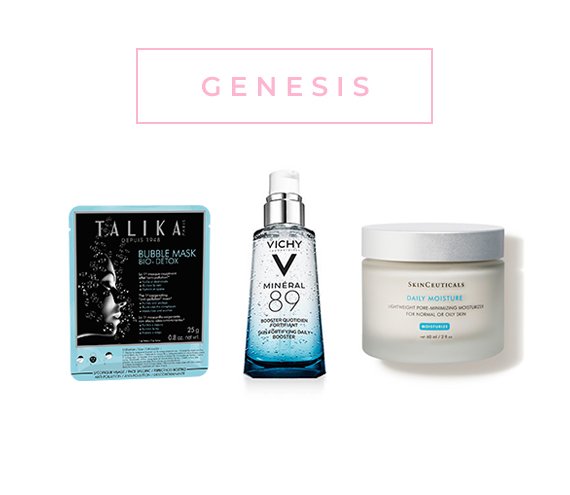 Samantha, Assistant Editor
CeraVe SA Cream for Rough and Bumpy Skin — $24
Every fall, just like clockwork, I get patches of dermatitis on the insides of my elbows, upper legs and neck. The flare-ups are, well, highly unpleasant. The CeraVe SA Cream for Rough and Bumpy Skin is one of the only products that gives me relief. The salicylic and lactic acids help to get rid of my flaky patches, while hyaluronic acid, niacinamide and ceramides hydrate. The formula is simple, in the best way possible, and soothes my skin almost instantly.
Weleda Skin Food Ultra Rich Cream — $19
Out of everything in my beauty arsenal (which is extremely extensive), this cream is hands-down included in my top five can't-live-without products. I tap into this tube for just about everything and view it more as a skin-care and makeup duo rather than a normal cream. I pile it on my lips every night as a make-shift lip mask, dab it on my cheekbones pre-makeup for a lit-from-within glow and rub it anywhere on my face where I feel a dry patch coming on to avoid flaking throughout the day. Add to cart, trust me!
SkinCeuticals Gentle Cleanser — $45
In the summer, I lean toward glycolic cleansers and face washes that lather away all the sweat and New York City pollution. When temperatures drop. though, I like to use a gentler cleanser. It's definitely on the pricier side for a face wash, but this product is worth splurging the rest of my Dermstore budget on. I find that a lot of gentle cleansers make me feel like I'm just rubbing the makeup and dirt around my face rather than actually washing off the day's grime. This wash still makes my skin feel fresh and clean, without subjecting it to any harsh ingredients.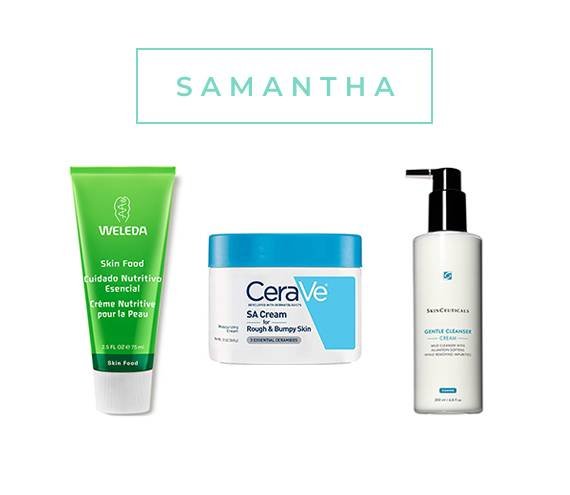 Jillian, Social Media Editor
La Roche-Posay Cicaplast Baume B5 –– $15
A good lotion is my ride-or-die product in the colder months. I like to carry some sort of moisturizer in my purse, my gym bag and stocked in my desk so I can reach for some hydration whenever I'm feeling dry. La Roche-Posay's Cicaplast Baume B5 can be applied literally anywhere (I even use it as a lip balm sometimes) and is so inexpensive that I usually by a few tubes in bulk. If you're looking for a budget-buy lotion that stills delivers on hydration, this is it.
Vichy LiftActiv Hyalu Face Mask –– $40
While I usually moisturize my face to the high heavens, in the fall and winter I like to give myself an extra treat in the form of a face mask. Vichy's LiftActive Hyalu Face Mask has the perfect amount of hyaluronic acid, meaning my skin drinks up the rest of my routine. I noticed a major difference when I first started using this, which is why I'm more than happy to spend nearly half of my Dermstore budget on this gem.
Dermalogica Gentle Cream Exfoliant –– $43
I deal with dry skin year-round, but as soon as those fall and winter temperatures hit, my skin becomes a flaky mess, which is why I need a reliable exfoliator to keep on hand. The kicker? My skin is extremely sensitive, so I have to find something that's as gentle as possible but still helps me polish off the dead skin. Dermalogica's Gentle Cream Exfoliant has the perfect texture for me while still giving me that glow I'm looking for. I would splurge on this any day.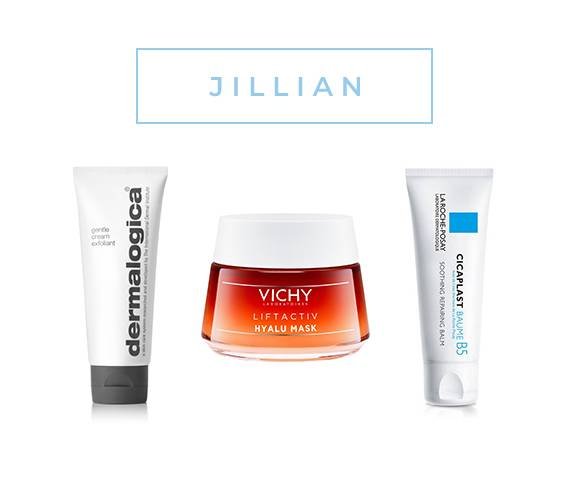 Read More:
3 Dermatologist Hacks for De-Puffing Your Eyes
Our Favorite Products Infused With Coconut Oil
Read more

Back to top