I Tried the YSL Pure Shots Lines Away Serum and My Skin Has Never Felt Smoother
February 05, 2020
I've struggled with uneven skin texture around my nose and chin for as long as I can remember (thanks acne). Even when my pimples are calm, my skin still appears rough and bumpy. Smoothing out this texture has always been a challenge, and I've never quite found a serum that appears to help, despite my best efforts. Sure, I've always applied an antioxidant serum and a hyaluronic acid formula regularly, but I never got the results I wanted. So when I was gifted the new YSL Beauty Pure Shots Lines Away Anti-Aging Serum from the brand for purposes of this review, I was intrigued. 
Lines Away contains a powerful combination of hyaluronic acid and iris, a natural antioxidant. The duo helps to plump the skin, hydrate and support natural collagen production. Even better, it can be used on normal, dry, combination or oily skin and has eco-friendly refillable packaging for a sustainable skin-care experience. In other words, sign me up. 
The first time I tried Lines Away, I immediately noticed its gel-like, blendable and smooth consistency. It's lightweight, and you only need a few pumps to blend into your entire face. As I smoothed it onto my skin, it felt cool and hydrating and dried so quickly, I was able to apply my moisturizer right overtop without a pill in sight. It also made my skin feel plump and prepped for makeup — my primer and CC cream were able to slide on like a dream.  
After using it for a couple of days, I started to focus extra on the areas where I had the roughest texture (in addition to applying it all over my face) and began to notice a difference in the look of fine lines around my chin and nose. These areas started to appear a lot smoother, polished and more supple. Overall, my skin appeared glowing, my lines looked visibly minimized and my skin felt happy.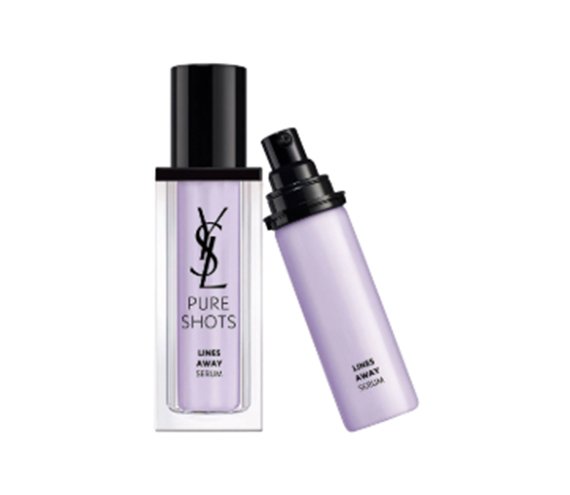 Final Thoughts on the YSL Beauty Pure Shots Lines Away Anti-Aging Serum
Smooth looking skin has always been a struggle of mine, but my instinct to try a combination of a hyaluronic acid serum and antioxidant serum appeared to be right on target. Lines Away hits that sweet spot between what these two ingredients do best — antioxidant protection for the skin's surface from free radicals and hyaluronic acid to provide hydrating benefits all while helping to promote skin's natural collagen production. I finally have the cherub-like skin I've always wanted and the confidence to show it off. 
Read More:
I Tried the SkinCeuticals C E Ferulic Serum and My Skin Has Never Looked Better
How to Get Rid of Hyperpigmentation Like a Pro
Read more

Back to top