Self-Isolation Acne? This Patch Is Effective, Buzzy and Dare We Say, Trendy?
April 23, 2020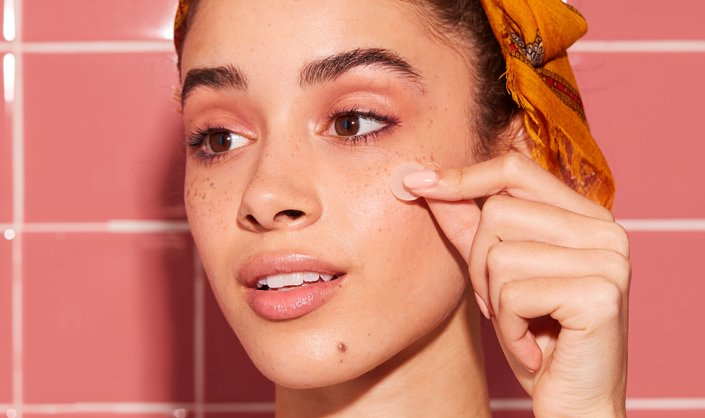 "I love zits!" said approximately no one, ever. They basically smell fear and pop up at the very worst times, say right before date night or after a steady streak of good skin days. As much as we love our acne-fighting face washes and weekly charcoal face masks, sometimes we need something that will target our pimple directly, like a spot-treatment. To combat pimples in the early stages, meet the ZitSticka Killa Kit: a set of trendy, portable acne patches that are here to save the day — and your face.
The brand's founders gifted me the Killa Kit, and somewhat fortuitously, my skin acted up that very day. The Killa Box contains eight individually-wrapped "Killa" patches and "Cleana" swabs to swipe on your pimple before application. What makes this acne patch different from others I've seen is that they contain mico-darts with ingredients that work to calm your zit. Within two hours of application, these darts dispense the ingredients (hyaluronic acid, salicylic acid, niacinamide and oligopeptide-76) into your pimple.
Initially, I was a little intimidated by the look of the micro-darts, and I'm not going to lie, I was scared of pressing it into my skin. I found that it was actually weirdly satisfying, but the best part was that I knew it wouldn't fall off my face in a matter of seconds. I went about doing some chores around my apartment, went to bed and woke up with the patch still intact. In the morning, my pimple wasn't completely gone, but it wasn't inflamed, either. According to the brand, "The appearance of most zits will shrink after six hours, but other cases will take  longer, and exceptionally stubborn cases may require a follow-up application." I'm happy to report that my pimple lived a very short life, but be warned, you might need to use a second patch.
The ZitSticka Killa Kit is available at ZitSticka.com for $29 and ships for free to the United States.
Read More:
6 Things That Age Your Skin Prematurely
Why You Keep Getting Razor Burn and Razor Bumps
The One Skin-Care Product Everyone Should Be Using Daily
Read more

Back to top