A Step-by-Step Guide for Your Most Believable Fake Tan Ever
May 12, 2016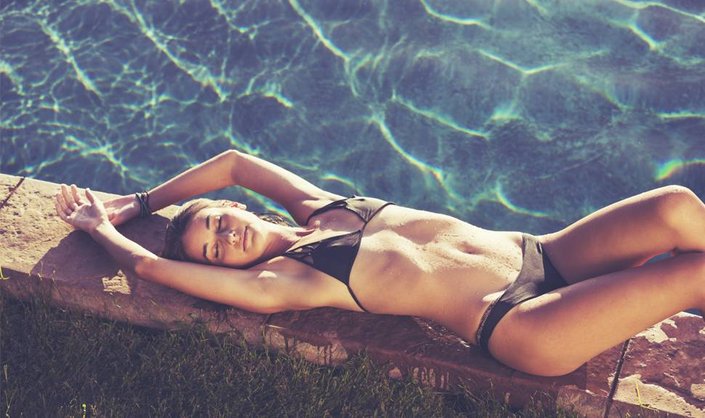 As we have become increasingly aware of the sun's harmful UVA and UVB rays—and the ultimate cost of tanning our skin in the sun and in tanning beds— fake tans have become the new sun tans. Many have become more open to the idea of treating themselves to a spray tan or stocking up on self tanning lotions, serums, and sprays that can be easily applied in the comfort of their own homes.
If you're still a skeptic, maybe this will help change your mind: According to the American Academy of Dermatology, more and more young people are being diagnosed with skin cancer due to their tanning habits—which is why switching to a self-tanner or spray tan is a better option. If that doesn't scare you, maybe the fact that each time you tan your skin, you are prematurely aging it, will.
We know that faux tans can be intimidating to try and your bad experiences with orange, streaky, and splotchy skin may haunt your dreams forever, but with some guidance, we have full confidence that you can achieve a believable fake tan. Use this step-by-step guide to help you get your most believable self tan ever!
Step 1: Select Your Self Tanner
From gels, to foams, to sprays, to towelettes, to gradual bronzing lotions, to wash-off formulas, self tanners have come a long way from the streaky-finish, orange tints of the past. Your first step? Find the best formula for you. Need some help? We share some of our favorite self tanners here.
Step 2: Prep Your Skin
Next up you'll want to prep your skin for self tanner. One of the most important steps in preparation is body exfoliation. This can help remove dead skin and soften your skin to help you get a more even tan. Spend extra time on extra-thick areas of skin like your knees and elbows. From there, dry off and apply moisturizer on areas of your skin that are dry. For extra prep help, check out our guide for prepping your skin for self tanner and spray tans.
Step 3: Section Off
Application is next. For the most even, believable fake tan, invest in a tanning mitt—this will not only help you get an even application, but also help keep your palms from getting stained. Then, apply the tanner in sections, massaging the formula into your skin with a uniform circular motion. If your formula doesn't work with a mitt, be sure to wash your hands well after each section.
Step 4: Mix with Moisturizer
Your ankles, knees, wrists and other joints can be tricky, as they tend to be drier than the rest of our skin, which means that they can soak up too much of the tanning lotion. Diluting the self-tanner with a little lotion or moisturizer can help you avoid this. If it happens, no worries! We share the quickest way to remove self tanner—and fix your mistakes—here!
Step 5: Allow Time to Dry
Once you've finished with the application process, you will want to give your skin about 10 minutes to dry before getting dressed. For extra precaution, try to stick with loose clothing and avoid sweating or showering for the next few hours.  
Editor's tip: If you are applying a self tanning lotion, like L'Oréal's Sublime Bronze Self-Tanning Gelee, you may want to try mixing a little with your regular lotion and apply daily for a more gradual tan.
Read more

Back to top