A Thank You Note to CeraVe Acne Control Cleanser
April 06, 2022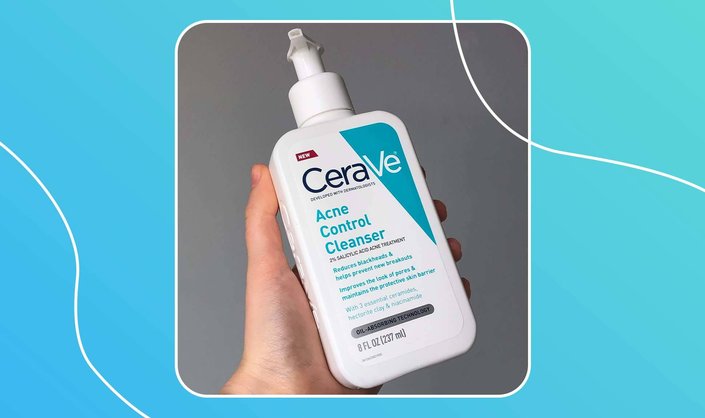 I'm a huge fan of CeraVe and its assortment of cleansers. With an option for just about every skin concern, there's no wonder the brand has gone viral on TikTok so many times. The latest addition to the CeraVe cleanser lineup is the Acne Control Cleanser, a gel-to-foam acne face wash that contains 2% salicylic acid. 
As someone who deals with adult acne and oily skin, I was more than excited to try out a sample of the formula, courtesy of the brand. Keep reading to discover more about the new facial cleanser, plus my experience with it and what you can expect. 
Everything You Need to Know About the CeraVe Acne Control Cleanser
CeraVe is known for its gentle yet effective products, and this cleanser is no different. It contains 2% salicylic acid — a popular acne-fighting ingredient — penetrates pores to clear most breakouts and blackheads, and helps prevent new acne blemishes from forming. The formula is also infused with a purifying clay that helps absorb excess oil to minimize visible shine. On top of that, the formula, which is infused with three essential ceramides and niacinamide, helps keep the skin soft, smooth and hydrated, and helps improve the look of pores. 
How does one product do all that? Salicylic acid, when paired with the oil-absorbing clay, works to gently exfoliate the dead skin cells and absorb the excess oil that clog pores and penetrate already clogged ones to prevent new breakouts. 
The concentration of salicylic acid is gentle enough that many people should be able to use it twice a day. 
How I Use the CeraVe Acne Control Cleanser
I like to use the CeraVe Acne Control Cleanser each morning and night. Most mornings, my skin is a bit oily because of the thick creams I apply before bed, so I love that Acne Control Cleanser works to clear away pore-clogging residue from the night before and also sops up the excess oil so that I can start off my morning feeling fresh and clean. 
I begin my routine by getting my hands wet under the sink and dispensing a dime-sized amount of the gel-like cleanser into my palms. Then, I rub my hands together so that the gel lathers into a foam (this only takes a few seconds). Once everything is all sudsy, I very carefully massage the cleanser onto my skin in a circular motion. I usually keep massaging for about a minute so that the salicylic acid has time to work itself into my pores. Then, once I'm content with my cleanse, I splash the water onto my face to remove the cleanser and pat my skin dry with a clean washcloth. 
Because there are active ingredients in the face wash, I always follow up my morning cleanse with a lightweight, non-comedogenic moisturizer and a broad-spectrum sunscreen to keep my skin hydrated and help protect it from the sun's harmful rays. One of my favorite products for this is the CeraVe Hydrating Mineral Sunscreen Sheer Tint because it contains moisturizing hyaluronic acid and SPF 30 to get the job done all at once. 
At night, I like to double cleanse. First, I take my makeup off with the CeraVe Hydrating Plant-Based Makeup Removing Wipes. With these wipes, I'm able to remove my makeup — even the stubborn, waterproof kind. Then, I take another dime-sized pump of the Acne Control Cleanser and work it into my skin the same way I do in the morning. I finish up with my prescribed acne topicals and a thick emollient moisturizer before heading to bed. 
My Experience With the CeraVe Acne Control Cleanser
Because my acne is hormonal, I still get breakouts from time to time, but this cleanser helps me stay on top of my acne, and for that I'm eternally grateful. I find comfort in knowing that it helps keep breakouts from forming, and when I do have a blemish, it doesn't irritate it. Every time I use the cleanser, my skin feels clean instead of tight and uncomfortable. 
I've gone through about four large bottles of this cleanser, and I don't plan on trying another one any time soon. I cannot thank this cleanser enough for existing and for helping me keep my blemish-prone skin under control. 
Photo Credit: Caitlyn Martyn
Read More:
How to Prevent Blackheads, According to a Dermatologist
Why Do I Get Pimples in My Ears? 
Read more

Back to top