I Tried the Lancôme Absolue Nurturing & Brightening Oil-in-Gel Cleanser and Now I'm Hooked
October 31, 2019
As much as I love to test new serums, moisturizers and face masks as often as humanly possible, my cleanser is a product I very rarely stray from. That's because I've found it can be hard to find a face wash that works well with my skin. I guess you can say I'm picky when it comes to this staple product. But that doesn't mean I'm entirely closed off to testing a new face wash here and there — especially if it's a really, really good one. That's exactly how the Lancôme Absolue Nurturing & Brightening Oil-in-Gel Cleanser made its way into my daily skin-care regimen. 
In my normal nighttime skin-care routine I double cleanse to remove the full face of makeup I wear every day. This usually involves an oil or balm cleanser first, followed by a gel cleanser in the spring and summer or milk cleanser in the winter. The Lancôme Oil-in Gel Cleanser is a combination of all of the above. Following the instructions on the packaging, I used it on dry skin by massaging it in circular motions (just as you would for a normal oil or balm cleanser). This is when the magic happens.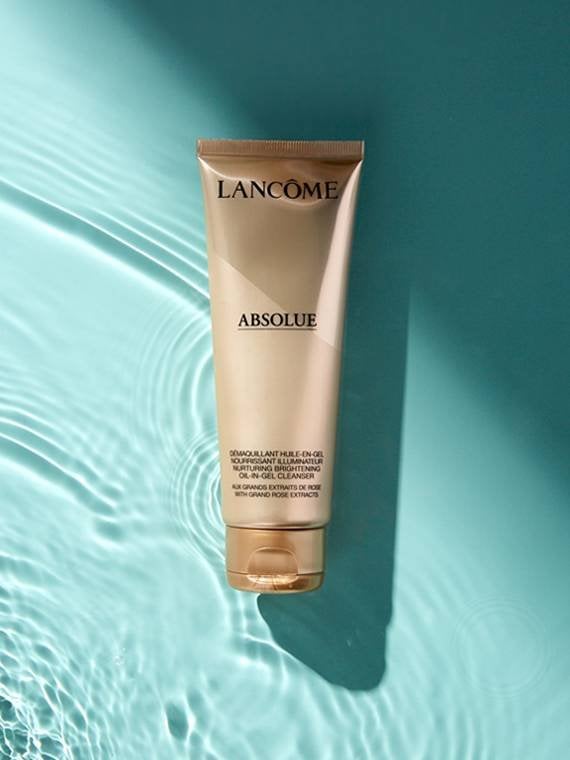 When dispensed from the bottle the formula comes out in a gel form. Then, as you massage it into dry skin it melts into a light oil that glides across your skin. During this stage, it begins to break down makeup. When you go to rinse, the water transforms the oil into a hydrating milky cleanser. 
Like I stated above, I usually rotate out a gel or milk cleanser into my routine depending on the season. This is because in all of my years of research (read: hoarding skin-care products), I've found that gel cleansers tend to be a bit more drying, while milky cleansers are more hydrating. This unique face wash is a happy medium between the two and leaves my skin feeling clean like a gel but nourished and comforted like a milk. Unlike some oil or balm cleansers that leave behind a greasy residue, this one fully washes away with water to reveal skin that isn't tight but also isn't shiny. One more reason that I'm completely obsessed: It has an amazing floral scent thanks to its formula of grand rose extracts and rose oil (i.e., it smells super luxe). 
Read More:
5 Drugstore Face Washes Less Than $10
6 Moisturizers for Sensitive Skin That Beauty Editors Love
The Fall Skin-Care Products 5 Beauty Editors Would Buy at Dermstore
*
I received this product courtesy of Lancôme to try and review.
Read more

Back to top