Dermablend's Malena Higuera Is Proof That You Don't Have to Compromise — In Your Career or Your Skin-Care Routine
April 16, 2019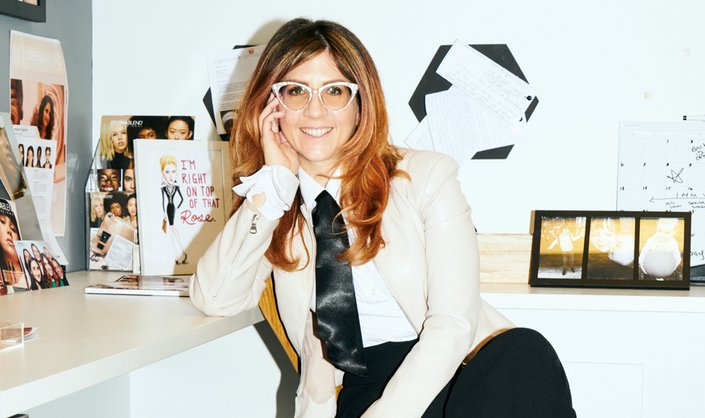 It can be difficult to sum up the work Malena Higuera does in a few words. On paper it might seem simple — her official title is Dermablend General Manager — but in reality it's much more complicated than that. She's not only leading the charge at one of the top beauty brands, she's also ensuring people feel seen and heard along the way. For Higuera, the goal is to make sure everyone feels good in their own skin while honoring the journey she's been on to feel good in hers. In her case, that means a careful balance of skin care and science, and finding products that make her feel confident without irritating her sensitive skin.
We recently caught up with the L'Oréal executive to talk all things beauty — from how she gets her skin in such good shape to the leaps she has taken in her career that have helped her get closer to achieving her purpose.
On what's in her makeup bag for work
First of all, I love what my makeup bag says. It says: "Contents...Powerful Makeup" and a mission that says, "beautiful with, beautiful without." I really love to send the message that, yes, I'm about to put on this makeup, but it's a choice. Makeup is about choice and understanding that you're as beautiful with it as you are without it.
In my makeup bag are two different Dermablend brushes because I'm obsessed with having a brush for high-coverage foundation as well a powder brush. I also carry a travel-size Dermablend Banana Setting Powder and Dermablend Glow Creator in Peach. I use them under makeup, over makeup, in makeup — and sometimes in my skin care if I want a little glow. I also have Dermablend Flawless Creator in 25N in there and Giorgio Armani Eyes to Kill Mascara. I love that I can do a quick swipe on the go. I also have a kajal liner that I'm obsessed with and Maybelline SuperStay Matte Ink.
On a day in her life
I feel extremely fortunate because I have a home and a job that allows me to live by my frame. I will never miss something that my sons will remember I missed and not remember why I missed it. My children wake me up — they're like my alarm clock — and I get to make them breakfast. They're part of my self-care routine. I like to wear makeup, so I put on makeup in the morning and we do it together. We get dressed, we get out the door and I'm able to drop both my children off and still be to work at about 9-ish. I never go a day without absorbing how meaningful that is for me. While I'm at work, there isn't one day I can predict at my job. I'm here at the service of my team. I'm here to facilitate their growth and purpose. I also do a mentoring session once a week that's almost like gospel in my calendar. When you reach a certain point, you have to make sure you're serving the community you're there for, and not just in the confines of four walls.
On the biggest pinch-me moment of her career
WWD included me in the Top 50 Most Influential People in the Multicultural Market. It's not just pinch-me because I'm on this incredibly star-studded list, it's because it is actually possible to make a difference if you stay on your mission and you stay as passionate and invested in what you believe in. I'm a big advocate for inclusion. The conversation is not just about diversity, it's about true inclusion. I will not stop working until I am sure that everyone is comfortable with the skin that they're in.
On getting her job at Dermablend
Don't let anyone fool you, we trip through our careers — they're not always particularly planned out. My first long-term gig was in raw materials with Lipo Chemicals. It was the first tech boom and I was graduating college and needed a job, and I wanted to be in beauty. That gave me a pure understanding of the potency of the ingredients we work with every day. I worked with labs on how to best develop formulas to hold these powerful ingredients. From there, I went to Avon and was there for several years across every category. I left leading the Global Lip and Nail portfolio. Then I came to L'Oréal — almost 13 years ago — without knowing the job I was taking. I took it on a leap. It was a secret project at the time, but I was so impressed with the people, that I went for it. I think it's pretty emblematic of the way I look at my career and the choices that I make because a few years in, I was able to develop skin care for Maybelline in Asia, and from there I was called to manage Maybelline for Asia Pacific, which taught me invaluable lessons about what it means to view the world in the culture that you're in and influence from within. Then, I came back to be the head of marketing for L'Oréal Paris. It was on my second maternity leave when I got the call for Dermablend. I wanted to be part of disruption and brands with a true origin story — brands that bring service beyond product and are truly utilitarian and help change lives. I wanted to be part of a brand that's actually cross-cultural. What I actually got was so much more. Dermablend has taught me I'll never live outside of my purpose, ever.
On how spearheading Dermablend makes her feel powerful
When I saw that there's a true "clear skin" bias that exists around us, and I from within the industry felt the weight of that bias, I knew it was my responsibility to change the conversation. I decided I will no longer use the words "before" and "after" on my brand and constantly send the message that you are beautiful with or without makeup.
Working on something that really connects you to your purpose not only changes how you see your job, it also gives you superpowers. By working with purpose, I feel I have a superpower every day to change lives. I never could have expected that coming in. Oftentimes you don't know you're in something amazing until you try.
On making it in the beauty industry
You need to be extremely passionate. The beauty industry is defined by the latest trends and product. It requires a lot of curiosity, passion and a ton of resilience. I believe in grit, perseverance, creativity and never forgetting why you're in the industry. If you stay true to that, you can really rise and make a big impact.
On the beauty trend to watch in 2019
I'm excited for a skin-first industry. Makeup is so much deeper than the latest unicorn trend. It's about how to take care of yourself and how to come back to your own authentic expression.
---
MALENA HIGUERA'S BEAUTY ROUTINE
Skin Care: I refuse to compromise my skin care or my makeup just because I happen to be someone with cystic acne and rosacea. Thanks to dermatologist Shari Marchbein, MD, who has saved my skin, I'm finally on a wonderful regimen. I'm on three different topical antibiotics and as a result of that and retinols, I'm very sensitive. My skin-care routine is focused on simplicity because all the hard work is happening from the prescriptions from my dermatologist. I consider the prescriptions the "juggernauts," and look at skin care as supporting me with the basics of what I need for really healthy skin. I use the Cerave Hydrating Cleanser and Skinceuticals C. E. Ferulic in the morning and my moisturizer is Dermablend InstaGrip Jelly Primer. It's a makeup gripper and 24-hour moisturizer. I wear retinols almost daily, and it allows me to get that intense moisture without all the stuff that drives me crazy.
Makeup: The only foundation of choice is my baby, Dermablend Flawless Creator. I developed Flawless Creator to be a foundation for all. I need full coverage but I don't want the weight. It's zero-weight, full coverage and is developed with ten ingredients. It's five pigments in a gel suspension that's also oil-free and water-free. It works with my skin care and not against it. I set it with Dermablend Illuminating Banana Powder, which is universally flattering and not so yellow that it affects the color of your foundation. I use a little bit of Dermablend Glow Creator as a highlight and L'Oréal Lash Paradise Mascara to finish up my makeup routine. I like brow, mascara and occasionally, a red lip.
Hair: Hair is one of the most important parts of self-expression. My hair changes often, so I'm very careful about shampoos and conditioners. I prefer to wash my hair weekly and like Pureology shampoos because I sport different hair colors. I also use a hair mask in place of  conditioner and my rose gold hair has held up.
Read More:
#SKINCRUSH: Influencer Morgan Brown Shares Her Everyday Skin-Care Routine
#SKINCRUSH: Meet Amy Serrano — And the Skin-Care Gadgets She Loves
Tatcha Founder Vicky Tsai is Creating Effective Skin Care — And Funding Girls' Education
Read more

Back to top