Not Your Mother's Face Wash: Your Guide to the New Wave of Cleansers
September 06, 2016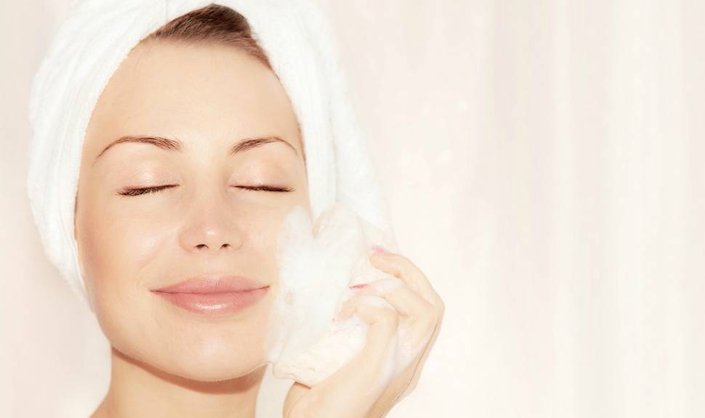 Cleansing is the foundation of a sound skin care routine, we all know that. We also know that choosing just any cleanser off the drugstore shelf is likely not going to end well. But with so many different types of cleansers to choose from—foam, gel, oil, and beyond—how's a gal to narrow down which one is best for her routine? To help you reach a verdict, we created the ultimate guide to cleansers—including our favorite picks in each category—below. Your first tip? Don't be afraid to stock up on more than just one. 
MICELLAR WATER
A long-time French beauty favorite, micellar water has garnered massive popularity stateside these days, and it's no surprise why. The formula utilizes micelle technology—micelles are small cleansing molecules dispersed in water—to attract and gently remove impurities and makeup on the skin's surface, as well as tone and refresh skin. It's the ultimate cleansing multi-tasker, perfect for lazy girls who can't be bothered with a lengthy skin care routine or folks who just want a no-frills cleanser that consistently pulls through. Unlike other cleansers, micellar water doesn't require rinsing afterwards. All it takes is a quick soak of a cotton pad and a few sweeps across the facial zones. Carry it with you when you're on the go so you never have an excuse not to cleanse—even when a sink is nowhere to be found.
Good for: Everyone! All skin types can benefit from this gentle, yet thorough cleanser.
Products to try: Vichy Pureté Thermale 3-in-1 One Step Solution, La Roche-Posay Micellar Water, Garnier SkinActive Micellar Cleansing Water All-in-1 Waterproof Makeup Remover & Cleanser
FOAM
When you think of foaming cleansers, the first image that might come to mind is harsh formulas tugging away at your skin's natural moisture to eliminate excess oil. While this may have once been true, many of today's foaming cleansers are much less tough on the skin, leaving you with a squeaky clean feel without any tightness or dry feeling after. Foam cleansers start out as a liquid and are quickly transformed into a bubbly lather when applied to the skin to lift away dirt and grime.
Good for: Oily and combination skin types are typically the best candidates for a foam cleanser, however, some gentle formulas can be great for all—even dry and sensitive—skin types. Always consult the product label or a dermatologist to be sure. 
Products to try: SkinCeuticals Foaming Cleanser, Garnier Clean+ Purifying Foam Cleanser, Lancôme Énergie de Vie Foam Cleanser
GEL
Gel cleansers are an all-around favorite thanks to their lightweight texture. Most formulas are mild and refreshing—a great option for removing dirt—while soothing and hydrating skin without stripping its natural oils. 
A word of caution: Using a cleanser that dries out your skin can trick the skin into producing extra oil to compensate for the loss of moisture. If your skin feels tight or dry following use of a gel cleanser, switch to another cleanser for your skin. 
Good for: Gels that lather are a good option for normal, oily, combination, and/or acne-prone skin types.
Products to try: SkinCeuticals LHA Cleansing Gel, La Roche-Posay Effaclar Gel Cleanser, Kiehl's Blue Herbal Gel Cleanser 
OIL
Cleaning the oil off your face with more oil (instead of water) seems like a bad prank, but it's actually a thing. It all boils down to science. The phrase "like dissolves like" was an easy way for us to remember in chem class that non-polar substances, like oil, will dissolve in non-polar substances. So, when good oil is mixed with bad oil on the skin's surface, the bad oil actually dissolves along with any lingering dirt and impurities. Want to know what's also great about oil cleansers? They moisturize the skin while they cleanse, so your skin is never left feeling dry and tight. 
Good for: All skin types, especially dry! If you have oily skin to begin with, consider following up with a toner to ensure that all the residue is completely removed.
Products to try: Vichy Pureté Thermale Cleansing Micellar Oil, The Body Shop Camomile Silky Cleansing Oil, Shu Uemura Anti/Oxi Skin Refining Cleansing Oil
CREAM
Cream cleansers are among the (duh) creamiest formulas of the bunch, with benefits that include hydration and nourishment along with basic cleansing. There are many different textures to choose from—think: milks and butters—that can make the skin feel like it's being pampered at the spa. Plus, not all formulas need to be rinsed off.
Good for: Dry, sensitive skin is typically the best candidate, but certain formulas are great for use on other skin types as well. Oily skin types might find the texture to be too heavy on their complexion. Also, not all cream cleansers are non-comedogenic, so check the label first if your skin is acne-prone.
Products to try: The Body Shop Vitamin E Cream Cleanser, Lancôme Galatée Confort, L'Oréal Paris Age Perfect Nourishing Cream Cleanser
BALM
When the temps start to decrease into the single digits, a rich cleansing balm is what you'll want lying around to cleanse and nourish your dry, winter skin. The formulas—typically oil or mineral-based—work to protect the skin's moisture balance, hydrate dry patches, remove makeup, and provide a full-face cleanse. Most cleansing balms are applied the same way; to use, warm up the cleansing balm in your hand and apply to dry skin. Add a bit of water as you massage it into your skin, and finally rinse off with warm water or a wet muslin cloth.
Good for: The gentle, rich formulas make them a great choice for dry, sensitive skin types.
Products to try: The Body Shop Camomile Sumptuous Cleansing Butter, Shu Uemura Ultime8 Sublime Beauty Intensive Cleansing Balm 
EXFOLIATING
Cleansing and exfoliating are both mainstays in a skin care routine, so why not combine both benefits into one? Cleansers with chemical exfoliants—read: glycolic acid, lactic acid, or salicylic acid—can help combat excess sebum on the skin, eliminate dullness, and even out skin's tone. Cleansers with physical exfoliants—read: salt or sugar,—mechanically remove built-up dead skin cells from the surface of the skin to reveal brighter-looking, more polished skin.
Good for: Normal, combination, oily, and/or acne-prone skin types. In general, sensitive skin types should avoid exfoliating cleansers, as they could be too irritating. Some formulations, like La Roche-Posay Ultra-Fine Scrub, are safe for sensitive skin though. 
Products to try: SkinCeuticals Micro-Exfoliating Scrub, La Roche-Posay Ultra-Fine Scrub, L'Oréal Paris RevitaLift Bright Reveal Brightening Daily Scrub Cleanser 
WIPES/PADS 
These bad boys are a cleansing game-changer. We like to store them in our purses for a quick clean on-the-go and on our nightstand as a backup plan on nights we're too tired to head to the sink. Not only do they get to work instantly, some are even formulated to target other skin concerns like spots and blemishes. Do note, however, that if your skin has a lot of dirt, grime, and makeup on it, it's a good idea to follow up with one of the other cleansers on this guide after you wipe to ensure a thorough and complete cleanse.
Good for: All skin types.
Products to try: L'Oréal Paris Ideal Clean All Skin Types Makeup Removing Towelettes, Garnier Refreshing Remover Cleansing Towelettes
Read more

Back to top