The Vichy Normaderm PhytoAction Deep Cleansing Gel Has Seriously Helped My Maskne
October 30, 2020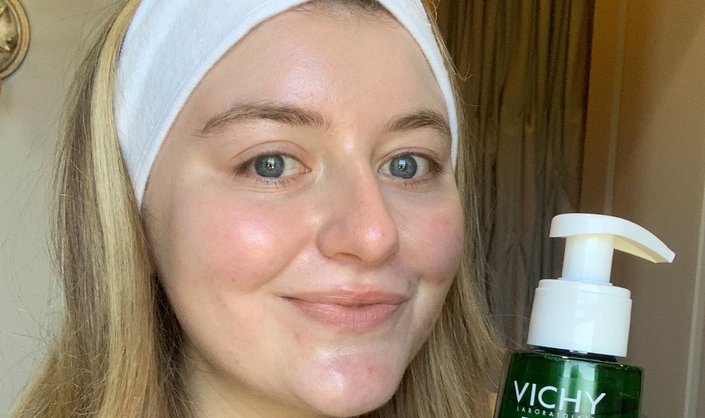 I used to battle with acne, but over the past few years I've managed to get my breakouts under control. Well, that's until I started wearing a protective face mask. The friction of the fabric combined  with makeup and sweat has summoned  all my pimples back. In an attempt to restore my previously  clear complexion, I incorporated the Vichy Normaderm PhytoAction Cleanser, (gifted to me by the brand for purposes of this review), into my skin-care routine. Here, I'm breaking down how the salicylic acid-formulated cleanser helped reduce my acne without irritating my sensitive skin. 
The Benefits of the Vichy Normaderm PhytoAction Deep Cleansing Gel 
This cleanser is designed for oily, acne-prone and sensitive skin, and  it works to remove dirt and excess oil from the skin's surface. The formula includes salicylic acid, a beta-hydroxy-acid that helps treat acne, zinc and copper minerals works to reduce the production of oil. Plus, it contains the Vichy Volcanic Water that helps strengthen the skin's moisture barrier. With continued use, the cleanser can reduce acne blemishes, clogged pores and blackheads.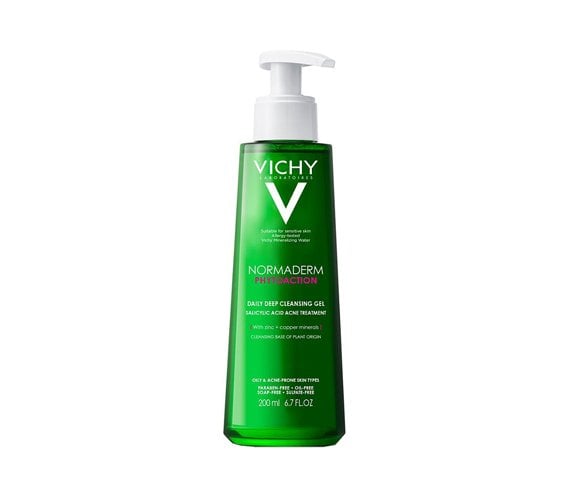 My Review of the Vichy Normaderm PhytoAction Deep Cleansing Gel 
I have rosacea and my skin is extremely sensitive, so historically, I've steered clear of exfoliating acid-based products. Instead, I opted for gentle face washes in my daily routine. With my acne acting up, though, I knew it was time to give this Vichy deep cleansing gel — which is safe for sensitive skin — a try. After wetting my face with lukewarm water, I pumped a bit of the face wash onto my hand.
Upon first glance, it has a clear, jelly-like texture, but after massaging it into my skin, I noticed that it works up a bit of a foam. There was no stinging or tingling during application; it felt gentle and soft on my skin. After rinsing off the product and patting my face dry, my skin felt purified, clean and looked matte. Because my skin is on the drier side, I made sure to follow up with the Vichy Aqualia Rich Cream hydrating moisturizer. 
After a week of using the cleanser morning and night, I started to notice the severity of my maskne-induced pimples noticeably diminished. I was pleasantly surprised that my skin didn't have any flaking or tightness, but it was hydrated and soft. Over the course of the month, my pores appeared smaller and the blackheads on my chin began to clear.
Although my maskne hasn't gone away entirely, the cleanser has made a huge difference and I definitely plan to continue using it. Plus, the drugstore price ($18 MSRP) means that restocking this face wash won't break the bank. 
Read More:
A Simple Skin-Care Routine for Acne-Prone Skin Types
Skin-Care Tips for Every Skin Type
Read more

Back to top