The Youth to the People Cleansing Balm Is the Perfect First Step in a Double-Cleansing Routine
September 07, 2022
Double cleansing is all the rage these days, and I'm a firm believer in the method's benefits. There's also something incredibly satisfying about knowing that you've put in the effort to thoroughly remove the makeup and other debris from your skin, am I right?
There are tons of different ways to double cleanse, but I personally prefer using cleansing balms, which are touted as gentle, effective cleansing that intended to avoid drying out your skin. Enter: the Youth to the People Superberry Dream Cleansing Balm. When I was given the chance to test out the product, courtesy of the brand, I couldn't wait to put it to the test. Keep reading to find my experience with the cleansing balm and how I use it to double cleanse.
What Is the Youth to the People Superberry Dream Cleansing Balm
The Youth to the People Superberry Dream Cleansing Balm is a daily cleansing balm that rapidly turns from a velvety, whipped balm to an oil to gently and easily dissolve makeup — even longwearing formulas. It is formulated to leave skin feeling soft and hydrated and is gentle enough to use on the eye area (goodbye, waterproof mascara), making it the perfect first step in any double-cleansing routine.
This balm is also a winner when it comes to ingredients. It contains a dreamy blend of hyaluronic acid in addition to moringa, jojoba and sunflower seed oils and maqui, acai and goji berry extracts for a formula that not only smells amazing but also offers lasting hydration.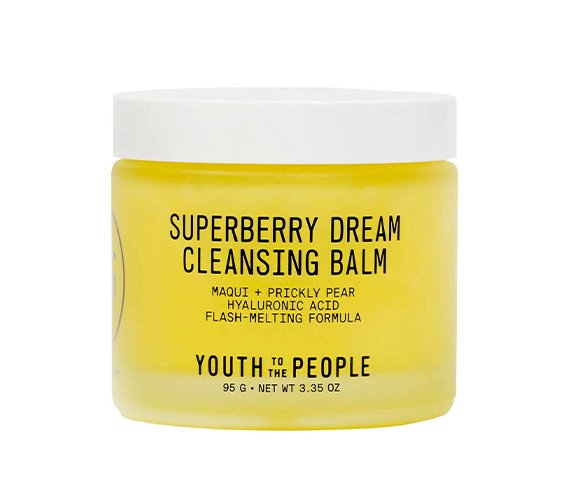 How to Use the Youth to the People Superberry Dream Cleansing Balm
In case you didn't know, double cleansing is a face-washing method that incorporates both an oil cleanser and a water-based cleanser to help thoroughly lift away dirt and debris from the surface of your skin. If you need convincing on why you should double cleanse, check out why skincare, eye-care and makeup experts say you should, here.
To use the cleansing balm, take a small amount of product with your dry fingers and rub it together so that it transforms into an oil. Massage it onto your dry face, giving extra attention to stubborn areas. Then, after a minute or two, add water and continue massaging your face until the oil emulsifies into a milk. To wash it off, gently splash your face with water and pat your skin dry.
My Experience with the Youth to the People Superberry Dream Cleansing Balm
Ever since I tried this balm after a long night of full glam makeup, I've been obsessed. The fragrance alone is enough to get you hooked, but the efficacy really speaks for itself. I know I can count on this balm to get the job done, making it an automatic five stars for me.
Photo: Caitlyn Martyn
Read more

Back to top