I Finally Get Why the Youth to the People Superfood Cleanser Is So Popular
May 27, 2022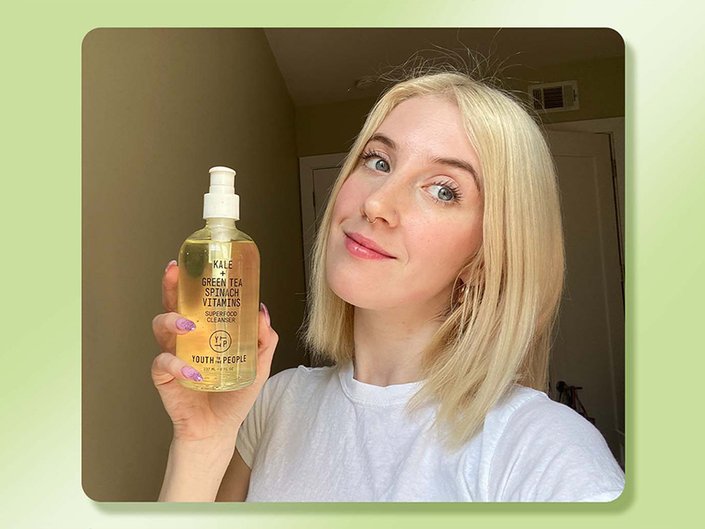 As someone who tests beauty products professionally, it might come as a shock that up until this review, I had never tried anything from Youth to the People. Of course, I had seen the comments on social media showering the brand with praise and heard glowing reviews from my friends and coworkers. But until the Superfood Cleanser landed on my desk, courtesy of the brand, I was perfectly content living under a beauty rock.
Call me a contrarian, but there are new products trending on TikTok and Instagram every other day, and sometimes I just don't feel like buying into the hype of every launch, especially since I recently started trying to make my skincare routine more sustainable. Now that I've finally gotten my hands on this cleanser, however, I wish I had tried it sooner. Keep scrolling to read my full thoughts about the buzzy product, plus why I think it's a great cleanser for sensitive skin.
A Breakdown on the Youth to the People Superfood Cleanser
Youth to the People (YTTP) is known for its line of vegan, cruelty-free, USA-made products. The Superfood Cleanser is one of the brand's best selling products, with an average of four stars out of a whopping 5,000 reviews on the Sephora website. It contains a blend of kale, green tea and spinach extracts, all antioxidant-rich ingredients that promise to soothe your skin and provide a boost of vitamins C and E.
The consistency is gel-like with a low lather, and it comes in a sleek glass bottle with both a cap and a pump, so you can avoid messes if you toss the cleanser in your toiletry bag before a trip. It's made without parabens, phthalates and sulfates.
The brand gives back to a variety of nonprofits, including Soul Fire Farm, an Afro-Indigenous-centered community farm, and Cool Effect, an organization working to reduce global carbon emissions. Armed with this knowledge, I felt better about adding the Superfood cleanser to my routine.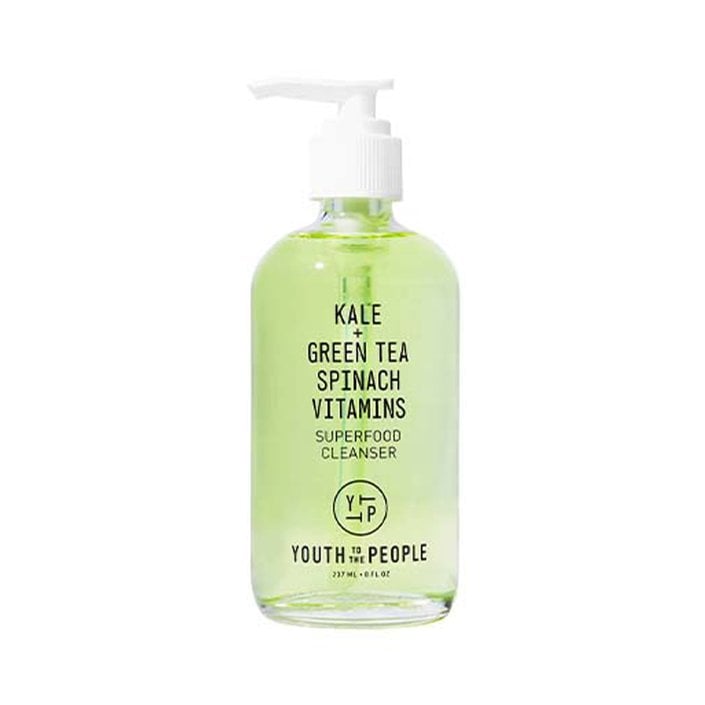 My Experience Using the Youth to the People Superfood Cleanser
I recently became a double-cleansing convert, so I decided to try the Youth to the People Superfood Cleanser as the second step of my routine. I love the way cleansing balms melt away my makeup and sunscreen and how nourishing they feel on my dry, sensitive skin, but they can't take everything off on their own. That's where the Superfood Cleanser comes in.
After applying my favorite cleansing balm to dry skin and letting it sit on my face for about one minute, I splashed my face with water and washed my face with a pump of the Superfood. When I was done, my skin looked clean and completely free of makeup. Even better, I didn't have that tight, dry feeling that some cleansers give my skin. Instead, my face felt touchably soft and smooth. I tend to stay away from skincare products with fragrance because I'm sensitive to scent, but I love the way this cleanser smells. It reminds me of a vegetable garden soaking up the sun's rays — light, verdant and not at all overpowering. I'm happy to say that I finally get the hype around this cleanser.
Photo: Ariel Wodarcyk, Design: Juliana Campisi
Read more

Back to top