Career Diaries: Meet the Kinship Founders Who Are Crusading For Gen Z Skincare Concerns
August 04, 2021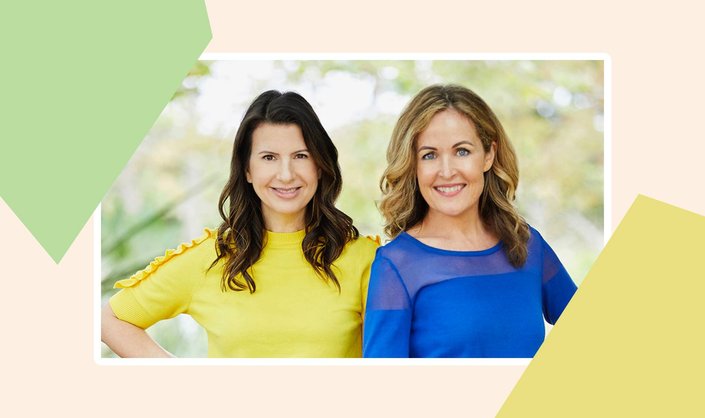 Clean beauty is here to stay. Alison Haljun and Christin Powell, founders of Kinship, made this revelation early on and set out on a quest to create a blend between clinical and natural ingredients in skincare. Born in late 2019 with the needs of Gen Z in mind, Kinship already has a lineup that includes an award-winning sunscreen and a bright, shiny new product promising to solve one of our major concerns when it comes to exhaustion.
Below, get to know these skincare vigilantes, who are giving Gen Z (and the rest of us!) the transparency skincare deserves.
What sets Kinship apart from other indie skincare brands?
Alison Haljun: I know we may look good for our age, but between Christin and I, we have five Gen Zers that we're raising. We really couldn't find a clean high-performance skincare brand with clinically-studied ingredients that was affordable and accessible to Gen Z. On top of it, we felt like they were underestimated in terms of how knowledgeable they are about every single subject matter under the sun, including skincare. We thought, well if we're gonna do this authentically we need them involved from the start and so we went to lunch with Tiffany Zhong.
She was 19 at the time and she was dubbed "the Gen Z whisperer". We told her our idea and she immediately decided to become our first investor. That was the moment we looked at each other and thought, 'This is real. We're taking money from a 19-year-old. This better work.' With Tiffany's involvement, we set out to create the brand from the inside out with Gen Z at the heart. We have a group of Gen Zers and young millennials that we continually continue to work with today, weighing in on formulas, sustainability, packaging...on just everything the brand means.
What about the formula — anything special there?
Christin Powell: I had done a lot of research on the skin microbiome barrier and realized this is a huge area of science that no one is really owning and delivering for this Gen Z audience that's having acne, redness and inflammation. Our unique approach was to formulate with specific prebiotics. Combined they create Kinbiome, a patented ingredient we put in every product to balance and protect the microbiome which we're finding out has everything to do with how your skin looks, feels and behaves. 
We complement that with premium superfoods from all over the world that we know deliver results — sustainably sourced omega fatty acids, vitamin C ester, retinol, hyaluronic acid.
What were your careers like before launching Kinship?
AH: I led marketing and communications for 16 years at the LVMH-owned Benefit Cosmetics. I credit my mom for teaching me from an early age about the importance of wearing SPF daily for healthy skin.
CP: I started my career co-founding Juice Beauty because I had terrible skin in my 20s and I was motivated to find something that worked. Then I hopped over to Perricone MD, which was the complete opposite but honed in my ability to formulate high-end, clinically-backed products. Plus, I'm kind of a health net and just obsessed with quality ingredients that work.
How has it been launching Kinship just a few months before the pandemic and dealing with quarantine vs. transitioning into our "new normal"? 
AH: We've had to be even more nimble, adapting to not only the typical changes that startups face but also navigating a business through a pandemic. There has never really been a 'normal' for Kinship, which might just be part of our advantage. The challenges of the pandemic have only deepened our commitment and determination. We set out to build something that didn't exist, a skincare brand rooted in wellness. That notion has never been more relevant than now.  
There's a new addition to the Kinship family with all kinds of good-for-you ingredients — can you tell us more about that? 
AH: Brightwave — it's an eye cream, but we didn't want to just come out with another eye cream. It's like an energy drink for your eyes. I love that midway through the day when my eyes are feeling tired I can just put it on and it instantly cools. It has a blurring effect too, so I keep it by my computer. 
CP: Gen Z grows up fast — they go from Gap to Kate Spade in a heartbeat. We wanted to create something that treated and served them for their immediate needs — late nights cramming for exams — but also aged with them in a healthy way.
The cream's star ingredients are taurine, for reduced fine lines over time, vitamin C ester for free radical reduction and Chaga mushrooms. The latter treats both puffiness and dark circles, but long-term are anti-inflammatory. 
What's the favorite part of your jobs?
CP: It's seeing our products change people's skin. When I hear testimonials from people who are using Kinship, like our Self-Reflect sunscreen is helping them feel more confident, or our Pimple Potion reduces their acne, that just gives me so much joy and that's my 'why'.
AH: Our community, we like to call them kin, that's made up of our customers, small team and social media following . I think people are often surprised that a lot of times it's directly Christin and I who they're talking with for a customer service inquiry. What we're doing is extremely personal. It's really rewarding to know that we are having a positive impact on real people's lives, and hopefully on the industry.
What's a skincare trend you're loving right now?
CP: Skincare being your makeup is huge. I think this idea that you don't need a lot of makeup but that your skin looks so great that you don't need to cover it up, is the primary feedback we've gotten. We intentionally saw that happening in the market and wanted to deliver on this desire to look natural but also glowy.
Photo: Courtesy of Kinship, Design: Hannah Packer
Related Links:
Valerie Grandury on Starting Clean Beauty Brand Odacité in her Kitchen
What Is Clean Beauty Anyway? Two Skin-Care Experts Weigh In
5 Products Every Natural Skincare Lover Needs to Try
Read more

Back to top