A Deep Dive Into Skinceuticals, and Why It's The Science-Backed Skincare Brand You Need To Try
March 20, 2019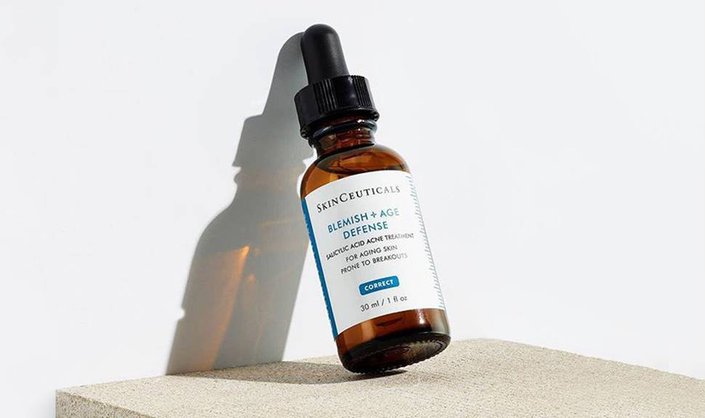 There are hundreds of skin-care brands out there — from K-beauty standouts to indie face mask companies, your favorite drugstore cleanser line and everything in between. But there are few skin-care brands that are as driven by science as SkinCeuticals. Established in 1997, this antioxidant trailblazer brand was founded by a physician, and we got the opportunity to chat with General Manager Christina Fair about what exactly makes this professional-driven brand unique.
How did SkinCeuticals come to be?
In 1994, SkinCeuticals Founding Scientist Sheldon Pinnell, M.D. continued his pivotal research on topical antioxidants, which lead to a breakthrough discovery and the creation of an entirely new skin-care category. Dr. Pinnell's Duke Antioxidant patent has been a driving force at SkinCeuticals since the company's inception.
What makes SkinCeuticals different from other brands?
Research and innovation are at the core of the SkinCeuticals mission, and our dedication to science has established the brand as a leader in the advanced skin-care arena. We continue to pioneer next-generation products that will optimize the health and beauty of the skin. With four generations of topical antioxidant formulations, ten patents, and more than 200 studies published in prestigious medical journals, we're simply a trailblazer in antioxidant science.
What sets us apart from most [of our competitors] is our network of esteemed physicians. Although there is unparalleled work done behind the scenes in the labs, a lot of what we do is informed by the incredible insight that these physicians are able to offer us from their day-to-day interactions with patients and knowledge of skin and ingredients. It's an invaluable asset to our development process.
What SkinCeuticals products are you most proud of?
C E Ferulic, one of SkinCeuticals most breakthrough products, is the most powerful antioxidant product ever available, providing eight-fold photoprotection against environmental stress. C E Ferulic is a patented combination of 15% pure vitamin C (L-ascorbic acid), 1% vitamin E (alpha tocopherol), and 0.5% ferulic acid. Dr. Pinnell's research on this combination was groundbreaking at the time and he was able to patent it.
This month, Glycolic 10 launched. It is a corrective nighttime cream that delivers an active 10% free glycolic acid for quantifiable glow come morning. The potent free acid value and 2% phytic acid breaks up cellular cohesions to reactivate cellular turnover on the skin's surface– resulting in refined texture, visible improvement in skin tone, fine lines and skin's overall light reflection.
And of course, last year, a true labor of love, our Custom D.O.S.E launched in physician offices across the country. It is a personalized, professional service and product based entirely on the patient and his or her skin-care needs or concerns. With the guidance of a patented algorithm, the Custom D.O.S.E (Diagnostic Optimization Serum Experience) compounding machine delivers a precise, highly concentrated combination of ingredients for a corrective serum that targets the appearance of discoloration and related visible signs of aging that are unique to individual skin types. The 52 ingredient combinations ensure that each D.O.S.E product exactly fits the patient's skin.
Tell us more about how you work with medical professionals. Are there any in-office SkinCeuticals treatments available?
Physician and skin-care professionals define cosmeceuticals as products on the cutting-edge between topicals and pharmaceuticals. Our active ingredients and products complement aesthetic procedures, and we pride ourselves on delivering advanced skin care that is backed by science. Our line is used by dermatologists, plastic surgeons and medi-spas for daily home care to complement aesthetic procedures, and we also offer a full range of chemical peels and cryo-correct, a dark spot corrector and skin tag removal treatment for exclusive use in-office. So while accessibility is important, that interaction with a physician or specialist is something that's very important to us and we love how many of our consumers have found their favorites through professionals.
What's on tap for the brand?
Expect to see more innovation by way of individual products and best-in-class ingredients, and building on our breakthrough 2018 launch, Custom D.O.S.E, and it's availability across the country.
Read more

Back to top