The Under-Eye Patch You Need For Brighter-Looking Skin
July 19, 2018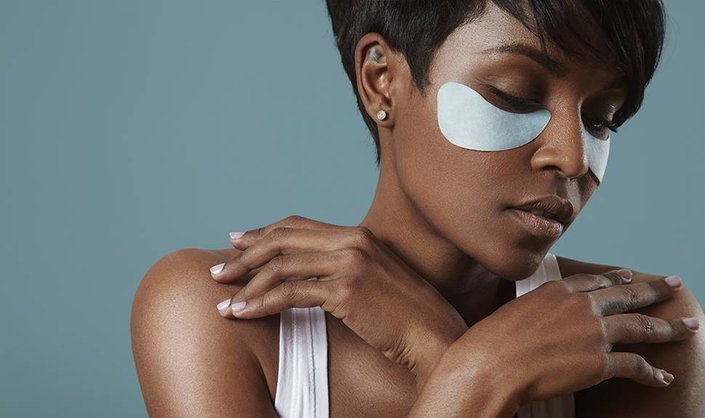 There's no denying the unsightly appearance of under-eye puffiness, bags, and just overall tired-looking skin. Your best solution? Well, a good night's rest can certainly help. After all, it's called beauty rest for a reason. But sleeping the recommended number of hours each and every night isn't always possible for some night owls, which is why under-eye patches can be a total godsend. Keep reading to find out why everyone is obsessing over under-eye pads and patches!
There are masks for your face, body, and toes, and now even the skin under your eyes has a dedicated mask to help quell the appearance of common area concerns like puffiness and dark circles. These eye masks—often called under-eye pads or patches—are making waves in the beauty sphere and we can't say we're surprised. Many of them are able to transform the look of the eye contour, so it appears brighter. At least that's what you can expect with continued use of Lancôme's Absolue L'Extrait Ultimate Eye Patch. We took the luxe eye mask for a spin, and are sharing our full product review ahead.
THE BENEFITS OF UNDER-EYE PADS AND PATCHES
Scroll through the social media feeds of your favorite beauty influencers and there's a good chance you'll find under-eye pads and patches in a handful of posts. Aside from a selfie-worthy moment, these patches can help improve the look of common eye-area concerns. If you're a busy bee or night owl, you likely know first-hand the way a lack of sleep can impact the skin's appearance. When we feel tired, our skin can surely show it.
To help fake as though you had a good night's rest, or at least make it appear less obvious that you're running on too few hours of sleep, you can reach for an under-eye pad or patch in a pinch. While they aren't a replacement for actual sleep, they can help your skin appear more radiant while you're out and about. What's more? They're incredibly easy to use. Similar to a mask for your cheeks or T-Zone, you can apply an eye mask while at home, during a flight, in the car, on your lunch break and more.  
LANCÔME 
ABSOLUE L'EXTRAIT ULTIMATE EYE PATCH REVIEW
What It Does: The Absolue L'Extrait Ultimate Eye Patch offers immediate smoothing, re-plumping and radiance to the skin under the eye. As a result, the eye area can look brighter.
Why I Love It:  As someone who's constantly on-the-go, I'm guilty of not sleeping as much as I should. So when it comes to adding radiance to the skin under my eyes, I'm eager to try any and all products that claim to help.
As the last step of my nighttime routine, I applied each eye patch to the skin under my eyes and left it on for 10 minutes. Once removed, I immediately noticed a radiant glow. As a result, my under-eye skin looked visibly better than before.
How to Use: Remove the packaging and place each eye patch onto the skin under your eyes. After 10 minutes, remove the patches and massage in any leftover product.
Lancôme Absolue L'Extrait Ultimate Eye Patch, $50 MSRP
Want more eye area skin care tips? Check out our guide on how to get rid of puffy eyes, here!
Read more

Back to top