Editor's Pick: The Lip Oil You Need This Summer
June 06, 2016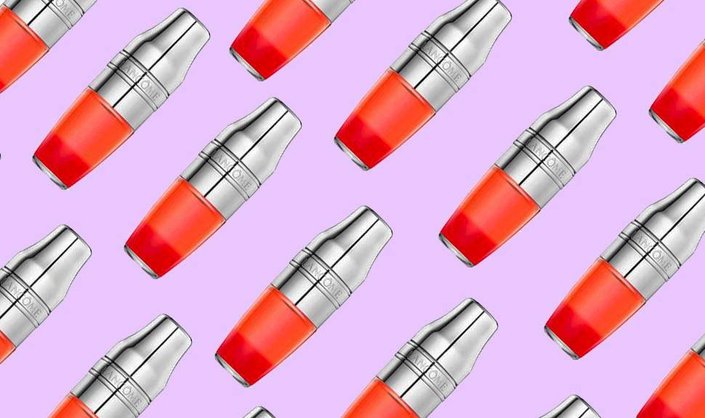 Word on the street says the early 2000s are making a comeback. And while some trends should probably—read: absolutely!—stay safely tucked in the past, others are getting a modern-day makeover that's earning them a spot at the popular table once again. Case in point? Lancôme's Juicy Shakers. A nod to the cult-classic—and still available—Juicy Tubes, the new Juicy Shakers feature equally gorgeous shades with a little side of skin care. We got our hands on the coveted new lip oils thanks to our friends at Lancôme and let's just say, we now order our lip colors shaken…not stirred.
Why Lip Oil is the New Lipstick
Lancôme's all-new Juicy Shakers are neither a lip gloss nor a lipstick. These very buzzed about new lip pigments are in fact an oil. True to its name the lip oil comes in the cutest cocktail shaker packaging and the "cocktail" blend inside is just what dry lips ordered. Combining colorful pigments with five different hydrating oils—sweet almond oil, apricot oil, rose de muscat oil, cranberry oil, and peach oil—the bi-phase lip oils soften, hydrate, and soothe your lips while giving them a buildable wash of gorgeous color. And just like your favorite cocktail menu, you've got quite a selection to choose from: 20 different shades, scents, and flavors—to be exact!
With the subtle shine of a lip gloss—sans stickiness—and boldness as a lipstick, this lip oil can give you the best of both the beauty and skin care worlds with a hydrating formula that can perfect your pout with silky soft, bold colored lips. Using bi-phase technology, the Juicy Shaker is considered to be the first of its kind, as it has two distinct phases—oil and pigment—that require a good shake (hence the cocktail shaker bottle) before application. The specially designed, pillowy-soft cushion applicator makes it possible for the lip oil to deposit the perfect amount of pigment to your lips with a hint of shine for luscious lips that will look healthy, soft, and glowing.
To use, shake the shaker around 5 times to mix up the oils and pigment. Then, tap the applicator on and across the lips to give them a tint of color with a sheer finish. If you want to go bolder, you may use a lip liner or lipstick on your lips prior to applying the Juicy Shaker. 
Read more

Back to top