#BrowGoals: 9 Products You Need to Try for Beautiful Eyebrows
April 13, 2017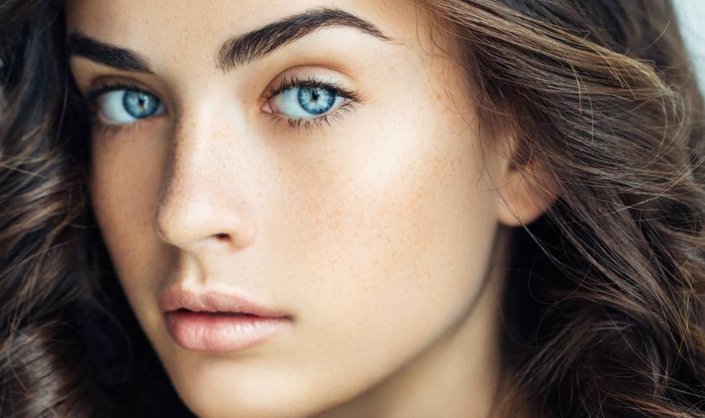 To Groom & Shape: Tweezers and a Light Touch
True story: I was born with big-time brows that I managed to tweeze away into nothingness around the time girl groups were big in pop music and butterfly clips were the only acceptable way to accessorize your hair. Thankfully, by the time I hit high school I had a friend who broke the news to me—not so gently—that my brows most closely resembled tadpoles and that this was not a good look for me…or anyone else for that matter. Thus began the summer I grew my eyebrows back (and essentially went into hiding).
Now, having learned from my mistake, I never go overboard when I'm grooming my brows. I get rid of the stray hairs that grow near unibrow territory and the ones just under my brow line but everything else stays put! Often the natural shape you were born with is the one that looks best on you. A pro tip I've learned over the years is not to groom my brows while looking in a magnifying mirror as this is a quick way to get heavy-handed and pluck away more than you'd like—and even potentially have uneven brows when you're done.
If you're not inclined to tweeze your own brows but you still want perfect-looking brows, definitely see an expert who can help you groom your brows to a complementary shape and size. (You can always just follow that outline moving forward too!)
To Fill Any Sparse Areas: A Brow Pomade

Even if you have gorgeously-shaped brows, if they are sparse in a few areas you'll want to fill them in for that ultimate power brow look. A brow pomade or powder is great for this. A pomade gives you a bold look and the ability to shape and tame at the same time. We like L'Oréal Paris Brow Stylist Frame & Set. The waterproof pomade comes with a complementary brush to help you define and fill in your brows and a blending spoolie that helps you blend the eyebrow makeup in.
To Beef Up Your Brows: A Brow Crayon
While we may not all be born with in-your-face statement brows, with the right product we can definitely rock them as if we were! Eyebrow crayons are great to help you beef up the look of your eyebrows and a great one available at your local drugstore is L'Oréal Paris' Brow Stylist Kabuki Blender. Available in three shades—blonde, brunette, and dark brunette—the creamy brow crayon glides on smoothly for a quick and even application. You can blend the crayon in with the alternate side's kabuki blender to achieve a soft, full-looking brow.
To Define Your Arches: An Eyebrow Pencil
For old-school brow aficionados, there's no better tool than an eye brow pencil. Brow pencils allow you to precisely define and shape your arches for a natural look. If you're looking for a go-to brow pencil look no further than Yves Saint Laurent Beauty Dessin Des Sourcils. The dual-ended precision pencil has an eyebrow pencil—available in four shades—on one end and a brow brush on the other to help you groom and blend. The velvety formula is enriched with coconut oil and is the perfect addition to any makeup bag!
To Tame Stray Hairs: A Brow Gel (in Clear or Tinted)
If filling in your brows isn't your concern but you still want them to look groomed and on point, reach for a brow gel. These clear mascara-like products can help you tame unruly brows and smooth down any stray hairs. One such gel we love is NYX Professional Makeup Control Freak. The gel helps to tame out-of-control brows and its clear formula works well over any powders or pencils you may have used before hand. The non-sticky formula can even double as a clear mascara for a no-makeup-makeup look.
Prefer a tinted brow gel? Reach for Lancôme's Sourcils Styler. Co-created with celebrity makeup artist Lisa Eldridge, this brow gel helps to densify the appearance of your eyebrows as well as set and hold your brow look in place! The hair brush-inspired applicator helps you easily coat and tame the hair with its tinted gel formula.
To Accentuate Your Arches: A Brow Highlighter
We often think of highlighter as a way to sculpt our looks using the strobing technique, but if you haven't been using a brow highlighter you've been missing out. Highlighters allow you to draw attention to your favorite features and a brow highlighter is no exception—after all you didn't take all that time to perfect those brows only to have them overlooked! Maybelline Brow Precise Perfecting Highlighter comes in three shades—light, medium, and dark—to help you accentuate your brows for a polished look. The creamy highlighter has an angled tip to help with the application process. You simply follow your brow's natural shape, applying the highlighter just under the brow in a smooth stroke and then above the brow line to outline the area. Blend and get ready for some serious compliments!
To (Practically) Do it All On the Go: A Complete Brow Kit
With its mini metal tweezers, a mini angled brow brush, a mini spoolie, and two mirrors as well as two shades of brow powder and a setting wax, the compact Brow Box from Urban Decay has everything you need to get great-looking brows on the go. The all-in-one kit comes in six shades and truly is a must-have for anyone obsessed with their eyebrows. 
To Remove Brow Makeup: Micellar Water and Clean Cotton Balls
We always talk about the importance of removing our makeup each night before bed, but how often are we focusing on removing product we put in our eyebrows? Just like any other area of skin, you'll want to clean your brows each night to ensure the follicles stay clear of pore-clogging dirt and impurities—like that makeup you applied in the AM. One of our favorite ways to cleanse our brows is by using micellar water. Not familiar with micellar water? Check out a few of our fave micellar water formulas to get you started!
The French-favorite cleansers require no rinsing so they are great for use on the go—or for when you simply cannot muster enough energy to get out of bed to cleanse your skin. Tiny micelle molecules—which are suspended in a soft water solution—work to attract and trap impurities that are lingering on the skin's surface. Simply apply the solution to a clean cotton ball and gently sweep over your brows—you can cleanse your face the same way. We like to repeat until the cotton ball comes away clean.
Read more

Back to top