Why Clarisonic's Sonic Foundation Makeup Brush Is a Game-Changer
August 22, 2018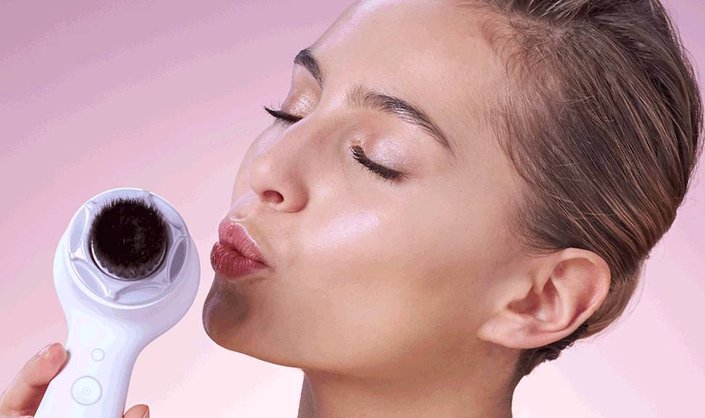 While Clarisonic's facial cleansing brushes are known for helping you take makeup off, did you know they're also known for helping to put it on? Thanks to the Sonic Foundation Makeup Brush, you can seamlessly blend foundation or cream-based blushes, concealers, or illuminators for a flawless makeup look. We got our hands on a complimentary Sonic Foundation Makeup Brush from the brand to take for a test run with the new Mia Smart device, and we're sharing our (spoiler alert!) glowing review below.
CLARISONIC 101
Nearly a decade ago, Clarisonic invented the sonic cleansing category, bringing the world a brush that can cleanse the skin up to six times better than hands alone. Over the years the brand has launched new devices—from the Smart Profile Uplift to the new Mia Smart—and new brush heads to help you customize your cleansing, anti-aging, and makeup routines.
CLARISONIC SONIC FOUNDATION MAKEUP BRUSH
The Sonic Foundation Makeup Brush head helps to blend your cosmetics for a flawless-looking finish. There are multiple levels of makeup that can be blended, from basic—think: a simple no-makeup makeup look—to more done-up—a full-on highlight and contour.
While we know—or at least should know by now—that a Clarisonic can help you cleanse your skin up to six times better than hands alone, the Sonic Foundation brush can help you blend your makeup better than if you had just been using your fingers. We found that we got better coverage when we were using the brush and the brush definitely blended our makeup better than we could without it—case it point: I personally almost always had a line where I had applied my bronzer each morning but since using the Sonic Foundation brush that line is blended seamlessly. 
The best part about the Sonic Foundation Makeup Brush is that it turns our beloved Clarisonic into a device we can use throughout our entire beauty routine. With the newly-launched Mia Smart, you can achieve a handful of complexion benefits all with one device. 
Benefit #1: Cleanse Your Skin. Mia Smart is compatible with the portfolio's cleansing brush heads to remove dirt and impurities from the skin's surface.
Benefit #2: Blend Makeup. Click the Sonic Foundation Makeup Brush into your Mia Smart to blend your cream-based makeup seamlessly. At the end of the day before bed, use a cleansing brush head to take it all off!
Benefit #3: Firm and Lift Facial Contours. For an anti-aging benefit, click the Firming Massage Head into your Mia Smart to target key signs of aging on your face, neck, and décolletage.
What's more, with the Mia Smart you can control the speed, intensity and duration of the Sonic Foundation Makeup Brush (along with the rest of your brush heads!), making your experience a fully customizable one.
HOW TO USE THE CLARISONIC SONIC FOUNDATION MAKEUP BRUSH
Before applying your makeup you'll want to start with a clean canvas so use your Clarisonic Mia Smart with your favorite cleansing brush head and face wash to cleanse your skin's surface. After patting dry, follow your normal morning skin care routine—a layer of moisturizer with broad-spectrum SPF 15 is a non-negotiable.
Next, switch your brush head to the Sonic Foundation Makeup Brush to start your makeup routine. You'll get better foundation coverage, better foundation blending, and a better foundation application than if you were just using your hands. Dab your liquid foundation onto the desired areas of your face. Turn on the Mia Smart and starting at your cheek move the device in gentle circular motions to blend both cheeks, forehead, nose, and chin area—make sure you blend down the neck so there's no sharp lines—and avoid the eye area. You can adjust the speed depending on your personal application preference. You don't have to apply much pressure, just let the brush do its thing. To blend contour, apply a dark shade along your jawline and hollows of your cheek, down each side of your nose, and around your hairline. Apply a lighter shade to the high points of your face—the apples of your cheeks and the bridge of your nose. Then, blend everything together gently and set with your favorite makeup setting spray.
Once you're ready to remove your look, simply swap out the Sonic Foundation Makeup Brush for your favorite cleansing brush head. To clean your new Sonic Foundation Brush you just have to rinse it with water and a gentle soap or makeup remover and then let it dry completely—we recommend cleansing the brush after every use, especially since it's so simple.
Clarisonic Sonic Foundation Makeup Brush, $39 MSRP
Don't have a Mia Smart? Clarisonic is offering a trade-in program for a discount on your purchase. Get all the details here.
Read more

Back to top