How One Makeup Brand is Ditching the Idea of Before and After
May 01, 2017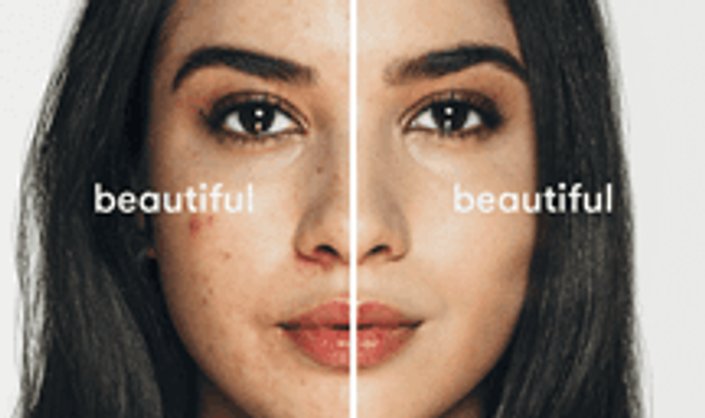 While at Skincare.com we (strongly) believe in the importance of skin care—I mean, naturally, it's our name—we also know that often a skin care routine can only go so far. Once that happens, many of us reach for color cosmetics…that is, if and when we want to. This choice of whether or not to wear makeup is at the heart of Dermablend's new look and feel, a concept they are referring to as "Beautiful-Beautiful." Learn more about how Dermablend—a brand in L'Oréal's portfolio—is helping to empower women and men to feel confident in the skin they're in, with and without makeup, below!
Going Back to Go Forward
In 1981, dermatologist Dr. Craig Roberts and his makeup artist wife Flori developed Dermablend to help meet the needs of his patients who were experiencing skin concerns that are notoriously hard to address and conceal, even with expert skin care and cosmetic knowledge. Blending his knowledge of dermatology and her expertise with makeup, the pair created a line of color cosmetics that helped to cover and camouflage skins concerns ranging from acne to vitiligo. The duo essentially created a temporary visible solution for a diversity of skin concerns on a wide range of skin tones.
"We believe in good skin care and in dermatologists and estheticians, but skin care has its limits," shares Malena Higuera, General Manager for the brand. "The dermatologist that created Dermablend knew and understood that."
The brand offers men and women long-wearing, blendable, high-coverage products and formulas that are fragrance-free, non-comedogenic, and are suitable for sensitive skin. While the formulas are still top-notch, the brand decided to give itself a little external makeover recently that was a nod to its roots: offering people a choice.
Beautiful-Beautiful
On the heels of the no makeup movement, Dermablend launches their Beautiful-Beautiful message to promote the power of choice when it comes to cosmetics. "We don't want the conversation to be about covering or not covering," says Higuera. "We just want people to know that we are here so that they can make powerful choices that they can feel really good about."
This idea that it's not about helping to cover imperfections but rather about a personal choice of whether or not you feel like wearing makeup each day, truly encompasses what the Beautiful-Beautiful message is all about. Higuera explains that it's about erasing the words before and after, because neither is superior to the other, they are each simply choices you have the power to make each day. "The no-makeup trend gives an unfair advantage to already perfect people," she says. "When it's about clear skin, not everyone feels like they can participate."
Dermablend gives everyone that option, you can choose to participate and go completely makeup-free or you can look like you are participating by using high-coverage makeup. It's about celebrating the choice of covering because you are beautiful either way.
Dermablend's New Look
For years Dermablend was known for its black on black packaging and design, not anymore! The brand—its in-store displays and website—just underwent a little refresh and we couldn't love it more. The look and feel is lighter and more approachable, the gorgeous new models are a diverse group of men and women, and the "Beautiful-Beautiful" message is loud and clear.
The brand features non-airbrushed models—refreshing, no?—who are showcasing their untouched skin on one side and their skin with Dermablend products on the other. One model shows her vitiligo with and without Dermablend, another his rosacea, and still others acne—showing just how powerful this choice to wear or not wear makeup can be, because whether they are wearing the Dermablend or not, each side of the photo is beyond beautiful.
A Choice for Everyone
Before you think that Dermablend's cosmetics are only suited for men and women with skin concerns, know this: the foundations and concealers look just as amazing when worn on skin that may not have as evident skin concerns. The product line includes formulas that glide onto your skin, are buildable, and can be applied the exact same way you'd apply your current go-to foundations and concealers.
 Show Your Beautiful-Beautiful
Check out Dermablend's new look—and snag some of these amazing cosmetics for yourself—by visiting dermablend.com!
Read more

Back to top