6 Unexpected Ways to Use Concealer in Your Beauty Routine
April 11, 2017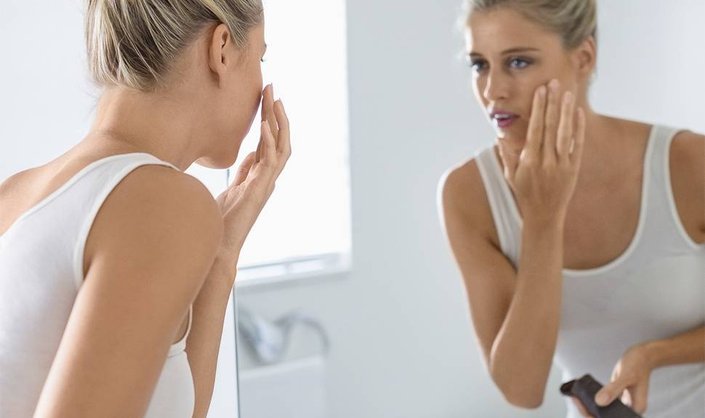 Real talk: You'd be hard pressed to find a beauty junkie without concealer in their arsenal. The pint-sized product is an absolute must-have for covering up skin imperfections—think: blemishes, dark circles, and discoloration—in no time flat. Not to mention, the product is perfectly portable, so it's always on hand when we're in a pinch! While helping to temporarily camouflage problem areas may be concealer's most conventional form of use, did you know there are a handful of other ways you can incorporate the formula into your beauty routine? From contouring your cheekbones to priming your eyelids for eyeshadow, we share six non-traditional ways to use concealer, ahead. Get ready to see your small tube of concealer in a whole new light!  
1. HIGHLIGHT YOUR FEATURES
If you love a good highlight and contour but don't have your go-to products on hand, a little concealer (and a touch of bronzer) can work in a pinch! In the areas where you would typically contour, apply a little bronzer and blend out the edges to avoid harsh lines—if you're looking for a new blending brush you have to check out Clarisonic's new Sonic Foundation Brush which we review here! Then, for the highlight step use your concealer! Apply your concealer to those same areas you'd apply your highlighter—think: the bridge of the nose, your Cupid's bow, your eyebrow bone, etc.—and blend well with your finger or your go-to blending sponge.
2. PRIME YOUR EYELIDS
As its name suggests, eyeshadow primer is the ideal product to use to prime your eyelids. But, if you've run out and you're in a pinch, concealer can help you get the job done. Instead of applying your eyeshadow onto a bare lid, dab a few dots of concealer to the area first. This helps to create a neutral base for your eyeshadow application and some makeup artists will do it even when they use eyeshadow primer to help to further prime their canvas.
3. SHAPE YOUR BROWS
Let's face it: Achieving the perfect angled brow is no easy task. Allow your concealer to give you a helping hand. Trace a short line parallel to the top edge of your brow with concealer and blend it gently with your finger or a brush. This step can also help hide any unruly hairs you haven't had a chance to tweeze. Think of it as your secret weapon ahead of a last-minute date night!
4. ENHANCE LIP COLOR
Applying concealer all over your lips may seem silly at first, but this step can help enhance your lipstick by neutralizing your pout's natural hue. Lightly cover your lips with concealer, blend it with a sponge, and follow up with your favorite lip color. For stronger definition, outline your lips with concealer after applying your bold shade. Concealer can also come in handy to help camouflage any smudged areas.
Editor's note: I'm notoriously bad at applying red lipstick in a way that looks neat. Not only can concealer help make my red lip look more dramatic, it's great for helping to cover up smudges and areas where I over-apply color.
5. HIDE EYELINER IMPERFECTIONS
So, you went a little too far with your winged eyeliner. Don't panic! There's no need to reach for the makeup remover and start all over again. With a little micellar water and concealer, you can quickly clean up any mistakes. First, dip the end of a cotton swab in micellar water and clean up the offending area. Next, use a bit of concealer to create that neutral-finish canvas before you go in with your eyeliner again. Easy, peasy.
6. MIX IT INTO YOUR MOISTURIZER
While we love full-coverage foundation as much as the next gal, we find ourselves reaching for lighter formulations like BB cream or tinted moisturizer when the weather gets warmer. If none are available to you, try this hack: Mix a few drops of concealer into your luminous moisturizer and apply it all over your complexion. It's simple, lightweight, and offers a slight tint to your skin (without weighing it down) before you head out the door!
Editor's note: Most BB creams, tinted moisturizers, and even some foundations are formulated with SPF. If you try this hack, be sure to apply broad-spectrum SPF 15 or higher on all exposed areas of skin to protect against harmful UV rays.  
Read more

Back to top