How to Use Liquid Highlighter for a More Luminous Complexion
April 08, 2020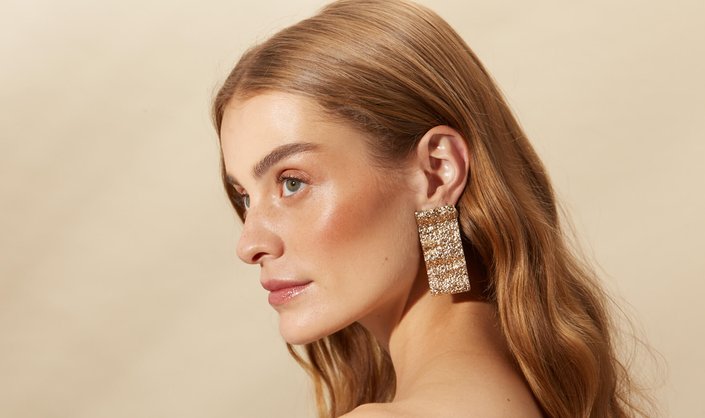 Any highlighter can make your best features pop and give your skin a gorgeous glow, but if you're looking to achieve more of a subtle, lit-from-within look than a blinding sheen, a liquid formula is your best bet. Liquid highlighter is easy to blend and gives all skin types a healthy, dewy finish. 
Here, we're sharing our top picks, plus a simple step-by-step guide to luminizing your complexion with liquid highlighter. 
Step #1: Pick the Right Formula
Your faux glow is only as good as the product used to achieve it, so don't take this step lightly. Instead of settling for the first highlighter that catches your eye, take the extra time to read labels. There are different shades and finishes to choose from, plus ingredients to look out for that can benefit certain skin concerns. Below, find three liquid highlighters that have our stamp of approval.
NYX Professional Makeup High Glass Face Primer: This formula contains light-reflecting pearls to give skin a naturally glassy appearance. Choose from three gorgeous shades to best flatter your skin tone. 
Charlotte Tilbury Beauty Highlighter Wand: With a cushion applicator, the Charlotte Tilbury Beauty Highlighter Wand makes it easy to achieve a fast and even application. The glossy formula gives skin a dewy look that lasts all day.
Maybelline New York Master Chrome Jelly Highlighter: Maybelline's popular Master Chrome highlighter is now available in a pearlescent jelly formula that glides effortlessly onto skin and dries with a satin finish.
Step #2: Target the High Points of Your Face
Now that you have your highlighter in tow, let's talk about placement. After all, a well-placed highlighter can instantly sculpt your cheekbones, make your tired eyes appear more awake, and brighten dull spots. 
After applying your favorite foundation and concealer, use your fingers or a small brush depending on the formula and your personal preference to dab the liquid illuminator onto the high points of your face — across your cheekbones, down the bridge of your nose, under your brow bone and on your Cupid's bow — in small dots. Keep in mind that a little bit goes a long way, so start off with a light hand and build until you reach your desired level of glow. 
Step #3: Blend, Blend, Blend 
After your dots are mapped out, you'll want to blend, blend, blend right away. If you wait too long, your formula can dry up and be more difficult to spread out.  Use your fingers or a damp blending sponge to for a natural-looking glow. If you feel like you went overboard, dab some concealer or foundation on top of the area and blend it out.
Step #4: Amp Up Your Glow
For some extra oomph, you can lightly dust a powder highlighter over your liquid formula. Complete the look with a few spritz of setting spray and you're good to glow.
Pro tip: If you want to achieve an all-over glow instead of a targeted application, mix your liquid highlighter with your moisturizer.
Read More:
This May Be the Greatest SPF Hack Ever
6 Primers to Try Based on Your Skin Type
9 Beauty Mistakes That Make You Look Older Than You Are
Read more

Back to top