Glowing Skin Made Simple: Lancôme's Click & Glow Liquid Highlighter Review
April 17, 2017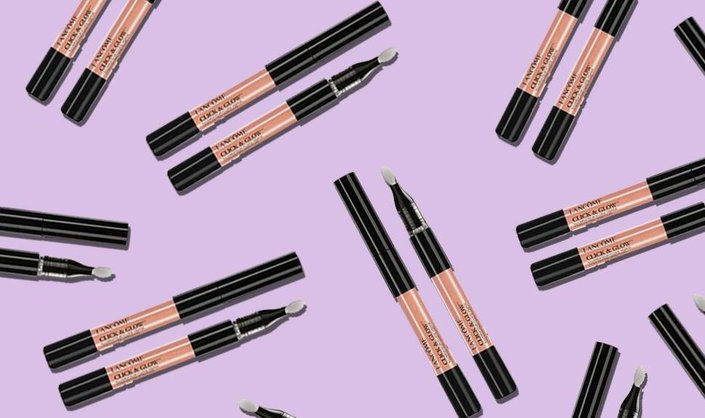 Illuminate the look of your skin in one simple step with Lancôme's Click & Glow Liquid Highlighter. The luxe beauty brand recently sent one of our beauty editors a complimentary sample of the glow-enhancing highlighter pen to test and review on behalf of our readers. See her thoughts, ahead.  
The Benefits of Highlighters
As someone with dry, dull-looking skin, I am always on the hunt for skin care and beauty products that can hydrate my complexion and create the illusion of dewy-looking skin. When it comes to long-term results, I prefer to focus on my skin care routine, using skin care products that help to promote smoother, softer, more supple-looking skin and can work to create a more natural-looking glow in the long run.
But, when in a hurry—read: I need glowing skin right this instant—I rummage through my makeup bag and pull out the one beauty product I can't live without: highlighter. Highlighters are heaven-sent. They can temporarily illuminate the look of skin, help you enhance and draw attention to your favorite facial features, and make you look like a goddess (okay, that is a bit of an exaggeration, but you get the picture). What's more? They're super easy—read: foolproof—to use! I have many highlighters stashed in my kit, but one of my new go-to highlighters is Lancôme's Click & Glow Liquid Highlighter. After receiving a complimentary sample of the luxe highlighter pen to try and review, the illuminating liquid highlighter has quickly become a staple in my everyday makeup look. Curious to know more? Peep my review—plus, some of my go-to highlighter hacks—ahead!
Lancôme Click & Glow Liquid Highlighter Review
Whether you're in a hurry or on-the-go, Lancôme's Click & Glow Highlighter can help you achieve a flawless-looking highlight that enhances and illuminates the appearance of your complexion with a youthful-looking glow in no time. The unique cream-fluid texture provides the skin with similar softness to that of a powder for a barely-there shimmer and buildable coverage that you'd expect from a liquid highlighter. Packaged in a pen with a flock-tipped applicator, the luxe skin highlighter can help you achieve an effortless—yet precise—application from the cheekbone to the cupid's bow. What's more? The illuminating highlighter is available in four shades—Lumières D'Or (warm gold), Lumières D'Or Rose (warm rose gold), Lumières Rosées (pearlescent pink), and Lumières De Bronze (rich amber bronze)—for all skin tones and can be applied directly onto the skin, or mixed into foundation, concealer, or moisturizer for a more radiant-looking glow.
Why We Love It: In addition to its gorgeous texture and ability to create a natural-looking glow, I love this illuminating highlighter because it's skin care-inspired! Formulated with natural humectant glycerin and antioxidant vitamin E, the lightweight formula goes on smoothly to provide the skin with a silky, thin veil of luminescent pearls for a radiant-looking finish. The first few times I tried the Click & Glow Highlighter, I was taken aback by its versatility. I used it directly on my skin without any makeup on, layered it on top of my BB cream, and even mixed it with eye cream and concealer to recreate this must-try makeup hack for dark circles. Rather than overpowering the complexion—and the rest of your makeup look—with illumination, the formula gives off a subtle—read: natural-looking—glow that enhances the complexion and creates the illusion of dewy-looking skin.
How To Use It: Before diving in, first check to make sure that the tube is faced upright and vertically and the applicator is pointed away from you. Then, click gently to dispense the product. Using the applicator, apply the Click & Glow Highlighter directly to the skin on areas of the face that you want to enhance and illuminate—i.e. the bridge of your nose, your cheekbones, your Cupid's bow, etc.—and blend lightly with a foundation brush or your fingertips. For a more intense highlight, you can build more coverage by clicking to dispense more formula and repeating the application process as desired.
Lancôme Click & Glow Liquid Highlighter, $23 MSRP
5 HIGHLIGHTER HACKS TO TRY:
1. REDUCE THE APPEARANCE OF DARK CIRCLES
Dark circles are a force to be reckoned with—but, fortunately, there are ways to temporarily hide them. One of our favorite ways to mask the appearance of dark circles is with a combination of liquid highlighter—such as, Lancôme's Click & Glow Liquid Highlighter—eye cream, and a liquid concealer. To achieve this highlighter hack, simply apply a dab of each product onto the back of your hand and mix with a concealer brush. Then, apply the concoction to your under-eye area in an inverted triangle shape (just like you would with regular concealer) and blend.
2. CREATE A STROBING EFFECT
Considered the lazy girl's answer to contouring, strobing is a new(ish) way to highlight, enhance, sculpt, and draw emphasis to the eyes, cheeks, nose, and lips. The best part? It's a super easy look to replicate on your own! All you have to do is dab your liquid highlighter on above your brows, under your brow arch, into the corners of your eyes, down the bridge of your nose, across your cheekbones, and above your lip on your cupid's bow. For a step-by-step guide on how to create a strobing effect—plus, visuals!—check out our tutorial, here. 
3. MIX LIQUID HIGHLIGHTER WITH LIQUID FOUNDATION
One of the best ways to learn new makeup hacks is through friends—so, when our friends at Makeup.com shared this highlighter hack, we just had to give it a try! Mixing liquid highlighter with liquid foundation is perfect for those who want to achieve a strobing effect in the least amount of time—and effort—possible.
4. CREATE A DEWY EYESHADOW LOOK
Another fun way to use liquid highlighter in your beauty routine? To create a dewy, shimmering eye look! To do so, simply dab a little highlighter onto your eyelids and blend until everything is evenly distributed. Then, use a universal skin salve—we love this one from NYX Professional Makeup—to create an extra glossy finish.
5. HIGHLIGHT FOR A PLUMP-LOOKING POUT
Did you know that you can use highlighter to create a plumper-looking pout? It's true! All you have to do is apply a few dabs of highlighter over your favorite lip gloss or lipstick on the top and center part of your pout and voilá!
With so many ways to use Lancôme's Click-and-Glow Liquid Highlighter, you're definitely going to want to snag one for your beauty stash stat! 
Read more

Back to top