I'll Be Wearing the Maybelline New York Dream Fresh BB Cream All Summer — Here's Why
June 16, 2020
I have major respect for the people who rock a full face of makeup, complete with full-coverage foundation and eyeshadow, during the hot, sweaty summer. I, on the other hand, abide by the less-is-more, my-skin-needs-to-breathe mentality as soon as the temperature exceeds 75 degrees. Sweat and heavy foundation? Not a good mix for me (think: clogged pores and melted makeup). That's why I always opt for a BB cream as soon as warm weather arrives. I've tried my fair share of lightweight BB creams, but have yet to find one that is my ride-or-die, can't-live-without product, so the search continues.. The newest item I'm testing? The Maybelline New York Dream Fresh BB Cream, which the brand (that's owned by our parent company L'Oréal) sent me for the purposes of this review. Find out my thoughts on the dewy, 8-in-1 skin perfector, ahead.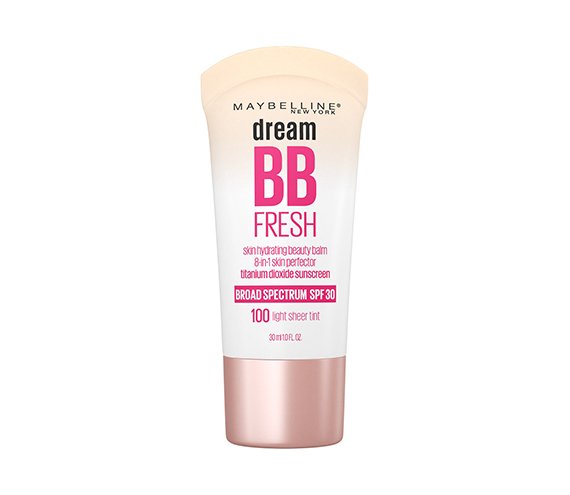 My Review of the Maybelline New York Dream Fresh BB Cream 
Needless to say, I'm a skin first kind of girl. I take crazy good care of my skin by hydrating it to no end and refusing to sit outside, let alone next to a window, without sunscreen (among many other things). Given that I've spent years getting my skin to have a natural, dewy shine (I had bad acne for a decade), I do my best not to hide my glow with makeup. Rather, I want my makeup to enhance my healthy-looking skin. So, when I saw the eight good-for-your-skin benefits that the Maybelline Dream Fresh BB Cream had to offer, I couldn't wait to test it. While the packaging is new, the formula, which has been around for years, hasn't changed. It blurs imperfections, enhances, brightens, adjusts to your skin tone, smoothes, hydrates, helps protect skin with broad-spectrum SPF 30 and is oil free. The BB cream sounded amazing, and spoiler alert, it lived up to all of its claims. 
With a fresh face, I twisted off the top and squeezed a dime-size amount of product onto my hand. It had a faint smell of sunscreen (which I love) and looked super sheer on my hand. I decided to apply the product with a damp beauty sponge, but your fingers or a brush would work, too. The first thing I noticed when I started applying the product was that it had a slight cooling sensation — not exactly tingling but rather a refreshingly cool pick-me-up. It sheered out nicely on my complexion and truly looked like a second skin. I also enjoyed that it wasn't cakey or heavy. Instead, it felt lightweight and barely there. I was initially concerned that the shade would be a tad too orange for my skin, but with a little blending, the color adjusted nicely to my skin tone. 
Once I covered my complexion and added some concealer over my breakouts, I took a step back and looked in the mirror. My skin looked dewy and healthy. The formula enhanced the look of my skin, blurred imperfections and fine lines and gave me that summer glow I've always searched for. It felt hydrating on my skin (almost like a second moisturizer), and I loved knowing that the titanium oxide gave me an added layer of protection against the summer sun. 
As the day went on, my obsession with the BB cream grew. There was no separation or oxidation. It just gave me that little extra bit of sheer coverage that's perfect for summer. I've been using this product day in and day out since I first tried it out. It's the real deal and, dare I say, my new go-to BB cream. 
I was gifted a sample of this product by the brand for the purposes of this review, but all thoughts and opinions remain my own.
Read more

Back to top