Giorgio Armani Beauty Maestro Glow Review
November 23, 2016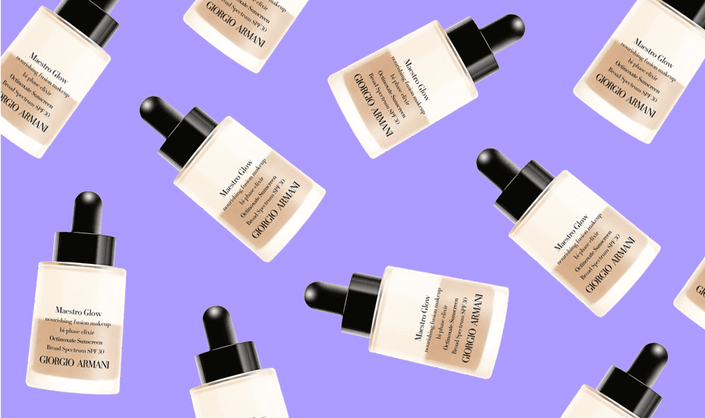 A lightweight foundation with heavyweight skin care benefits? Sign us up! We recently received a sample of Giorgio Armani Beauty's new Maestro Glow bi-phase foundation to try and review and well… let's just say, we think you need this in your beauty bag!
As a beauty editor—specifically one that covers skin care—I have grown very particular about what I put on my face, especially in the summer when my face can go from flawless to greasy in the matter of one 30-minute commute to the office. With my simplified summer skin care regimen in full-swing, I've since turned my efforts towards tackling my summer makeup routine. Aside from the occasional swipe of compact powder across my face and dab of highlighter on the bridge of my nose and cheekbones, I typically stick to a "summer makeup" regimen all year round—sunscreen, eyebrow tint, mascara, lip balm, concealer, and BB Cream—but this summer, I discovered something that made me want to add a step I previously wouldn't think of adding in the steamiest season...foundation.
Giorgio Armani Beauty Maestro Glow Review
When one of my favorite luxe skin care brands—and now the creator of my must-have summer foundation—Giorgio Armani, sent over its new Maestro Glow Foundation to the Skincare.com offices to try and review, my makeup routine was, needless to say, changed indefinitely. The bi-phase elixir is incredibly innovative, combining true skin care oils with pure pigments. Like oil and water, the two key components of the Maestro Glow Foundation—facial oils and pigment—separate from each other when still, with the pigments falling towards the bottom of the bottle and the oils sitting right on top, waiting for their next shake up. The result of mixing the two? Lightweight coverage that perfects the appearance of my complexion and leaves my skin looking and feeling nourished, hydrated, and radiant. I could stop there, but we haven't gotten to the best part about this magical elixir: the fact that it is formulated with SPF 30.
I am a die hard fan of—read: obsessed with—protecting my skin from the damaging effects of sun exposure and the premature signs of skin aging that come along with it, so when I find a product that is formulated with SPF, it makes its way up to the top of my must-try list. For me, the SPF 30 in Giorgio Armani's Maestro Glow Foundation is the cherry on top of an already great, skin-benefiting cosmetic.
To use, simply give the bottle a couple of good shakes and use the serum-like applicator to apply a few drops to your skin. Starting in the center of your face and working your way out, use your fingers or a blending sponge to dab and blend the formula onto your skin, allowing it to soak up the skin nourishing oils. 
Read more

Back to top