Why One Editor Says the YSL Beauty NU Bare Look Tint Is the Ultimate Makeup-Skincare Hybrid
September 20, 2021
I've always considered myself a makeup minimalist — on most days I'll only swipe on concealer, mascara and brow gel before heading out. I stopped wearing foundation years ago because I was never able to find one that didn't settle into my lines or cake up around my nose after a full day's wear. Besides, a few dabs of concealer was all I needed to even out my skin tone. Over the past year, though, more redness started to appear on my complexion and my trusty concealer wasn't enough to cover it up. I hated the idea of regularly using foundation again, but I was open to trying out a skin tint. This was about the time YSL Beauty launched the NU Bare Look Tint, and the brand was nice enough to send me a complimentary sample to try and review. 
Unlike many foundations, skin tints are makeup-skincare hybrids that often include a variety of skin benefits, including intense hydration. I was originally drawn to the Bare Look Tint because it is formulated with skin-loving ingredients like hyaluronic acid, glycerin and brightening mallow. Plus, it promises to deliver 24-hour hydration and leave users with an evened-out, dewy complexion.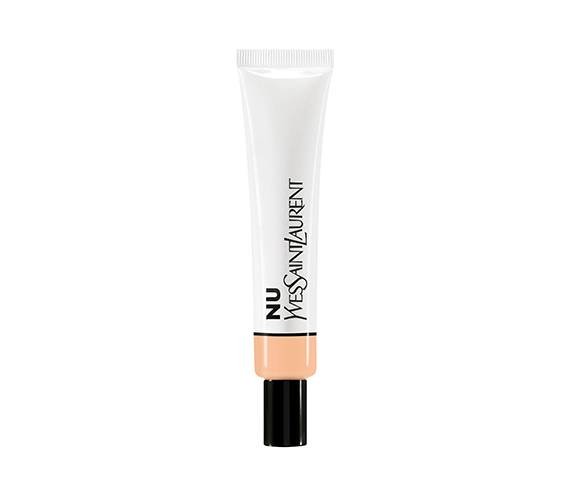 My Review of the YSL Beauty NU Bare Look Tint
I was skeptical about how lightweight it would feel on my skin, but this skin tint is light as air. After blending it in with a makeup sponge I couldn't feel it at all — it was like I was wearing a second skin. I was impressed with how well it evened out my skin tone, too. My annoying red spots were completely concealed, but the ultra-light coverage still allowed my freckles to shine through.
The true test was if it could last through a full day without caking, though. Hours after originally applying it to my face, it was still intact without settling into any lines. Plus my face still looked naturally dewy (not sweaty) after being out and about. 
I never thought I'd regularly wear face makeup again, but this is one product I don't think I'll be able to live without. The lightweight feel made it the perfect face makeup during the summer months, but I'm more excited to keep using it through the fall and winter as an extra hydration layer when the weather is drier. 
Photo: Mary Honkus
Read More: 
QQ: What Is a Serum-Moisturizer?
What Is the Skin's Moisture Barrier?
Is Your Skincare Causing Your Makeup to Pill?
Read more

Back to top