The Most-Searched Skin Care Ingredient in the U.S. Probably Won't Surprise You
March 06, 2017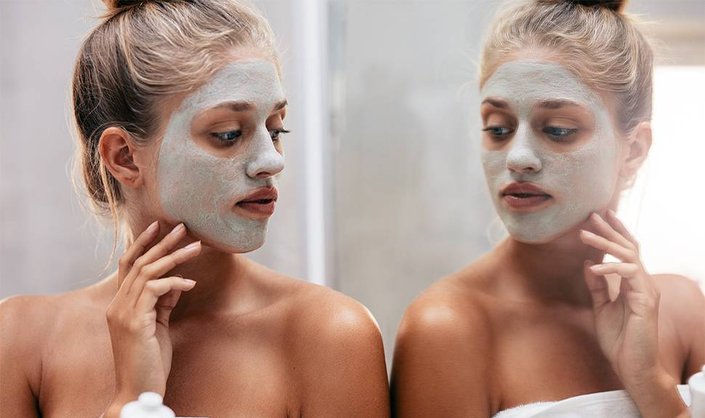 *based on a Google Beauty Trends Report 
As far as beauty rituals go, there's no question that a face mask is the perfect way to indulge your skin in a little extra TLC after a long day. Pair that mask with a glass of wine—hint: we lay down the best combos, here—and your night in just got a next-level upgrade. But even if masking is your typical Sunday—or Monday, Tuesday, Wednesday, Thursday, Friday, Saturday…we're not judging) night ritual, you'd hardly be alone. Chances are plenty of beauty aficionados are doing the exact same thing from the comforts of their couches not just in America, but around the globe. How do we know? This new intel is all thanks to a new report which found that face masks are a trending search topic worldwide, including in the U.S., France, and Japan. 
Of course, there's no shortage of face masks out there. From charcoal masks to sheet masks, these masks are formulated to help address various skin concerns. Curious to know which mask-related skin concerns and ingredients were searched for most? According to the findings, acne and blackheads were among the top skin concerns associated with searches for masks globally. As for the top trending ingredients, clay clocked in at the number one spot in the U.S. With mask being the most searched product alongside clay, it's safe to say that we'll be seeing plenty of clay-based masks to come in 2017. In honor of the trend that has piqued the interest of so many, we're sharing the beauty benefits of clay—plus, a roundup of our favorite masks formulated with the ingredient from the L'Oreal portfolio of brands—below.
THE BEAUTY BENEFITS OF CLAY
Clay masks are all the rage right now, and can deliver radiant skin. Sounds great, right? Before you jump on board the trend, you should know a little bit about the skin care benefits of various clays. Among the many that are used in skin care formulations, kaolin and bentonite are popular picks. According to The Body Shop's Beauty Botanist Jennifer Hirsch, white kaolin clay is the mildest of all the clays, making it less powerful at drawing out oil and impurities. As such, reach for a mask formulated with kaolin clay if your skin is dry and sensitive. (Check the label first, though.) Bentonite, on the other hand, boasts potent absorption properties for a deep clarifying cleanse, which makes it an ideal choice for oily skin types.
To learn more about the skin care benefits of different clays, read this!
THE BEST CLAY MASKS TO TRY
SkinCeuticals Clarifying Clay Masque
Got congested skin? Reach for this mask—for all skin types—which combines natural earth clays, kaolin and bentonite, with a hydroxy acid blend to decongest pores, lift impurities and oils, and exfoliate the skin. Use it once or twice weekly for skin that's purified. 
SkinCeuticals Clarifying Clay Masque, $55 MSRP
Kiehl's Rare Earth Deep Pore Cleansing Masque
Whisk away unwanted debris and dead skin cell accumulation that can clog pores and leave skin dull-looking! This unique formula—rich in minerals and Amazonian White Clay—helps eliminate surface toxins from skin. It also helps to purify skin, leaving the appearance of pores minimized and skin refined.
Kiehl's Rare Earth Deep Pore Cleansing Masque, $28 MSRP
L'Oreal Paris Pure-Clay Mask Detox & Brighten Treatment Mask
Beautify your skin in minutes with L'Oreal Paris' range of clay-mud masks. Each mask is powered by three different clays in their pure form and enhanced with a nature-sourced ingredient. This one in particular—formulated with kaolin, montmorillonite, and Moroccan lava clays enhanced with charcoal—draws out a build-up of impurities, dirt, and pollution, reduces dull skin to increase luminosity, evens skin's tone, and refreshes.
L'Oreal Paris Pure-Clay Mask Detox & Brighten Treatment Mask, $12.99 MSRP
Read more

Back to top