Cloudless Skin: The Korean Skin Care Trend That's Here To Stay
September 25, 2018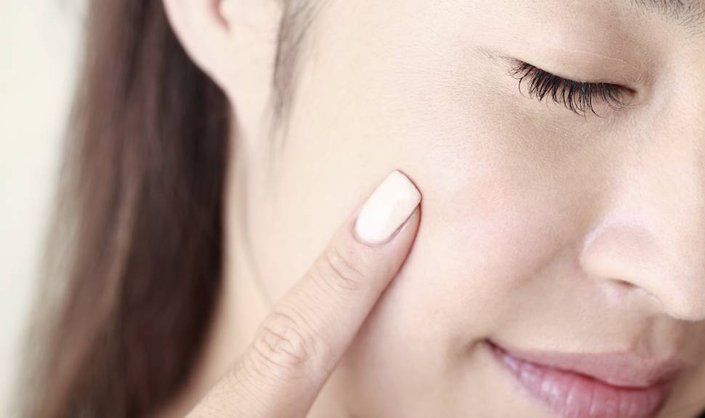 Few would argue that Korean beauty—whether it's product picks or a skin care routine—has taken the beauty world by storm. From 10-step skin care routines to incorporating essences and sheet masks into your beauty cabinet, K-Beauty has quickly evolved into more than just a trend. 
By now, we've all heard of "glass skin" and "honey skin," both of which were made popular by K-Beauty fanatics. The latest, however, is cloudless skin. So, what exactly is cloudless skin, and how can you achieve it? We've got those answers and more, ahead.
WHAT IS CLOUDLESS SKIN?
When there are no clouds in the sky, the sky looks clear, right? Now think about your skin. When there are no imperfections present, it'll look clear too—which is exactly what cloudless skin refers to. Cloudless skin is skin that looks clear, healthy—think: barely visible pores and no acne blemishes in sight—and radiant.
While cloudless skin may be easy to achieve on a young child who has yet to expose their skin to the damaging effects of UV rays, or harsh skin care products and environmental conditions, it's more difficult to achieve as you get older. That's because you'll undoubtedly have come across factors that can cause your skin to breakout, or cause damage that can appear in the form of dark spots or wrinkles. Natural aging and the passing of time can also cause your skin to look different and that's completely normal. Your skin will certainly have some cloudy days; it happens to all of us.
But achieving cloudless skin also isn't an impossibility altogether. By following proper lifestyle habits and skin care routine, you can help encourage the formation of cloudless skin.
HOW TO GET CLOUDLESS SKIN
Needless to say, cloudless skin won't happen overnight. To truly achieve cloudless skin, you'll need to follow the right skin care routine, use high-quality products, and reverse poor lifestyle habits. Read on for our top tips on how to get cloudless skin!
TIP #1: CLEANSE YOUR SKIN DAILY
Even if you're feeling lazy, always cleanse your skin every morning and night. Cleansing your skin with a top-notch cleanser is essential to removing dirt, oil, and pore-clogging impurities from your skin's surface. By keeping your skin clean, you're also helping to keep breakouts at bay.
If you want to go the K-Beauty route for your cleansing routine, try double-cleansing. This technique is exactly how it sounds: you cleanse your skin twice, starting with an oil-based cleanser and following with a water-based one. If you're doing a deep nighttime cleanse, then start off with the Kiehl's Midnight Recovery Botanical Cleansing Oil, and follow with the water-based Kiehl's Ultra Facial Cleanser.
TIP #2: EXFOLIATE YOUR SKIN REGULARLY
In order to keep your skin feeling refined and refreshed, you should always reach for an exfoliant a few times per week. Exfoliating helps slough away any dead skin cells sitting on your face, and gives your skin a smoother texture and radiant glow. Be sure not to over-do it though, since exfoliating too often can cause irritation and unwanted dryness. To learn more about proper exfoliation techniques, check out our exfoliation guide.
TIP #3: MOISTURIZE YOUR SKIN
No matter what skin type you have, moisturizing is key for hydrated, healthy-looking skin. After cleansing, your skin is stripped of essential moisture, so you'll need to replenish it. That's why you should always use a quenching moisturizer to give your skin the moisturizing boost it's thirsting for.
One of our favorite moisturizers is the Vichy Aqualia Thermal Rich Cream. It provides long-lasting moisture, and helps replenish and smooth dry skin.
TIP #4: GUARD YOUR SKIN FROM DAMAGING UV RAYS
One of the biggest skin assaults out there are the sun's harmful UV rays. UVA and UVB rays can damage our skin, leading to premature signs of skin aging, sunburn, and even some cancers. That's why we can't stress enough how important it is to wear broad-spectrum sunscreen prior to heading outdoors.  
To keep your skin guarded, always wear protective clothing—think: long sleeves, closed-toed shoes, and sun hats— and make sure to reapply your sunscreen at least every two hours. The American Academy of Dermatology recommends using a sunscreen with a broad spectrum SPF of 30. Try the La Roche-Posay Anthelios Cooling Water Sunscreen Lotion SPF 30. 
TIP #5: MONITOR YOUR STRESS LEVELS
Whether you're willing to accept it or not, stress can take a major toll on your skin's appearance. While we all lead busy, hectic lives, it's important to keep your stress levels in check for the sake of your mind, body, and skin. After a long and particularly stressful day, draw up a bath or cozy up with a good book—anything that will allow you to relax. Here are four ways to de-stress at home.
TIP #6: QUIT SMOKING
The negative side effects of smoking are endless, and that includes for your skin. Smoking can cause your skin to look dull and dry, as well as loose and sagging. Since smoking damages your skin's collagen and elastin levels—the fibers that keep your skin plump and firm—seeing visible (and accelerated) signs of aging are a common result of smoking regularly. The best way to protect your skin from these side effects is to quit.
TIP #7: SPOT-TREAT EXISTING BLEMISHES
Acne can really get in the way of things, especially if you're trying to achieve cloudless skin. To target your acne, spot-treat your pimples with a spot treatment formulated with salicylic acid or benzoyl peroxide. If you're in a pinch and need to hide the look of a big red zit, a high-coverage concealer or foundation could do the trick temporarily.
TIP #8: GET THE PROPER AMOUNT OF SLEEP
While it seems like a gimmick, beauty sleep is definitely real. A lack of sleep can cause your skin to appear dull, and your eye contour to appear dark and puffy. Instead of pulling all-nighters, be sure to get the recommended hours of sleep each and every night. If you're a notoriously poor sleeper, check out our tips on how to improve your beauty rest here!
Read more

Back to top