How to Enhance the Benefits of a Sheet Mask
February 13, 2018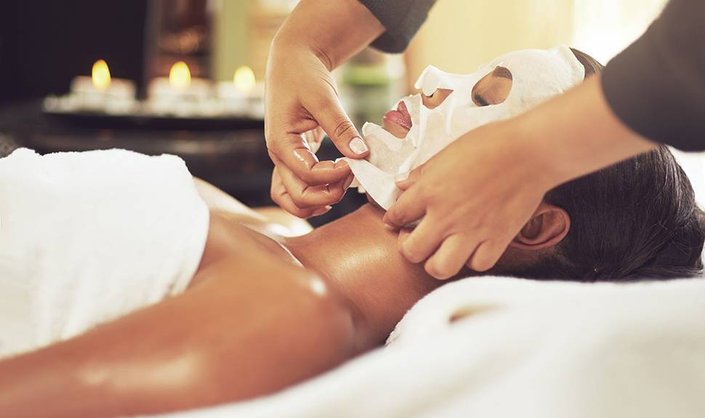 Over the past few years, face masks have made a major name for themselves in skin care. No longer is masking reserved for girl's nights and at-home spa days. Now, they're a very regular part of most skin care routines, just like cleansing or moisturizing. As you'd expect with anything rapidly rising in popularity, more and more varieties of face masks are entering the market. Chief among those is the sheet mask. Convenient and effective, sheet masks have already earned a spot as one of this year's hottest skin care trends. Since we have a feeling that means you'll be spending a solid chunk of time in 2018 with a sheet mask "secured" on your face, we're taking the opportunity to let you in on our best tips for using sheet masks, plus, sharing a few of our favorites from the L'Oreal portfolio of brands.
7 Tips for Making the Most of Sheet Masks
Using a sheet mask seems simple enough. Just unfold and place on your face. But if you really want to see all the benefits of a sheet mask, there's more you should be doing.
Tip #1: Cleanse first—not after.
Before applying your sheet mask make sure you're starting with a clean canvas by cleansing first. And remember, when it comes time to remove the mask, don't rinse off. The serum the mask leaves behind is supposed to stay on your skin, not be washed away.  
Tip #2: Break out the scissors.
Don't feel bad if sheet masks never seem to fit your face quite right. It's rare to have one be the perfect size and shape for your face without any alterations. If it's causing an issue, there's a simple solution. Use scissors to trim spots where the mask is too big, then give it a try.
Tip #3: Keep them cool. 
Food isn't the only thing you can store in a fridge. To give your sheet masks an extra boost of cooling power, put them in your fridge. Whether you're feeling overheated or just worn out, smoothing on a chilled mask will feel really, really nice. 
Tip #4: Don't go overtime.
It's easy to assume that leaving a mask on for longer can only lead to better results, but that isn't necessarily the case. The instructions on sheet masks are there for a reason. So, if your mask says to only sit with it on for 10-15 minutes, set a timer before kicking up your feet.
Tip #5: Flip it over.
Oftentimes, sheet masks don't have a right or wrong side—whichever side you put down on your skin will work just the same. Which means you can flip your mask over halfway through using it to get a fresh dose of hydration. 
Tip #6: Play the part of masseuse.
When you lift a sheet mask off your face, you should be left with a layer of serum on the surface of your skin. That's your cue to go ahead and give yourself a facial massage. Not only will you help your skin absorb the lingering product, but it'll feel amazing too.
Tip #7: Pair with eye patches.
In most cases, a sheet mask won't cover the skin under your eyes. Since that's one spot you know needs lots of attention, you can wear eye mask patches at the same time as a sheet mask to take care of your entire face.
 
Our Favorite Sheet Masks
Now that you know how to get the most out a (sheet) masking session, here are a few of our favorite sheet masks by Garnier to apply those tips to.
Charcoal has quickly become one of the trendiest face mask ingredients, and you can find it in sheet masks as well. Formulated with charcoal and algae extract, this non-greasy mask draws out pore-clogging impurities for a deeply cleaned feel.
Micellar waters aren't the only water-based product we love. You might not have realized, but sheet masks can be water-based too. Formulated with hyaluronic acid, this water-based masking option provides a soothing burst of hydration and a fresher, softer, more radiant look.
Primers and face powders may be your go-to for making your face matte, but you shouldn't rule sheet masks out as a way to mattify. Immediately after using this sheet mask you'll notice skin looks clearer and feels balanced, while over time, shine will be reduced and quality of skin can even look improved.
If matte skin isn't your thing, this is the sheet mask for you. The intense glow-boosting formula, formulated with sakura extract, hydrates, illuminates and enhances skin's radiance.
Using a sheet mask should already be a soothing experience, but if you want to take that effect to the next level, use this sheet mask, which is specifically meant to soothe your skin. Formulated with chamomile extract, skin feels soothed immediately after use, while looking fresher and seeming softer.
Feeling fatigued? Sounds like the perfect opportunity to pop on a sheet mask. Try this one, which is formulated with lavender essential oil and has a pleasant, relaxing scent. Beyond that, the mask revitalizes skin and reduces visible signs of fatigue.
Read more

Back to top