Need a New Face Mask? Check Out Our Favorite Kiehl's Face Masks
October 24, 2018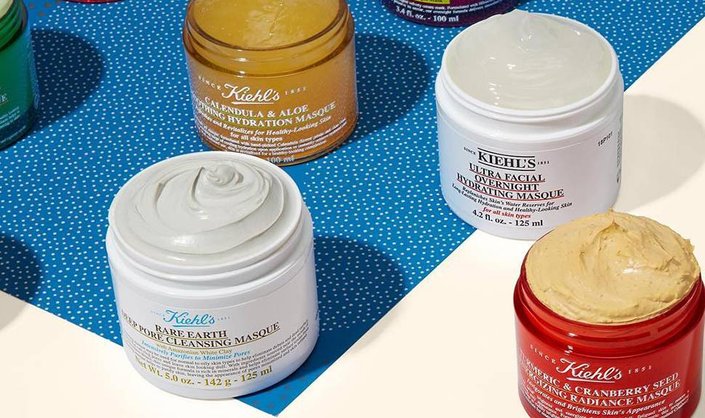 Whether you're dealing with dullness, enlarged pores or moisture loss (or a combination of all three), there's a Kiehl's face mask that can help! Curious to know more? We're sharing the ultimate guide to finding the best Kiehl's face mask for your skin, including benefits and how to incorporate each formula into your routine, ahead
FOR DRY SKIN: ULTRA FACIAL OVERNIGHT HYDRATING MASQUE
Few things are better than waking up to a complexion that is plumped with moisture. To achieve this, reach for Ultra Facial Overnight Hydrating Masque. It's formulated with Glacial Glycoprotein and Desert Plant Extract, and can deliver intense, long-lasting hydration to your skin overnight to help replenish water reserves and deliver radiance.
To use, apply a heaping amount of this mask onto cleansed skin prior to bed. Allow it to absorb before resting your head against your pillow.
My thoughts: After applying this overnight mask onto my skin before bed, I noticed my skin felt soft, smooth, and hydrated in the morning. The usual flakes and dryness on my skin were virtually non-existent.
FOR DISTRESSED SKIN: CALENDULA & ALOE SOOTHING HYDRATION MASQUE
Formulated with hand-picked Calendula flower petals and aloe vera, this lightweight gel masque bursts into a refreshing surge of cooling hydration once applied to the skin. Instantly skin feels hydrated and soothed. With continued use, expect to see skin that's revitalized for a healthy-looking complexion.
To use, apply a layer of this mask onto freshly-cleansed skin and leave it on for five minutes. Rinse with lukewarm water, gently massaging in a circular motion. Pat dry with a towel. For best results, use this mask three times a week. 
My thoughts: I love how cooling and refreshing this mask felt on my skin! It instantly woke my skin up, and I was left with a hydrated complexion after just five minutes. 
FOR LARGE PORES: RARE EARTH DEEP PORE CLEANSING MASQUE
Clay masks are notorious for helping to draw dirt and impurities out of pores, and this formula by Kiehl's is no exception. Powered by Amazonian White Clay, Rare Earth Deep Pore Cleansing Mask can help eliminate debris and dead skin cell accumulation that can clog pores and cause them to appear enlarged. But that's not all. The mineral-rich mask can also help purify your skin to minimize the appearance of pores and leave the skin refined.
To use, apply a thin layer to damp, clean skin and allow to dry for 10 minutes. Once it's dry, gently remove the mask using a warm, wet towel and gently pat dry. Use once or twice a week.
My thoughts: My t-zone is one of the areas of my skin that often feels congested, so I targeted this mask directly on that area. The creamy texture made it easy to apply and remove, and my skin definitely felt clean and purified after use. 
 
FOR DULL SKIN: TURMERIC & CRANBERRY ENERGIZING RADIANCE MASQUE 
Is your skin looking a little dull? This "instant facial" is just the ticket you need to energize the look of fatigued skin. Enhanced with cranberry and tumeric, you'll enjoy how this invigorating formula works to visibly brighten the skin, helping to restore a healthy-looking and rosy complexion. What's more, the crushed cranberry seeds help to gently exfoliate the skin to reveal a texture that's smooth and renewed.
To use, apply the mask to your facial skin, avoiding the eye area, and keep it on for 5-10 minutes. Rinse off, and follow up with the rest of your skin care routine.
My thoughts: This mask had me at the words "instant facial." Never one to turn down the chance to make my skin glow, I was excited to try this mask and even more excited for the results. I left this mask on my skin for 10 minutes and I was incredibly happy with the radiant glow it left behind. 
FOR UNHEALTHY-LOOKING SKIN: CILANTRO & ORANGE EXTRACT POLLUTANT DEFENDING MASQUE
You're exposed to environmental aggressors, like pollution, each and every day, which can take a toll on your complexion and cause it to look dull and unhealthy. That's why you'll want to invest in a mask that can help strengthen and defend your skin against environmental aggressors, like the Cilantro & Orange Pollutant Defending Masque. Formulated with cilantro and orange extract, this mask helps prevent impurities from adhering to the skin. With continued use, the skin is radiant, renewed, and protected. 
To use, apply a visible layer to the face after cleansing and moisturizing. Leave it on for 5 minutes and tissue off. Pat in excess while still leaving a thin layer on the skin overnight. For optimal results, use three times per week at night.
My thoughts: Pollution is an aggressor that many of us think about as it relates to the environment but not so much our skin. Since I use antioxidants in my skin care routine daily to neutralize the effects of environmental aggressors, I was excited to add this face mask to my arsenal. After using it once my skin felt clean and comfortable. I look forward to using it on a more continuous basis to take my skin protection to the next level. 
FOR FINE LINES & WRINKLES: GINGER LEAF & HIBISCUS FIRMING MASK 
Looking for an overnight mask that can help deliver smoother-looking skin? Look no further than Ginger Leaf & Hibiscus Firming Mask.  This indulgent velvety-cream mask—formulated with hibiscus—delivers smoother-looking skin and skin that feels firmer. Use after use, the hydrating formula works to soften the appearance of fine lines to reveal a more youthful-looking complexion.
To use, as the final step of your nighttime routine, massage the mask onto clean skin with an upward motion. You'll begin to feel the formula working instantly. Leave it on overnight and rinse with lukewarm water. Use five times a week.
My thoughts: Signs of aging aren't necessarily a big concern of mine, but I have noticed a few lines here and there cropping up on my skin as of late. After using this mask, my skin felt incredibly smooth. With continued use I'm hoping my fine lines can look less noticeable! 
FOR ROUGH TEXTURE: INSTANT RENEWAL CONCENTRATE MASK
Do you prefer to mask with a sheet mask? Reach for the Instant Renewal Concentrate Mask infused with an exotic blend of three plant-derived, cold-pressed Amazonian oils—Copaiba Resin Oil, Pracaxi Oil, and Andiroba Oil—for instantly smoother-looking skin. It's a two-piece mask that adheres to the skin ever so perfectly, so you can go ahead and multi-task while you have it on without worrying about it slipping off. Once 10 minutes has elapsed, expect to see a softer, brighter-looking complexion.
To use, carefully unfold the sheet mask and remove the clear backing. Gently apply the top layer and then bottom layer, moving your hands outward from the center of your face. Leave the mask on for 10 minutes and massage any remaining formula into your skin.
My thoughts: If you aren't a fan of sheet masks, I'm willing to bet you just haven't found the right one for your skin yet. This sheet mask is one of my favorites for a few reasons. For one, it boasts two pieces which makes the application easier. It also cocoons itself onto your skin in a way that doesn't leave you stuck on the couch or with your head facing the ceiling. I was able to multi-task while wearing this sheet mask and upon removal my skin felt soft and looked bright. 
Read more

Back to top