I Can't Stop Using the New Kiehl's Ultra Facial Hydrating Overnight Face Mask as a Cleansing Balm — Here's Why
May 26, 2022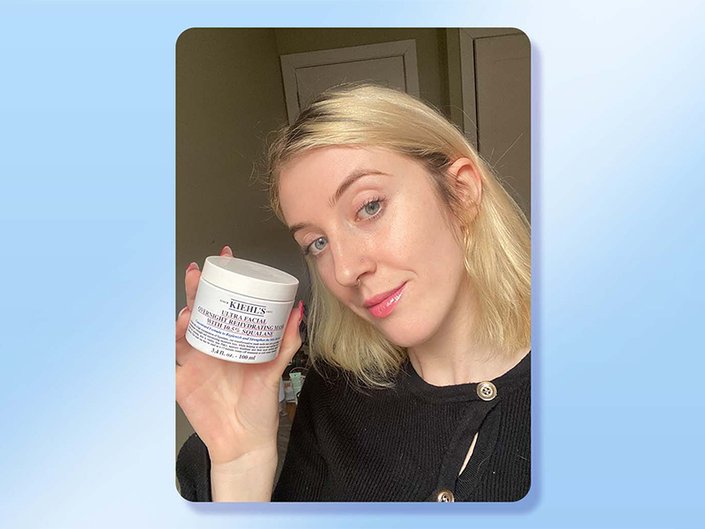 As someone with super dry, sensitive skin, there are certain features I will rarely pass up when it comes to skincare: if the product promises moisture, hydration and/or smoother, softer skin, I'm almost always willing to give it a try. So when Kiehl's offered to send me their new Ultra Facial Overnight Hydrating Face Mask with 10.5% Squalane, I had high hopes for the hydrating, balm-like formula. Keep reading for my review of the face mask below.
The Kiehl's Ultra Facial Overnight Hydrating Face Mask Formula
Kiehl's describes this as a hydrating face mask that prevents moisture loss overnight and helps strengthen your skin's moisture barrier. It's a balm-to-oil formula that can be used three different ways: as an overnight mask (up to three times a week), as a short, 15-minute treatment or as a cleansing balm on dry skin. Key ingredients include squalane, a lipid that helps restore the skin's moisture barrier and promotes a softer, more supple-looking complexion, and glacial glycoprotein, which helps to hydrate. The mask is suitable for all skin types, but those with oily skin will appreciate that it's non-comedogenic. The fact that it's packaged in a 100% post-consumer recycled jar is an added bonus.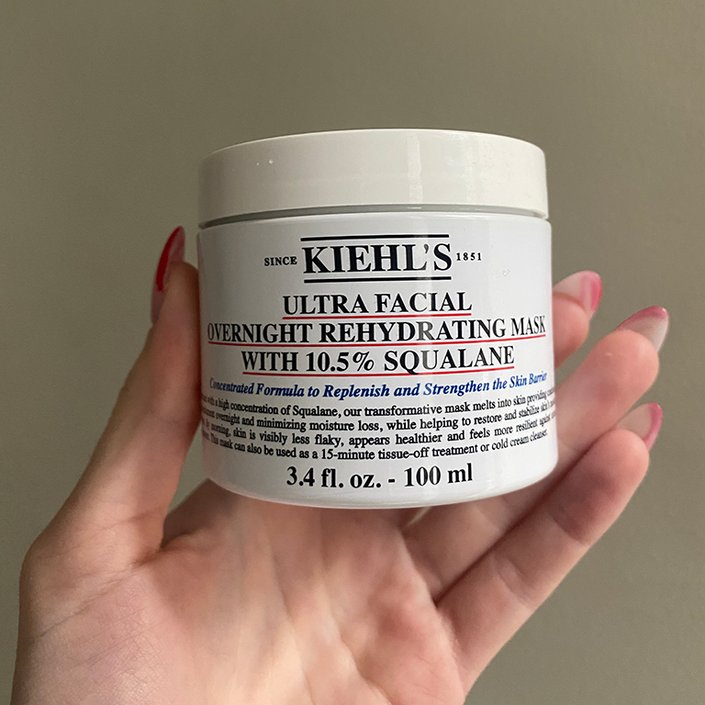 My Experience Using the Kiehl's Ultra Facial Overnight Hydrating Mask
Given how dry my skin is, I was excited to try a formula that sounded so comforting and hydrating. I love the rich, balmy consistency — it reminds me of slathering on shea butter straight from the tub. It melts into a creamier consistency as you apply it, which makes it easy to spread all over your face. Surprisingly, my favorite way to use the product is as a cleansing balm on full-makeup days. I scoop some of the formula out using my fingers (if you're worried about hygiene, you can use a small spatula), rub it into my skin and watch traces of foundation and blush come off when I wipe it away with a cotton pad. I follow that with my typical cleanser and warm water, and am left with skin that feels clean and soft, not stripped. I've never tried a cleansing balm before, but I now swear by this one for taking my makeup and sunscreen off.
As an overnight mask, I can see myself reaching for this on days where my skin is so dry it's flaky. I'm always seeking out the most hydrating, nourishing skincare products I can find, but I think I would prefer using this more consistently as a mask if its texture were closer to that of a moisturizer. Despite this one qualm, it does make my skin feel pillowy soft the next day, so if you like the texture, you might enjoy it as a mask. But for me, integrating the Kiehl's Ultra Facial Overnight Hydrating Face Mask as part of a double-cleansing routine has worked wonders!
Photo: Ariel Wodarcyk, Design: Juliana Campisi
Read more

Back to top