Multi-Masking Made Simple
October 18, 2017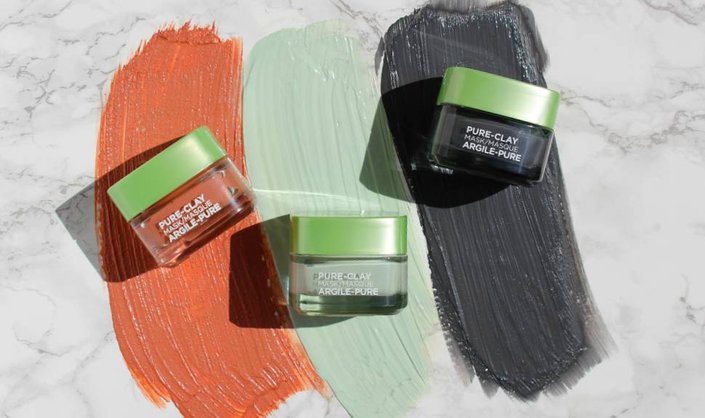 Have multiple skin concerns? There's a mask (and a method) for that! We review L'Oréal Paris Pure-Clay Mask range and share how to use these clay masks to multi-mask, below!

Multi-masking hit the skin care world by storm last summer—quickly going from a silly social media photo op, to a much more efficient way to face mask. You start by evaluating your specific needs in different areas—for instance: large pores and oil around your T-zone, dryness on your cheeks, and a few fine lines making their home on your forehead. Then, you pick the perfect mask to target each of these areas.
While multi-masking can seem daunting to those of us who aren't stocked to the ceiling with face masks at home, L'Oréal Paris makes multi-masking oh-so-simple with their Pure-Clay Mask Range. We were sent complimentary samples of the L'Oréal Paris Pure-Clay Masks to review. Keep reading to check out what we think of these affordable face masks, and how to use them in your next multi-masking routine.
L'Oreal Paris Pure-Clay Mask Review
Clay masks are a must-have in any skin care arsenal. Depending on the type of clay, they can help to purify pores and absorb excess oil, restore radiance to tired-looking skin, and even smooth and exfoliate the skin's surface for a more even-looking skin tone. Using the power of three mineral clays along with a few other nature-inspired ingredients, the Pure-Clay Masks—five in total—are just what any beginner multi-masker needs—and what every experienced multi-masker could want!
The range includes three creamy and cushiony masks (all with gorgeous fresh fragrances) which help to cleanse and beautify your skin in as little as ten minutes—so even the busiest schedules are no match for these multi-masking go-to masks. Each mask is formulated with a combination of three mineral clays: kaolinite, montmorillonite, and ghassoul. Each of the fivePure-Clay masks uses this combination of clay plus its own unique ingredient selected for specific skin needs:
Pure-Clay Mask Purify & Mattify
For oily and congested skin reach for the Mattifying Treatment Mask with clay and eucalyptus to help purify the appearance of the skin and remove excess oil from the skin's surface creating a clean, mattified look. Purify & Mattify helps refresh the skin, allowing it to breathe better while improving the appearance of pores.
Pure-Clay Mask Detox & Brighten
L'Oreal Paris' Pure-Clay Detox & Brighten might look dirty, but it works hard to draw out built-up impurities, dirt, and pollution. If you want to illuminate dull and tired skin, while removing dirt and other impurities from the skin's surface, look to the Brightening Treatment Mask with clay and charcoal. We like to use this mask after a long work week to help to detoxify our pores and give ourselves a clean canvas for the weekend ahead! After one use, expect to see skin that looks brighter and with a healthy glow, improved skin tone, and a smoother appearance.
Pure-Clay Mask Exfoliate & Refine
For rough-feeling, clogged skin turn to the Refining Treatment Mask with clay and red algae to help exfoliate the surface of the skin for a more refined look. This orange-toned mask helps polish the skin, minimize pores, and smooth the complexion, for a healthier, more beautiful appearance.
Pure-Clay Mask Clear & Comfort
This blue-hued mask is not only perfect for scary selfies (Halloween is right around the corner!), it's also an ideal choice for drawing out built-up impurities, dirt and oils. Its effective yet gentle formula, enhanced with seaweed, helps visibly reduce imperfections, clear the look of congested pores, and cleanse stressed areas. After one use, expect your skin to feel refreshed, comfortable, clean, and rebalanced. With continued use, the complexion will appear more even, decongested, and any marks due to imperfections will look visible reduced.
Pure-Clay Clarify & Smooth
The newest addition to the range, Pure-Clay Clarify & Smooth, is a bright yellow clay mask enhanced with yuzu lemon. Not only does this mask smell amazing (think: citrusy and refreshing, but not overwhelming), it can also provide a long list of benefits. Clarify & Smooth helps address the issues of roughness and imperfections on the skin, caused by daily wear and tear, makeup and/or improper skin care. Expect skin that's smoother, more even in tone, and resurfaced for a smoother feel. What's more? This clay mask helps shed rough, dead skin cells, draw out impurities like dirt, oils, and pollution, all while giving the skin a healthier, more beautiful appearance over time.
How to Use L'Oreal Paris Pure-Clay Masks
Using L'Oreal Paris Pure-Clay masks are simple. Apply an even layer of product to clean skin, avoiding the eye and lip area. Relax for 10-15 minutes while the mask gets to work, then rinse off with water. Follow up with the rest of your skin care routine, and as always, don't forget to moisturize! For best results, reach for your L'Oreal Paris Pure-Clay Mask, or carry out your multi-masking routine of choice 2-3 times per week.
How We Multi-Mask With L'Oreal Paris Pure-Clay Masks
Depending on your needs, you can use one at a time or mix and match the masks for a no-brainer multi-masking session at home! During our review of the Pure-Clay Masks we discovered that our favorite multi-masking recipe for the masks is to use the Purify & Mattify Mask mask on our foreheads to help to remove excess sebum, the Detox & Brighten Mask (or Clarify & Smooth Mask) down the bridge of our nose, the Exfoliate & Refine mask on our cheeks to help to refine the appearance of our skin and remove any buildup of dead skin cells, and the Clear & Comfort mask along our jawline. Do you have a favorite way to use the L'Oreal Paris Pure-Clay masks? Snap a pic and tag us @skincare! 
L'Oréal Paris Pure-Clay Mask Range, $12.99 MSRP each
Read more

Back to top