The Ultimate Guide to Sheet Masks
November 28, 2018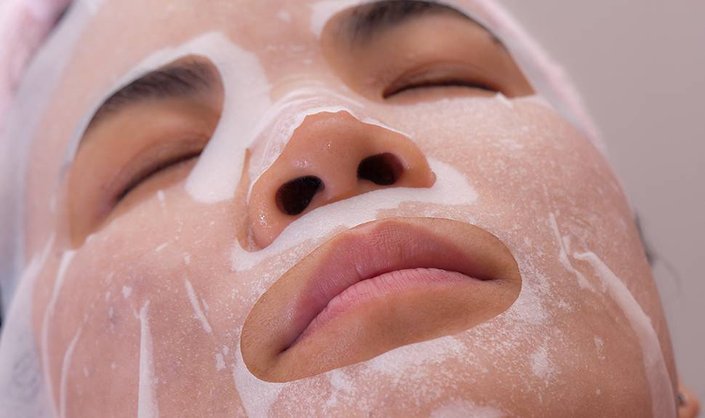 Since landing Stateside from the K-Beauty sphere, sheet masks have taken the beauty world by storm. From celebrities to dermatologists, it seems like skin care buffs can't get enough of these serum-soaked sheets that carry a bevy of skin-loving ingredients and benefits. Ahead, we're giving you the 411 on sheet masks in our ultimate guide, including what a sheet mask is, how to use a sheet mask, and the best sheet masks to add to your routine. 
Face masks come in many shapes and sizes. From clay to jelly, they are a favorite among skin care enthusiasts for both their wide range of benefits as well as their relaxing quality. If you're a novice when it comes to the face mask trend, it's important you learn about which one is right for you prior to giving it a try. Below we get into detail about a face mask favorite—sheet masks—and how you can incorporate them into your own skin care routine.
WHAT IS A SHEET MASK?
A sheet mask is a type of facial mask that comes in the form of—you guessed it—a sheet. Typically, a sheet mask is a lightweight cloth with cutouts for your mouth, nose, and eyes. Some sheet masks are applied in one piece, and others are cut into two pieces—one for the top portion of your face, and one for the bottom. 
WHAT ARE THE BENEFITS OF SHEET MASKS?

 
Sheet masks are soaked in a liquid formula, which makes them incredibly hydrating. Depending on the mask and the concerns it's addressed to target, some can deliver additional benefits beyond skin hydration, including reduced appearance of pores, a more even-looking tone, as well as less noticeable imperfections and blemishes. Beyond your face, there are sheet masks for your hair, as well as your body. Think of a sheet mask like a blanket, cocooning your skin to deliver nutrients and ingredients that don't get washed off after 10 minutes.
In fact, another benefit of sheet masks is their ease of use. We'll get into the nitty gritty of how to apply a sheet mask next, but here's a spoiler: you don't have to wash your face after removing a sheet mask. It's actually discouraged to do so! Instead, you should simply dab in any excess liquid into your skin and allow it to fully absorb.
Editor's note: Don't let any of that sheet mask liquid go to waste! When opening up your sheet mask, hold onto the container or packaging in which it's housed in. After removing the sheet, stick clean fingers into the packaging and scoop up any excess liquid. Apply the liquid onto your face after your sheet mask has been removed, or onto your neck and décolleté and allow it to absorb.
HOW DO YOU APPLY A SHEET MASK?
Sheet masks are a total breeze to use. You simply unfold the mask from the pack and place it on your face, fitting your eyes, nose, and mouth to the holes that are already cut out. If the mask is too big for your face, grab a pair of scissors and cut it down to size. The goal is to have a snug and comfortable fit, leaving no contour of your face untouched. There are plenty of great times to use a sheet mask, and because of the way it should cling onto your skin you have the option of going about with chores or just sitting back and kicking your feet up. There are also a number of ways you in which you can enhance the benefits of sheet masks, making them incredibly easy to insert into any part of your skin care routine. What's more, since there's no need to rinse after using a sheet mask, you can pop one on while on the go, whether that be cruising at 30,000 feet or riding in the passenger seat of a car. 
HOW OFTEN SHOULD I APPLY A SHEET MASK?
The general recommendation is to stick to a sheet mask routine similar to that of any other face mask in your routine. Some people like to use a sheet mask everyday, though the answer ultimately lies with your product of choice and personal preferences. Most sheet masks are left on the skin for 10-15 minutes, which can cut some time out of a busy schedule making a daily sheet mask session a non-starter. Plus, some sheet masks are only meant to be applied a few times per week, or even just once. Refer to the packaging of your sheet mask of choice. 
4 SHEET MASKS TO TRY NOW
Now that you've familiarized yourself with sheet masks, check out a few of our favorites from the L'Oréal portfolio of brands that you can try for yourself!
LANC

Ô

ME ADVANCED G

É

NIFIQUE HYDROGEL MELTING SHEET MASK

For a luxe skin treat, reach for the Lancôme Génifique Hydrogel Melting Sheet Mask. It's formulated with bifidus extract and boasts a hydrogel matrix, which allows the sheet mask to "melt" onto your face with a "cocoon-like" quality. "As you put it on clean skin, it adheres to your skin so beautifully that you can continue to go on with your tasks," says Cara Chamberlain, AVP Lancôme Learning. "You can get on social media, you can cook breakfast, you can do whatever you need to do without it moving on your skin." 
Lancôme Génifique Hydrogel Melting Sheet Mask, $15 (MSRP) for one and $55 (MSRP) for a pack of four
KIEHL'S INSTANT RENEWAL CONCENTRATE MASK
Kiehl's has given us no shortage of choices when it comes to face masks. Now, with the Kiehl's Instant Renewal Concentrate Mask, the brand has introduced a new favorite into our regimen. Complete with cold-pressed Amazonian oils (specifically Copaiba resin oil, Pracaxi oil, and Andiroba oil), this two-piece mask has the ability to hydrate the skin and renew its appearance after only 10 minutes.
Kiehl's Instant Renewal Concentrate Mask, $32 MSRP for 4 masks 
GARNIER SKINACTIVE SUPER PURIFYING CHARCOAL FACE MASK
The Garnier SkinActive Super Purifying Charcoal face mask boasts charcoal as well as algae and can deeply cleanse and detox the skin for a visibly healthier look. To see our review of each of the other Garnier SkinActive sheet masks available, click here!
Garnier SkinActive Super Purifying Charcoal Face Mask, $2.99 MSRP
BIOTERM LIFE PLANKTON ESSENCE-IN-MASK
The Biotherm Life Plankton Essence-in-Mask is a sheet mask that contains Life Plankton, a micro-organism which hails from the French Pyrenees hot springs. The Life Plankton is what is accredited to giving skin intense hydration and a youthful glow after one use of the sheet mask. Just cleanse your face, leave the mask on for about eight minutes or so, and let the formula seep into your skin.  
Biotherm Life Plankton Essence-in-Mask, $60 MSRP
Read more

Back to top