Quick Question, What Is a Carbonated Face Mask?
September 26, 2019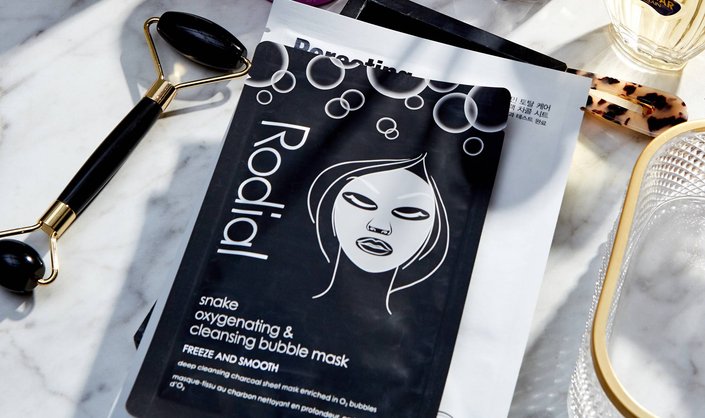 ASMR-worthy face masks are all over the digital skin-care verse — but what do they really do for your skin? One of these ever-so-popular masks is the bubbling, or carbonated, face mask, which forms a layer of bubbles on top of the skin a few minutes after you apply it. To break down exactly what they do, we tapped Alicia Yoon, Founder of Peach & Lily and Maria Hatzistefanis, Founder and CEO of Rodial for their respective bubble-mask expertise (both brands offer versions). Turns out, carbonated face masks do a lot more than just bubble.
What Is a Bubbling or Carbonated Face Mask?
According to Yoon, bubbling or carbonated face masks are masks that begin to effervesce upon contact with the skin. "The common factor between all of them is that they use a similar oxygenating technology that causes the bubbles to form," she says.
Hatzistefanis echoes Yoon's statement and adds that these masks are hard workers because their "bubbles capture and remove dirt, dead skin cells and oil and unclog pores." Bubble masks also come in all different forms — from wash-off to leave-on and sheet masks, too.
What Are the Benefits of Using a Carbonated Face Mask?
"Depending how the products are formulated, say in the case of a detoxifying face mask, the micro-bubbling action could help draw out impurities effectively because these bubbles aren't the same as a lather that comes from cleansers," says Yoon. Essentially, the bubbles that form are from oxygen, not surfactants, which can strip the skin of its natural oils.
What Skin Types Should Use A Bubbly/Carbonated Mask?
Most skin types can benefit from this type of mask, but it's important to note that most are created specifically for different types of skin. "Some might be created for sensitive skin, acneic skin, dry skin, oily skin, dull skin, etc," says Yoon.  "So it's important to see what the whole formula is about." While the bubbling part is more of a textural choice, the ingredients are what helps you navigate which bubble mask to use.
How to Incorporate a Carbonated Face Mask Into Your Routine
When using a bubble mask, Hatzistefanis says it's important (at least for her products) to rub the surface of the pouch to activate the bubble ingredient inside. For all products, it's important to read the directions carefully, as some bubble masks can be left on, while others should be completely rinsed off, like the Shangpree Sparkling Mask. "This is best applied onto makeup-free dry skin, then washed off, and then you can continue with the rest of your skin-care routine," Yoon says.
Hatzistefanis' favorite bubble sheet mask to use for all skin types is the Rodial Snake Bubble Mask. "Oily, combination skin types will feel refreshed, cleansed and purified," she says, "while dehydrated types can benefit from the ceramides, and dry skin types will visibly look replenished." 
Read More:
The Four Moisturizing Ingredients You Need All Year Round
The Best Under-Eye Masks, Hands Down
A Simple Skin-Care Routine for Acne-Prone Skin
Read more

Back to top