The Youth To The People Yerba Mate Resurfacing Energy Facial Is My Secret to Smooth Skin
October 25, 2022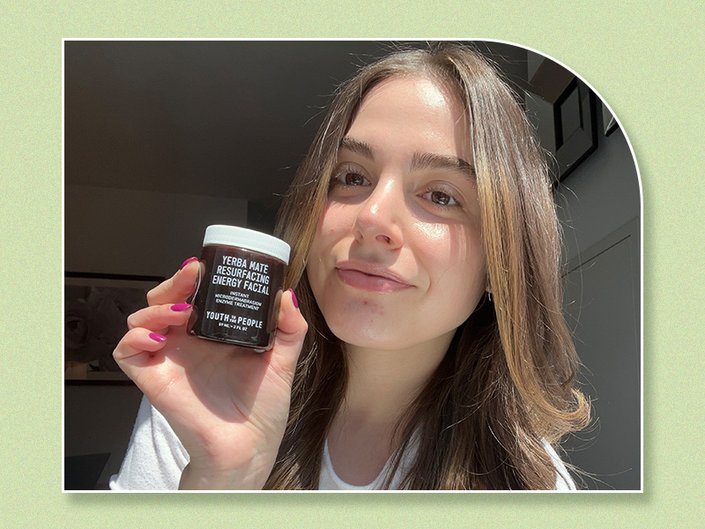 Despite testing countless skincare products as part of my job, it's pretty rare that I find something I'm unwilling to go without — especially in the exfoliator category. But when I received the Youth To The People Yerba Mate Resurfacing Energy Facial, courtesy of the brand, it quickly became one of the products that I insist on having in my skincare rotation at all times.
To learn more about this exfoliating treatment mask and why I've found that it truly sets itself apart in the skincare market, keep reading.
What to Know About the Yerba Mate Resurfacing Energy Facial
When I first got my hands on this product, I wasn't quite sure what skincare category it fell into or where it would fit into my skincare routine, but a quick scan of the website filled me in. The brand coins it as a two-minute dual-action facial, so essentially it's like a quick exfoliating face mask. They recommend using it between one and three times weekly.
As for what it promises to do, it's all about exfoliating the skin to reveal a smooth, bright complexion through both chemical and physical exfoliation. Fruit-derived enzymes work to break down dead skin cells while bamboo and diatomaceous earth (silica) micro exfoliants physically buff them away. The formula also contains a yerba mate extract, derived from the highly caffeinated tea, as well as aloe for its soothing properties.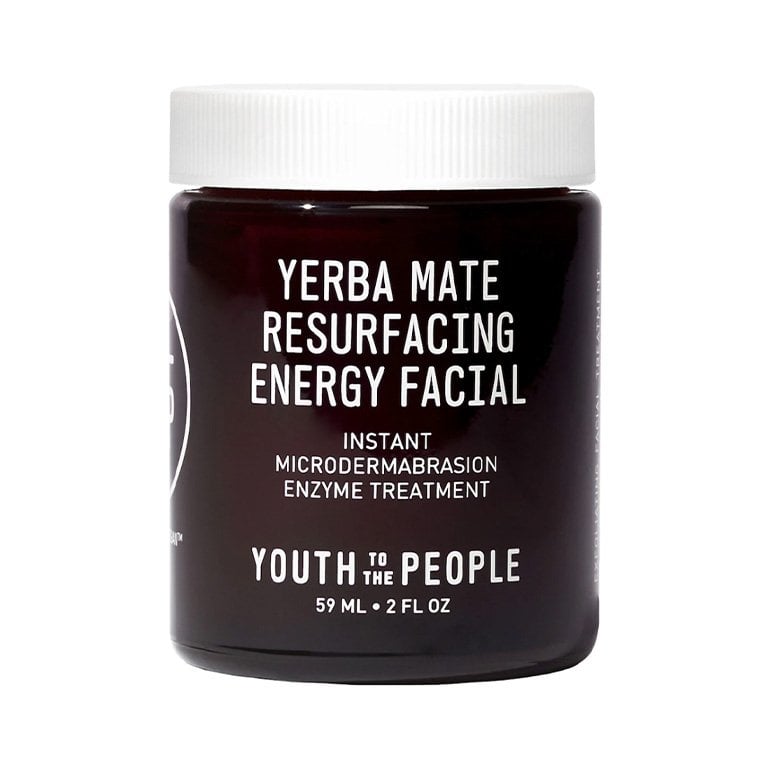 My Experience Using the Yerba Mate Resurfacing Energy Facial
For context, I have oily skin and my problem areas are my chin and the sides and corners of my nose where I have enlarged pores and unwanted texture. Because of this, I look for exfoliating treatments that help to cleanse my skin of excess oil and buff away texture.
Starting with clean, damp skin, I scooped about a penny-sized amount of the product onto my fingers and began massaging it evenly across my face. I noticed immediately that the texture resembled a very fine, wet sand. I could feel the micro-exfoliating particles physically buffing my skin, and while it was more abrasive than many physical exfoliants I've tried lately, it didn't feel painful because the particles aren't coarse. In fact, while I love chemical exfoliating treatments because I don't always want or need a physical scrub, it felt incredibly satisfying to feel this product in action. Because the formula is pretty thick and the physical exfoliating particles are evenly dispersed throughout, it did a thorough job at exfoliating every area of my face.
Once evenly distributed on my skin, I let it sit for around two minutes per the directions on the packaging. As it dried, I could see the particles turn lighter in color and that's when I knew it was time to rinse it off. I rinsed it off with lukewarm water and I noticed immediately how smooth and radiant my complexion looked. My excess oil was nowhere in sight, and the rough texture around my nose and chin was significantly reduced.
I've since used this treatment about 10 times, and I absolutely love it for when my skin is looking dull or needs a quick resurfacing treatment. It's also a great treatment to use before an event, because it may help your makeup to apply smoothly (just make sure that this is never the first time you try any treatment). It's a top-shelf item for me, and I don't see anything taking its place any time soon.
Photo Credit: Alyssa Kaplan
Read more

Back to top