Skin-Care Reboot? Here's What Our Beauty Editors Would Buy at Bluemercury With $100
February 06, 2020
Bluemercury is our go-to destination when we're in the mood for a luxe skin-care haul. But even though stocking our shelves with luxury products is easily our favorite pastime, not breaking our budget when shopping can be a tricky feat. To figure out how to pare down our spending on creams, cleansers and serum concentrates but still spoil ourselves with skin-care goodies, we tapped six beauty editors to see what's on their must-have list at Bluemercury. So, in the spirit of embracing a reasonably priced shopping spree, find what they would add to their cart with $100 to spend. 
Lindsey, Content Director 
I'm a big fan of spending imaginary money on big-ticket items that give me the most bang for my buck, which is why if you gave me $100 to spend at Bluemercury, I'd only grab two products. First, I feel strongly that sunscreen is the absolute best thing you can do for your skin, so I'd pick up the La Roche-Posay Anthelios Clear Skin Sunscreen With SPF 60 ($20). It has broad-spectrum protection from both UVA and UVB rays, goes on completely clear and doesn't pill under my makeup. Plus, I can use it on both my face and body. Then, because I also like to balance something I've used before with something new, I'd reach for the Alpyn Beauty Calming Midnight Mask With Melatonin and Wild Dandelion ($68). It's an overnight mask that promises to hydrate and repair the skin while you sleep. I absolutely love the brand's Creamy Bubbling Cleanser, so I have high hopes for this product, too.  
Samantha, Assistant Editor 
The second I step into Bluemercury, I head straight for the M-61 PowerGlow and Go Peel Pads. For just $16, I feel like I'm getting a spa-grade treatment at home. The easy-to-use pads are packed with glycolic and salicylic acid to gently exfoliate your skin. I typically use one a week, so this pack (and the glow!) will last me around a month. Next, I'm picking not one, but two lip products: The Dr. Barbara Sturm Lip Balm, which costs $55, and the Rodial Dragon's Blood Lip Mask for $9. They're my lips' savior during the cold, winter months. With the remainder of my budget, I would grab the Kiehl's Ultra Facial Cleanser ($20). It's foaming, hydrating and gentle, which is perfect for the winter, but still leaves my face feeling fresh and clean. 
Alanna, Associate Editor 
Shopping at Bluemercury is always such a luxe experience — it's so clean, bright and fun, and I want my haul of products to reflect the spirit of the store. I'd start by repurchasing one of my favorite moisturizers, the Kiehl's Calendula Serum-Infused Water Cream ($48). This cloud-like gel formula is what my skin craves on the daily, and I always go through tubs of it quickly. Next, I'd pick up the Patchology FlashPatch Restoring Night Eye Gels ($20), which I love to wear at night to brighten my under-eye circles by the next day. I'd also add the Mario Badescu Facial Spray with Aloe, Chamomile and Lavender, ($7) to my cart because it's one of my favorite face mists, and then I'd scoop up the Kiehl's Butterstick Lip Treatment ($22) to keep my lips happy and hydrated.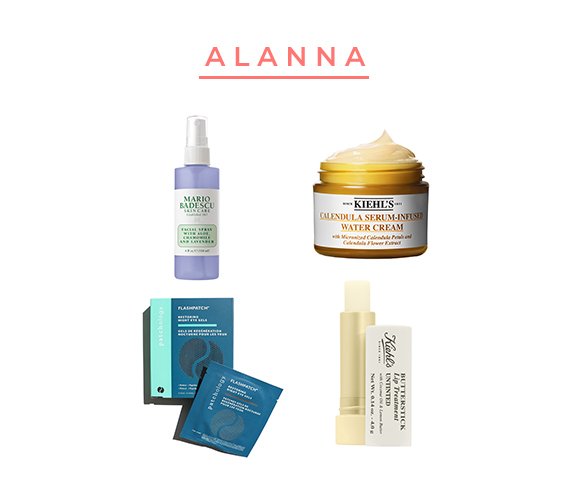 Jessica, Associate Editor
I could spend an embarrassingly long amount of time just browsing the aisles of Bluemercury — there are so many products to try and discover. No matter what newness I add to my wishlist, I always stock up on a few must-haves for my skin-care routine. First up, the Kiehl's Creamy Eye Treatment With Avocado. It costs $30 for one jar, but it's worth every penny and a little goes a long way. I use it morning and night to keep my under-eye area hydrated. For the rest of my face, I use the Caudalie Vinosource Moisturizing Sorbet ($39). The gel-cream formula leaves my skin feeling soft and deeply hydrated, so it makes a great addition to my morning routine. I love masking so I keep an ample supply of options on hand at all times. One of my favorites is the Pathology FlashMasque Illuminate ($8) because it works in just five minutes to perk up dull skin and give your complexion a radiant glow. And finally, one product I can never run out of is the Mario Badescu Drying Lotion for $17. Just one dab helps zap breakouts overnight and for that, I will always keep it within arm's reach.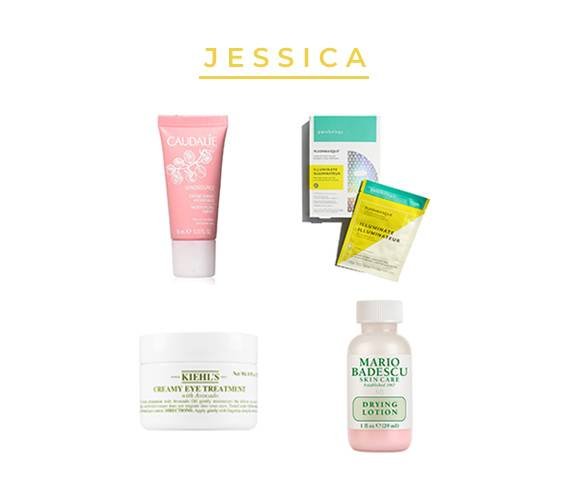 Genesis, Assistant Editor 
I don't know about you but whenever I go skin-care shopping at Bluemercury, I can't help but leave without a few of my staple items. First and foremost, I always snag Kiehl's Calendula Deep Cleansing Foaming Face Wash. Whenever I think of a must-have product, this cleanser always comes to mind. Every time I use it, my skin is left feeling clean, refreshed and happy. I'm also a strong advocate for facial oils, especially in the winter to combat my dry, lackluster skin. Lately, I've been loving the YUNI Zenicure Rejuvenating Facial Oil. For $35, it hydrates, brightens, helps diminish the look of any premature fine lines, and it also smells like a luxurious spa thanks to the infused stress-relieving oils. Last but not least, I stock up on the Sara Happ Lip Scrub, which has been a holy grail of mine for as long as I can remember. It smells so good and fruity, I have to stop myself from eating it. I truly love it for its ability to get rid of dry skin and to reveal a pout that's soft, supple and plumped to perfection. 

Jillian, Social Media Editor 
Even though this Mario Badescu Caviar Night Cream is reasonably priced at $22, it still feels like a "treat yourself" moment because of the caviar component. Night creams are the easiest way to sneak in a little extra moisture (all you have to do is sleep!), and Mario Badescu's delivers. The Kiehl's Daily Reviving Concentrate ($47) is such a classic, and I always make sure to have it on hand. It's the perfect serum to wear under foundation –– it gives me the perfect amount of glow and keeps me hydrated throughout the day. My lips are constantly chapped during winter and beyond, so I need a little extra something to keep them smooth and pain-free. The Patchology Lip Service ($15) is the perfect two-in-one product for when you need major hydration but don't want to sacrifice wearing some gloss. I feel like hands are feet are the first things to be forgotten in skin care, but it's my opinion they should actually be the first things to be taken care of. That's why I'd  also pick up a Baby Foot Moisturizing Foot Mask. For just $15, you basically get a foot facial in a mask.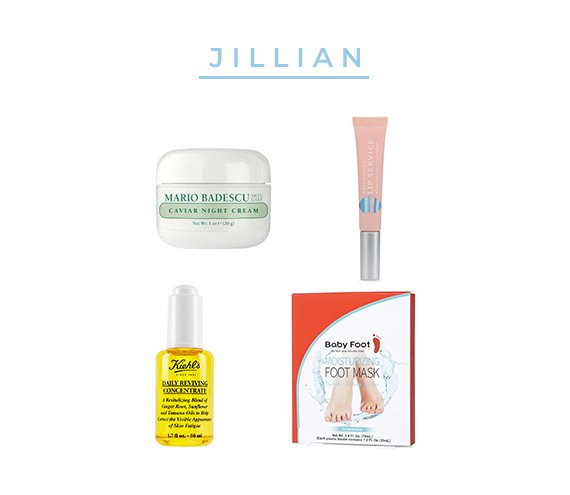 Read More:
Should You Get a Buccal Massage? 
6 Gentle Exfoliators That Don't Feel Like Sandpaper 
The Founder of The Perfect V Dishes on Body Confidence and Why Everyone Needs a Vanicure  
Read more

Back to top